Books

Featured Books

smt007 Magazine

Latest Issues

Current Issue

Economic Headwinds

This issue takes stock of the current economic outlook and how companies are using current conditions to move themselves through technological evolutions, workforce shifts, and financial changes. Even with these headwinds, there's forward progress to be made.

Attracting New Talent

To get different results in staffing, you must change how you define, promote and recruit your job opportunities. How do you become magnetic to high-quality early-career candidates?

Test and Inspection

Test and inspection methods are undergoing rapid change. In this issue, we consider the influence of AOI, AI, and human eyes. How exactly are these pieces of the puzzle changing the role of test and inspection?

Columns

Latest Columns

||| MENU
Matt Stevenson on Sunstone Circuits' Current Operations
March 25, 2020 | Nolan Johnson, I-Connect007
Estimated reading time: 6 minutes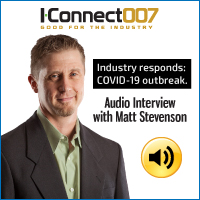 Audio Summary:
Nolan Johnson speaks with Matt Stevenson, VP of marketing at Sunstone Circuits, who shares an update on the company's current level of business operations under COVID-19 restrictions.
Stevenson confirms that Sunstone Circuits is fully operational and classified as an essential business. He also provides a rundown of the HR policies and company culture changes to comply with social distancing and cleaning. The company continues to be open, available, and responsive to customers' potentially changing needs.
I-Connect007 continues to deliver original reporting and coverage of the electronics design, electronics manufacturing, and contract manufacturing industries, including up-to-date information from the companies, associations, and supply chains globally. Find the latest news and information at www.iconnect007.com, and on our new topic bulletin board, "Industry Leaders Speak Out: Responses to COVID-19 outbreak."
Related content:
Audio Transcript:
Nolan Johnson: Hi. Nolan Johnson here for I-Connect007. I'm talking this afternoon with Matt Stevenson, director of marketing for Sunstone Circuits, to talk about what's going on with the impact of the COVID-19 outbreak and how Sunstone Circuits is reacting to all of the changing situations. Matt, thanks for joining me.
Matt Stevenson: Good to be here, Nolan. Thanks for the invite.
Johnson: As always, you're welcome. Let's just start off with how the recently issued government orders for virus containment have affected you and your business. As we're having this conversation, Oregon Governor Kate Brown has just issued an executive order doing a stay at home order, effectively, and shutting down non-essential businesses. How do you see that affecting you in Sunstone right now?
Stevenson: Well, luckily, we've had about a week or so to kind of get ready for this announcement. It was just a matter of time when Kate Brown was going to make that announcement. So over that week, we've been able to draft the two plans and learn from some of our key customers and key partners that we are in their supply chain as an essential part of their supply chain, some of our military customers, medical customers, et cetera. And as a result, we are actually classified as an essential business.
So that being said, Sunstone will be operating its manufacturing facility as per normal, as best as possible. Obviously, our employee health and our employee welfare being paramount among those. As long as we're able to keep our employees healthy and unimpacted from the coronavirus, we will continue to operate our manufacturing facility as per normal. We will be taking a lot of our support-type functions, customer support, marketing, etc., and probably running a lot of those remotely from home just to keep as many people out of harm's way and potential exposure risk as possible. And we've had to really up our cleaning and social distancing practices over the last several weeks, mandating some cleaning schedules and some of the other things that are kind of requisite.
We had to make a really big push that if you're sick, stay home. Sunstone has not always enforced that rule quite so predominantly. But now, anybody that's showing any signs of illness is required to stay at home. We also have implemented some other social distancing type things. We're no longer holding meetings. We've done a lot more video conferencing. We actually had our first two interviews via video last week for an important hire that we have coming up. So, we're trying to do all the right things to keep our employees healthy and operate our business without too many negative impacts on it.
Johnson: I'm just curious, Matt, where are you right now? Are you in the office, or are you working from home?
Stevenson: I am in the office. Most of our executive team has been out with illness or travel plans. So, as one of the senior members of the team, having an in-person resource is kind of the role that I've been filling over the last couple of weeks.
Johnson: You're holding down the fort.
Stevenson: Exactly. With spring break coming, we have a vacation planned too, but we had to cancel our trip; however, we'll still be around.
Johnson: Well, that just sets up the next question for you. What is the message, what are the updates that you are giving your customers right now with all of this dynamic business environment?
Stevenson: So, we are trying to portray to our customers that we are still open, that we are here to do any business that you may need. We're really flexible in terms of requirements and cutoff times. We're trying to really work with our customers to help meet them where they need us, but we're also giving them the message that we're really concentrating on trying to keep our employees healthy, that we're doing all the right things out there to ensure that our employees, which is our number one asset, are healthy and aren't impacted by this pandemic.
Johnson: Sure. And that's the most critical part. Is there any other message that you'd like to make sure that you share with the industry or colleagues in manufacturing?
Stevenson: It's really just the humanistic aspect of it, that a lot of printed circuit board manufacturers, we all consider ourselves competitors most of the time. During this time, it really humanizes everything, that when we come out of this, we all still want to have the same competitors. We don't want this type of reason to be why some of our competitors are no longer competitive in the business. We want to make sure that everybody gets through this okay and that we're all able to continue on with our business and our competition when we get through it. So, do whatever's necessary to keep your employees and your business safe.
Johnson: Good. Matt, as we have this talk right now and in the process of all of this, what's your greatest concern?
Stevenson: Obviously, the health of my family and the employees at Sunstone is really the thing that keeps me up at night. Are we doing all the right things? Even though we're an essential supplier, is that in the best interest of our people and our employees and all of their families to continue manufacturing? I think it is. It helps keep people's brains active. And obviously, the financial impacts of not working for a lot of people outweigh the potential health risks. But just, are we doing enough as a business leader, to ensure that all 120 of our employees and their families are going to get through this healthy and happy and alive?
Johnson: Great. Matt, thank you for taking the time to talk.
Stevenson: You're welcome. It's a very top of mind topic, and this is one that is near and dear to all of us, I'm sure, throughout the whole entire country and any perspective that I can give you, I'd be happy to.
Johnson: Thanks for that. I appreciate it.
---
Suggested Items
11/30/2023 | BUSINESS WIRE
Nordson Electronics Solutions, a global leader in electronics manufacturing technologies, is pleased to announce the release of the new ASYMTEK Select Coat® SL-1040 conformal coating system.
11/29/2023 | TT Electronics
TT Electronics, a global provider of custom power solutions and engineered technologies, has announced that its Power and Control business has officially opened its new state-of-the-art research, development and manufacturing facility.
11/27/2023 | IPC
IPC welcomes the actions outlined today by the U.S. Government "to strengthen supply chains critical to America's economic and national security."
11/27/2023 | GOEPEL Electronics
The US branch of GÖPEL electronic is proud to announce the addition of David Kalaidjian as the new National Sales Development Manager.
11/27/2023 | Wurth Elektronik
HyPerStripes project partners will create a technology platform including manufacturing techniques for roll-to-roll (R2R) processing as well as the integration of electronic components onto very long ("endless"), flexible and stretchable printed circuit boards.