Books

Featured Books

design007 Magazine

Latest Issues

Current Issue

Rigid-flex: Designing in 3D

In this month's issue, our expert contributors share their best tips, tricks and techniques for designing rigid-flex circuits. If you're a rigid board designer considering moving into the 3D world of rigid-flex, this issue is just what the doctor ordered!

Simulation, Analysis, and AI

Getting today's designs "right the first time" is critical, especially with costly advanced PCBs. Simulation and analysis software tools can help you in the fight to eliminate respins. They're not magical, but they can predict the future of your design.

Advanced, Complex & Emerging Designs

This month, our contributors focus on designing PCBs with advanced, complex and emerging technologies. We investigate design strategies for boards that are on the cutting edge of technology, or crazily complex, or so new that designers are still writing the rules as they go.

Columns

Latest Columns

||| MENU
EMA President Manny Marcano: EDA Tools Are Essential
April 3, 2020 | Andy Shaughnessy, I-Connect007
Estimated reading time: 4 minutes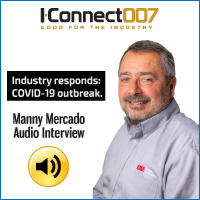 Audio Summary:
In this interview, Editor Andy Shaughnessy speaks with Manny Marcano, president of EMA EDA Automation, who shares an update on the company's current level of business operations under COVID-19 restrictions.
Marcano explains that EMA is classified as an essential business due to its work with the defense segment and that employees are now working from home. He also discusses the company's free work-from-home license offer and why he is available to help any designers or design engineers who have questions during these changing times.
I-Connect007 continues to deliver original reporting and coverage of the electronics design, electronics manufacturing, and contract manufacturing industries, including up-to-date information from the companies, associations, and supply chains globally. Find the latest news and information at www.iconnect007.com, and on our new topic bulletin board, "Industry Leaders Speak Out: Responses to COVID-19 Outbreak," found here.
Related Content:
Audio Transcript:
Andy Shaughnessy: This is Andy Shaughnessy for I-Connect007. I'm speaking with Manny Marcano, the president of EMA Design Automation. Welcome, Manny.

Manny Marcano: Good afternoon from bright and sunny Rochester, New York.

Shaughnessy: That ties in with what we're talking about here. You're based in New York, which has some of the more restrictive COVID-19 regulations in the country. Why don't you start off by telling us a little bit about how have the COVID-19 restrictions affected your company and your business model?

Marcano: What we decided to do was, first of all, send everybody home. We are considered an essential business by the government because of who we support in the milaero community. Most of my folks are doing fine at home, and they're actually more productive than here. I may close down some of the office space.
Shaughnessy: Right!
Marcano: I'm just kidding. It's an interesting situation because obviously, we want to protect our staff. But with the commitment and the productivity that I've seen just in 10 days now, the team is working harder than in the office, and I have absolute faith that they'll continue the productivity.
Shaughnessy: That seems to be the thing. We talked to a lot of people who are not used to working from home, but they're finding out that they're getting at least as much done at home. What message would you like to send to your customers?
Marcano: As far as the message to my customers, it's business as usual to the best of our ability. I'm really pleased to say that because of the offer I made to our customers for free licensing. We had well over 250 customers request a license, and they are productive at home because of our ability to execute. I just want to make sure that everybody knows that whatever else they need from EMA, we're here to support you.
Shaughnessy: Do you have any other message you'd like to share with vendors, suppliers, or anybody else in the industry?

Marcano: The biggest message I can offer is we'll do whatever we can do within reason to help keep other people in business. As you're well aware, we've been a business for 30 years. There's been numerous ups and downs, and it's my customers that are my job security. I can help them get through this mess, and I'm sure that they'll remember and take care of us down the road.

Shaughnessy: If you look out here, what would you say is your greatest concern right now?
Marcano: The greatest concern is that this is going to continue for a long time and destroy our economy. In general, from a macro perspective—and, obviously, from a personal perspective—it's going to impact cash flow. We're in a fortunate position that we have critical mass, and we can sustain ourselves and take care of our employees. The longer-term—anything over 90–120 days—is going to be pretty painful for everybody.
Shaughnessy: I think a lot of people would share that feeling. Is there anything else that you'd like to share with the industry?
Marcano: As an undying optimist, I'm absolutely convinced that this too shall pass, and we will come out of it stronger; we'll thrive once this is resolved. Not only will EMA be stronger, but the economy will be stronger, and these things happen. It's a cycle, and we will certainly come out of it eventually.

Shaughnessy: That's what I'm thinking. When this does end, it's going to be a rocket. I can't even imagine what the industry is going to do when this is all over. It's going to be positive.

Marcano: Absolutely. From somebody in my position, we do the best we can in these circumstances so that our customers can stay in business and our customers and engineers can continue being productive so that they can get their products to market. An interesting aspect is that there are lots of industries, especially medical, where new products will be innovated. There will be all sorts of interesting things that come out of this. Like in any tragedy, there will be good to come from it. We will all survive. What else I can offer the industry is this: My offer was to work with customers, but certainly if there's any design engineer who's in pain that we can help with a free license at home, feel free to communicate with EMA or me personally, and we'll do whatever we can for any engineer—whether they're a current customer or not.
Shaughnessy: Very good, Manny. I appreciate your time.
Marcano: Thank you.
---
Suggested Items
10/02/2023 | KYZEN'
KYZEN, the global leader in innovative environmentally friendly cleaning chemistries, announced that Debbie Carboni, Global Product Line Manager - Electronics, will present as part of the Electric Vehicle (EV) panel during the IPC High Reliability Forum.
10/02/2023 | Mycronic AB
Mycronic AB has received the first order for upgrades of already installed display mask writers from gas laser to solid state laser from SK Electronics in Japan.
09/29/2023 | Dixon
Dixon wholly owned subsidiary- Padget Electronics Private Limited enters into an Agreement with Xiaomi to carry out manufacturing of smart phones and other related products for Xiaomi.
09/29/2023 | USPAE
In a major initiative to innovate how the Department of Defense (DoD) spurs commercial technology development, the U.S. Partnership for Assured Electronics (USPAE) and DoD launched a Defense Business Accelerator (DBX) to open doors for industrial base growth and stimulate private investment.
09/28/2023 | KYZEN'
KYZEN, the global leader in innovative environmentally friendly cleaning chemistries, is proud to announce that it is sponsoring the Women's Leadership Program Connection Reception to be held at SMTA International.