Books

Featured Books

design007 Magazine

Latest Issues

Current Issue

Odd Geometries

In this issue, we discuss some of the challenges, pitfalls and mitigations to consider when designing non-standard board geometries. We share strategies for designing odd-shaped PCBs, including manufacturing trade-offs and considerations required for different segments and perspectives.

Simplification

On the subject of simplification, our expert contributors explain how to design PCBs without making them complex and over-constrained—whatever the level of technology. In addition, we discuss the effect your decisions and tradeoffs have on design complexity.

The Standards of Design

Our expert contributors discuss how PCB designers can utilize standards to save time and money, not to mention frustration. We also spotlight the newly updated version of the IPC Checklist, a handy guide that illustrates which standards cover which topics, from front-end design through assembly.

Columns

Latest Columns

||| MENU
Freedom CAD's Scott Miller: Taking Care of Customers and Staff
April 6, 2020 | I-Connect007 Editorial Team
Estimated reading time: 5 minutes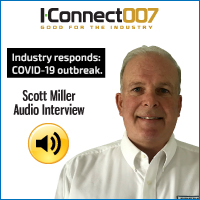 Andy Shaughnessy speaks with Scott Miller, COO of Freedom CAD Services, who shares an update on the company's current level of business operations under COVID-19 restrictions.
Miller explains that Freedom CAD remains fully operational during the COVID-19 quarantine. Staff members have been telecommuting for years, so the company's day-to-day operations are relatively unchanged. He also discusses the company's plans to help employees and customers during this time, and Miller asks anyone with design questions—customers or not—to contact the company any time.
Miller is the author of The Printed Circuit Designer's Guide to… Executing Complex PCBs. Visit I-007eBooks.com to download this and other free, educational titles.
I-Connect007 continues to deliver original reporting and coverage of the electronics design, electronics manufacturing, and contract manufacturing industries, including up-to-date information from the companies, associations, and supply chains globally. Find the latest news and information at www.iconnect007.com, and on our new topic bulletin board, "Industry Leaders Speak Out: Responses to COVID-19 outbreak," found here.
Related Content:
Audio Transcript:
Andy Shaughnessy: Hi, I'm Andy Shaughnessy for I-Connect007. I'm talking with Scott Miller, COO of Freedom CAD. How are you doing, Scott?
Scott Miller: I'm doing great, Andy, considering everything.
Shaughnessy: These definitely are interesting times. You have offices all around. How has the government regulations and restrictions on COVID-19 caused you to change your operations or your business model, or has it?
Miller: Actually, Andy, it has had very little impact on our business. We've been a work-from-home company for almost all of our total 17 years. We've built an infrastructure. Our business is printed circuit board design, both engineering and layouts, so this is the computer work, and we use web-sharing capabilities like GoToMeeting or Zoom to do video conferencing and share the designs. We've been doing this really since the inception of Freedom CAD 17 years ago. We have an infrastructure that supports it.
We're ITAR-compliant and NIST 800-171-compliant, so it has had very little impact on our business. Fortunately, none of our employees have been affected by it, which is a blessing, and we've been able to have the business as usual without skipping a beat. Like everybody, all of our employees are sequestered to their homes, but that's the world we are all living in now.
Shaughnessy: It's not quite business as usual, but you're pretty much going along like before.
Miller: Yes, all of our processes are set up, and we really are continuing to work the way we've always worked.
Shaughnessy: That's good. Is there any message that you'd like to send to your customers?
Miller: The only thing I would say is that we know that a lot of our customers have been impacted by this, and they aren't typically set up to work from home. We've seen projects that have been slowed in pace because they're trying to get their employees set up. Even on the financial side of the business, we've seen kind of an increase in the overdue payments because customers' accounting departments aren't set up to deal with things from home. We're keeping a close eye on that aspect of the business as well. I probably get three or four letters a day from customers asking for feedback on how COVID-19 is affecting our business. Is it going to create any delays for our customers? Some are surveys, and some are just quick email responses, and I'm happy to report that it's really not affecting our business or how we support our customers.
Shaughnessy: Do you have anything that you'd like to share with the rest of the industry?
Miller: Just a little story. We've been telling our employees not to travel or go out. Here's one of the things we did as a company: We've instituted a policy to extend to employees some additional funding of $250 per employee to shop from home as a way to encourage them not to go out in public or the shopping center and put themselves at risk. We've tried to be progressive in that way and really encourage our employees. We keep reminding them, "You're the front line for us. Take care of yourselves, don't put yourselves at risk, wash your hands, follow the guidelines, and now you can shop at home for a bit."
Shaughnessy: Great idea. It's all about everybody helping each other.
Miller: Right, especially in these difficult times.
Shaughnessy: What would you say is your greatest concern right now?
Miller: We're one of the largest independent design service bureaus in the country, as you know, and we touch on a lot of industries. I think the biggest concern is how long this COVID-19 pandemic will last. Right now, we have a vision of it being a month out or maybe six weeks out. If it extends a lot longer, I'm concerned about the viability of our customers. Fortunately, we do a fair amount of work for the defense industry, and we do some work for the automotive, medical, and data and telecom industries.
We're distributed pretty well, and that gives us a lot of buoyancy in these rough waters to hopefully ride this out. But we are seeing some customers pull back on projects, which is to be expected as they refocus their priorities. I expect that's going to continue, but I'm hopeful that for everybody's benefit that this doesn't extend for too long and lead us into a real recession.
Shaughnessy: I think we all agree on that. Is there anything else you'd like to share with the industry? Any last thoughts?
Miller: We're here. If customers are in a bind, and they've had difficulty with keeping their schedules on schedule due to the disruption of this, if we can be of any help—and I'm not trying to turn this into a plug—but we're here, and we can help to keep our customer's schedules on schedule; we're there for them. I think that's the biggest thing; we're all trying to help each other out through this, and if there's something we can do to help some company out, just talk to them.
Shaughnessy: All right. Scott, I appreciate your time. I know you have a lot of work to do, so I appreciate it. Good luck with everything.
Miller: Thank you very much, Andy.
Shaughnessy: Again, I've been speaking with Scott Miller of Freedom CAD. I'm Andy Shaughnessy for I-Connect007. Thanks for listening.
---
Suggested Items
12/07/2023 | Matt Stevenson -- Column: Connect the Dots
It makes sense to optimize your board using design for manufacturability (DFM) techniques. But applying DFM best practices can be confusing without formal training. The results are designs that are often incomplete, poorly designed, or too complex. When these issues arise, your PCB manufacturing partner rejecting the design can be considered a best-case scenario because it means they have your back. If your design is simply dropped into an automated queue without concern for manufacturability, the output can be a batch of unusable boards.
12/07/2023 | Siemens
Siemens Digital Industries Software announces availability of a new process design kit (PDK) from Samsung Foundry that helps mutual customers boost the reliability, quality and robustness of their next-generation integrated circuit (IC) designs manufactured using the foundry's latest processes.
12/05/2023 | PRNewswire
Siemens Digital Industries Software announced that the RS Group plc, a global provider of product and service solutions to more than 1.1 million industrial customers, has selected Siemens as its strategic electronic design automation (EDA) provider for its new, cloud native, DesignSpark Circuit Simulator tool – empowering users to streamline the design process.
12/04/2023 | EMA Design Automation
EMA Design Automation, the world's premier EDA VAR, is spinning off their IP, content, and services group as a new company named Accelerated Designs, LLC with a focus on CAD agnostic solutions.
12/04/2023 | PRNewswire
SINBON Electronics, a provider of integrated solutions for electronic component design and manufacturing, recently obtained UL certification for its NACS (The North American Charging Standard) AC/DC charging cable. SINBON is the first electronic design service provider in Greater China to obtain this certification, and the first batch of charging cable orders has been shipped this week.