Books

Featured Books

pcb007 Magazine

Latest Issues

Current Issue

Finding Ultra

New demands on PCB fabrication, namely advanced packaging, ultra high density interconnect (UHDI), and new specialty materials, are converging, changing the landscape of our business. Is it time to start paying close attention to this convergence?

Developing a Strategy

A solid strategy is a critical part of success. This month, we asked some of the top industry leaders and business strategy "gurus" to share their thoughts on developing strategies.

Winning With TQM

In this issue, we explore how TQM has entered the DNA of continuous improvement disciplines, and the role leadership transformation plays in this. If you've ever competed against a TQM company, you understand their winning advantage.

Columns

Latest Columns

||| MENU
IPC Standards Work Continues to Move Forward
April 8, 2020 | Barry Matties, I-Connect007
Estimated reading time: 9 minutes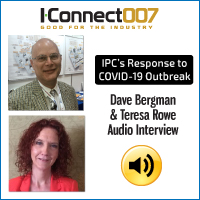 On April 3, 2020, Teresa Rowe, IPC's director of assembly and standards technology, and David Bergman, vice president, spoke with Barry Matties about ongoing standards activities during the global COVID-19 outbreak. 
Rowe and Bergman reported that, where one might think that standards committees would be negatively affected, standards work seems to be going stronger than ever. More people seem to be finding time in their workday to get involved in the standards meetings when in-office demands on their time may have otherwise kept them away. IPC is still planning on different standards, white papers in design, PCBs, materials, assembly pieces, cybersecurity, and more, and its ongoing work on standards will continue to move forward.
IPC has been operating as a mostly remote organization for a number of years, so the various shelter-in-place orders are not hindering IPC work. IPC Works—a task force communication tool—has been widely embraced by the committees. Bergman noted that even though suddenly everyone is working from home, work is progressing. The standards process, he said, has been found to be worth the industry's attention even while we work from home. 
IPC and participants are learning the power of words "you can't show people on a teleconference; you have to explain it." Rowe pointed out that standards are about using words to standardize, and committees seem to be relearning the power of precise explanation. By getting more people involved in the teleconferences, the input has been more diverse.
I-Connect007 continues to deliver original reporting and coverage of the electronics design, electronics manufacturing, and contract manufacturing industries, including up-to-date information from the companies, associations, and supply chains globally. Find the latest news and information at www.iconnect007.com, and on our new topic bulletin board, "Industry Leaders Speak Out: Responses to COVID-19 outbreak."
Related Content:
Transcribed Interview:
Barry Matties: Today, I'm speaking with IPC's Dave Bergman, vice president of standards and technology, and Teresa Rowe, director of assembly and standards technology. Thanks for joining us, both of you. With the outbreak, it certainly hasn't been business as usual, and at IPC, I know that there is a lot of response going on right now around the COVID-19 outbreak. But in terms of the other ongoing activities at IPC, Teresa, can you give us an overview of the impact that's taking place on the daily workload there?
Teresa Rowe: Certainly. Staff liaisons have a number of projects that they've been working on for a while that are due to be released this year and even out into 2021, and work goes on with those. What we're noticing is that with people indoors and at home, they have extra time, and since standards development is volunteer, we see them call into meetings when we may not have had them on the calls before because they have other responsibilities at their job. This is evidenced by a call that we had just earlier this week where the group that normally would be about a dozen people, we had 41 on the call, and it represented more than 10 countries from around the world. We're really excited to be able to have their presence, although sad for the reason why we have them there.
Matties: That must be quite a bit to manage on a call like that.
Rowe: It is, but we have strong leaders who are able to work through the issues with the communications. We have ways of voting online through our Zoom links. All in all, it's a very positive outcome, and things are moving forward.
Matties: Now, Dave, you've been in standards for a while and also a virtual association. What sort of changes are people taking into the standards meeting? Is there more direction around one standard than another? Give us an update on the actual topics.
Dave Bergman: It runs the full gamut. I guess what I'd like to then at least start with, about four years ago now, IPC essentially became a virtual office. Our headquarters has always been in the Chicago area. We still have a presence in the Chicago area, though the office is significantly smaller than it was at one point, with staff being dispersed around the country and the world. Because of that change, IPC became very comfortable at the staff level in working in a virtual environment. We're working from home. We work from the road, so it's basically second nature to us now. We've gone through a series of tools, and we've settled on our current tool and use it very heavily in staff-to-staff communications.
We have then been rolling that out in work with our committee members, and they seem to be getting additionally comfortable in the virtual meetings. Depending on the committee, typically, they would meet in face-to-face meetings once or twice a year, which has been our historical trend, but more increasingly—because of the amount of work and the need for accelerating the development of some of the standards—there will be committees that meet biweekly or weekly for a shorter period of time so that they can deal with their committee efforts in smaller chunks. There will be staff liaisons that have regular weekly meetings with their individual committees.
From a topic standpoint, Teresa, we have over 30-some standards currently in the pipeline that we expect to release this year? Did I remember that number correctly?
Rowe: That is correct. It's standards, white papers, guidelines, and handbooks. It runs the gamut as well.
Bergman: Barry, it's not just one specific topic; it is all areas. We're focusing on design, printed circuit boards, the materials, and the assembly pieces. We are now starting to toy or not, but we're working to develop additional activities in cybersecurity. That's a new project. That's not one that we would expect to be published this year, but it all wraps around efforts that our members and the industry have brought up as topics of interest.
Matties: It's a really serious matter, so I'm glad to hear that you are working in the cybersecurity realm.
Bergman: With cybersecurity, we've kind of been on the fringes based on some of the interest. We had intellectual property standards, and then that kind of grew into a trusted source where we were working with some of the DOD groups to try and develop a list of trusted suppliers and what they might need to do to make sure that they can be considered a trusted supplier. Then, cybersecurity is a further extension of that.
You mentioned early on smart factories, and the IPC Standard 2591-CFX Standard will, I believe, play a role in smart factories. And security played a major role in the decision as to what made the backbone of that standard. Because you're expecting your factory is going to be running with more digital input, more digital sensors, more data coming in and out and so you need to be able to control that information. We believe that CFX will play a role in the smart factory in the future for electronics manufacturing.
Matties: Teresa, during all of this, what lessons do you think the industry is learning right now?
Rowe: From the standards development piece of it, I think that we're experiencing learning the power of words and communication. We can't show somebody; we have to explain it. That's really important when you talk about standards development. I'm seeing more along the lines of people communicating on teleconferences saying, "Let me explain what I mean." They don't jump up and try to draw a picture, or they don't just say, "You know what I mean. Let me show you in the book." It's not like that. They're explaining, and by getting more people involved who don't normally attend our teleconferences, we're also getting more diverse input at times. I think, all in all, we're learning that this method of communication is really benefiting and will benefit the industry in the long run.
Also, in March of 2019, we introduced a new platform called IPC Works for our task groups to communicate. Our groups have embraced it, and they're using more and more and more of the tools inside of it: surveys, polls, comment forums. They're sharing files and sending messages, even messages of concern. They're becoming a more gelled group as much as a group like this can be. All in all, it is positive that the lesson they're learning, as I said, is the power of words and communication, and that's what standards are. We're just communicating with words.
Matties: It's really interesting that you're mentioning communication and that we can't just stand up and start drawing on a whiteboard the way we normally do. While there may be a need to slow down, there's probably some need for people to even rethink the way that they do communicate as well and kind of relearn, if you will. You probably see that in your meetings.
Rowe: We have, and we also have heard, "Now, I understand why the staff liaisons are emailing me at 11:30 at night because you work virtually. Suddenly, I realize that I have followed this time, and I'm focused on something, staying focused on, and getting my action items and tasks done." Yes, the communication piece is huge to this.
Matties: Great. Dave, what advice would you have to share with the industry at this point?
Bergman: As we were talking, my mind was going back to 30+ years ago when somebody was submitting a comment to a document, and they mailed an envelope from Shenzhen, China, to Northbrook, Illinois. You can imagine how long that took to get that set of input from that company from one portion of the world to the other with no additional review. By the time I got that and got it to the committee, it might have been six months. Now, I look at it from my standpoint, and we have systems and tools in place where you can have people from multiple continents participating and resolving comments in real-time. Going from really not doing that as a business as usual, yes, people were using it, but three weeks ago, people weren't working from home; now, everybody's working from home.
The projects still move forward, so that's the fulfilling piece of it is that this is a global worldwide sales challenge. People have stepped up. They have found ways to continue to get their work done. We're not on vacation. People are working from home, and they're working. The standards efforts are important enough to deserve the attention, or they show through their participation that the standards efforts deserve their attention and that they are contributing their expertise in support of electronics manufacturing. That has been something very fulfilling to see.
Matties: Do you have any final thoughts that you would like to share with our listeners?
Rowe: I just wish everyone well and hope that everyone stays safe, and we'll all get through this together.
Matties:
Great. Those are great words to end on. Thank you both so much for taking the time to share. Your insights are greatly appreciated. Once again, you've been listening to Dave Bergman and Teresa Rowe of IPC.
---
Suggested Items
09/20/2023 | I-Connect007 Editorial Team
Panasonic's Darren Hitchcock spoke with the I-Connect007 Editorial Team on the complexities of moving toward ultra HDI manufacturing. As we learn in this conversation, the number of shifting constraints relative to traditional PCB fabrication is quite large and can sometimes conflict with each other.
09/19/2023 | Anaya Vardya -- Column: Standard of Excellence
In my last column, I discussed cutting-edge innovations in printed circuit board technology, focusing on innovative trends in ultra HDI, embedded passives and components, green PCBs, and advanced substrate materials. This month, I'm following up with the products these new PCB technologies are destined for. Why do we need all these new technologies?
09/18/2023 | ViTrox
ViTrox, which aims to be the world's most trusted technology company, is excited to announce that our trusted Sales Channel Partner (SCP) in Mexico, SMTo Engineering, S.A. de C.V., will be participating in SMTA Guadalajara Expo & Tech Forum. They will be exhibiting in Booth #911 from the 25th  to the 26th of October 2023,  at the Expo Guadalajara in Jalisco, Mexico.
09/18/2023 | Intel
Intel announced one of the industry's first glass substrates for next-generation advanced packaging, planned for the latter part of this decade.
09/18/2023 | Aidan Salvi -- Column: Facing the Future
I have been in and around circuit boards most of my life. I started 20 years ago in my family's PCB shop, leaving after a couple of years to start my own software company. About a year ago, I returned to the family business, and the first thing I noticed was that nothing had really changed. We were doing the same things in the same way as the day I left. After talking to several experts in the industry, I realized it was worse than that: The manufacturing of PCBs had not changed in 70 years.