Books

Featured Books

smt007 Magazine

Latest Issues

Current Issue

Chips Don't Float

In Europe and the U.S., legislation is under way to revitalize PCB fabrication and packaging. What is the status of this work, and how specifically does this change the industry landscape for EMS companies? What will help keep us afloat?

Flying High With Digital Twin

The opportunity to use manufacturing simulation as a test bed for job planning and process optimization brings continuous improvement into the modern age. This may be an all-or-nothing type of project, but it's worth the investment.

Artificial Intelligence

In this issue, we (and AI) explored how and when artificial intelligence plays a role in manufacturing today. Whether on the factory floor, or in the front office, AI applications are emerging and changing how we approach planning, processes and problem solving.

Columns

Latest Columns

||| MENU
Electrolube's Nano-Coating Alternative to 3M Novec 2702 Gains Additional Traction
April 20, 2020 | Electrolube
Estimated reading time: 3 minutes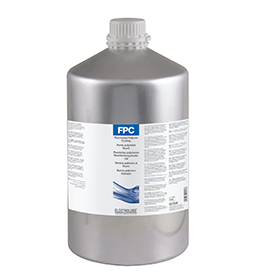 Electrolube, global electro-chemicals manufacturer, has recently formulated and launched a brand new conformal coating product named FPC. The product (FPC) was specially developed to resolve a number of issues experienced by a specific user of surface modifier materials.
The user in question—a large manufacturer of power distribution electronics—initially expressed an interest in Electrolube's surface modifier materials due to longstanding and unresolved issues relating to coating coverage and connectivity. Their rationale for using a surface modifier coating as opposed to a conventional conformal coating was correct as the combination of required coating thickness (2µm) and very low film strength (abrasion resistance) can facilitate huge processing benefits. Users of surface modifier coatings can completely coat a PCB and connectors without masking as when the male and female contact surfaces are joined, the abrasion forces during insertion should cleanly remove the coating material allowing electrical contact.
The user complained however, that their experience with surface modifier materials was quite the reverse; the material would not rub off cleanly during insertion creating an additional checking and re-testing process. Inspection of the coating coverage was also very difficult due to the lack of UV trace and the user could not be confident in the integrity of coverage. These complaints were also voiced by customers in India, a lack of UV trace and problems ensuring that the material could be cleaned off easily given the volume of connectors on the PCB.
With many variations of board shape and design, as well as numerous different connector formats, a fresh approach and coating material was required. Electrolube accepted the challenge to develop a cost-effective material that would also resolve all the technical issues with connectivity and inspection being experienced.
The new, non-flammable fluorinated polymer coating—FPC—was developed and underwent a series of customer tests, including highly stringent salt mist, humidity and mixed corrosive gas testing; all tests were passed successfully. Extensive connectivity testing confirmed noticeable improvements when compared to previous results experienced by the user, while the inclusion of a UV trace meant the boards were now far easier to inspect for coverage. Overall the new FPC coating has resulted in a significant cost saving.
The improvements in performance, inspection and cost of Electrolube's FPC coating, compared with previously used material and the results of machine trials at various companies to confirm compatibility, meant the company was able to simply switch over to FPC as a drop-in replacement. This has been replicated in additional territories including India and indeed the original 3M Novec product has now been discontinued.
Ron Jakeman, Managing Director of Electrolube, comments: "The partnership between ourselves and the customer's engineering team is a prime example of Electrolube's dedicated approach to solving problems. With a strong emphasis on both research and collaboration, we are continually developing new products, such as the FPC coating, and always go the extra mile - not just to ensure that the product is right for the job, but to advise and help our customers choose the safest, most appropriate and economical method of application."
For more information, please visit www.electrolube.com.
Download your free copy of Electrolube's book, The Printed Circuit Assembler's Guide to… Conformal Coatings for Harsh Environments, and watch the micro webinar series "Coatings Uncoated!"
About Electrolube
Electrolube, a division of H.K. Wentworth Limited, is a leading manufacturer of specialist chemicals for electronics, automotive and industrial manufacturing. Core product groups include conformal coatings, contact lubricants, thermal management materials, cleaning solutions, encapsulation resins and maintenance and service aids.
The extensive range of electro-chemicals at Electrolube enables the company to offer a 'complete solution' to leading manufacturers of electronic, industrial and domestic devices, at all levels of the production process. Through collaboration and research, the company is continually developing new and environmentally friendly products for customers around the world and their commitment to developing 'greener' products has been endorsed by the ISO 14001 standard for the highly efficient Environmental Management System in place at the company.
Electrolube is represented in over 55 countries with an established network of subsidiaries and distributors. By offering genuine security of scale and a reliable supply chain, the company is able to deliver a truly tailored service.
---
Suggested Items
09/26/2023 | Cadence Design Systems, Inc.
Cadence Design Systems, Inc. announced the expansion of its node-to-node design migration flow based on the Cadence® Virtuoso® Studio, which is compatible with all TSMC advanced nodes, including the latest N3E and N2 process technologies.
09/25/2023 | Q Source
Q Source, a provider of custom solutions for the Bio-Medical, Electronic, Pharmaceutical Manufacturing industries, is excited to announce its strategic partnership with XDry Corporation, a renowned dry cabinet manufacturer.
09/22/2023 | Qualcomm Technologies, Inc.
Charter Communications, Inc. and Qualcomm Technologies, Inc., today announced a collaboration to deliver the next-generation Advanced Wi-Fi router that will bring Wi-Fi 7 and 10 Gbps Wi-Fi capabilities to Spectrum Internet users, helping support and enhance the converged connectivity experience for residential and small and medium-sized business customers. Advanced Wi-Fi routers with Wi-Fi 7 are expected to be available to Spectrum customers in 2024.
09/21/2023 | Dymax
Dymax, a leading manufacturer of light-curing materials and equipment, will exhibit in booth 1526 at SMTA International 2023 in Minneapolis, MN, from October 10-11.
09/21/2023 | Altus Group
Altus Group, a leading supplier of capital equipment and services to the electronics manufacturing industry, has signed an agreement with SMT Thermal Discoveries to distribute its advanced reflow soldering and thermal technology solutions in Ireland.