Books

Featured Books

smt007 Magazine

Latest Issues

Current Issue

Chips Don't Float

In Europe and the U.S., legislation is under way to revitalize PCB fabrication and packaging. What is the status of this work, and how specifically does this change the industry landscape for EMS companies? What will help keep us afloat?

Flying High With Digital Twin

The opportunity to use manufacturing simulation as a test bed for job planning and process optimization brings continuous improvement into the modern age. This may be an all-or-nothing type of project, but it's worth the investment.

Artificial Intelligence

In this issue, we (and AI) explored how and when artificial intelligence plays a role in manufacturing today. Whether on the factory floor, or in the front office, AI applications are emerging and changing how we approach planning, processes and problem solving.

Columns

Latest Columns

||| MENU
PDR X-ray Solutions 4 µm Micro Focus X-ray Source Sets New Standard in Image Clarity
May 5, 2020 | PDR
Estimated reading time: Less than a minute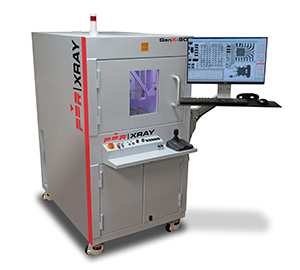 PDR X-ray Solutions is pleased to announce that additional X-ray options are now available for printed circuit board inspection, industrial NDT inspection, and bio medical device inspection. Available in multiple kV ranges and image detector options, PDR X-ray Solutions takes its customers' application needs seriously by configuring its X-ray systems appropriately to deliver the best image quality available based on specific needs.
With the ultimate in image enhancement software, PDR X-ray Solutions' 4 µm micro-focus capability offers uncompromising X-ray performance at a truly affordable price. The closed-tube technology now offers greater minimum detectable feature size recognition for sharp, high image clarity examination of target samples than less well-designed tubes on the market today.
With enhanced geometric magnification, coupled with low power consumption, PDR X-ray Solutions' total image chain is superbly engineered to provide outstanding image clarity. Additionally, GenX X-ray high performance X-ray systems offer programmable 4-axis (X, Y, Z 1/Z2) fully motorized motion control.
PDR systems are made in the USA with worldwide service and support, and one-year or multi-year warranties. PDR can help to determine the best X-ray source and detector depending on the application.
---
Suggested Items
09/26/2023 | QinetiQ
KBR and QinetiQ signed a teaming agreement to work collaboratively to deliver test and evaluation services for the Australian Defence Force.
09/26/2023 | CIMS
TPCA is the main annual PCB event in Taiwan. This year, it takes place in Taipei on 25-27 October.
09/25/2023 | Q Source
Q Source, a provider of custom solutions for the Bio-Medical, Electronic, Pharmaceutical Manufacturing industries, is excited to announce its strategic partnership with XDry Corporation, a renowned dry cabinet manufacturer.
09/25/2023 | Altair
Altair, a global leader in computational science and artificial intelligence (AI), announced that the Ultra Librarian® CAD model library is now available to Altair users in several Altair ECAD verification and multiphysics solutions, including Altair® PollEx™, Altair® SimLab®, and Altair One UDE.
09/21/2023 | KIC
KIC, a renowned pioneer in thermal process and temperature measurement solutions for electronics manufacturing, is thrilled to announce its participation in the upcoming SMTA Guadalajara Expo & Tech Forum.