Books

Featured Books

smt007 Magazine

Latest Issues

Current Issue

Economic Headwinds

This issue takes stock of the current economic outlook and how companies are using current conditions to move themselves through technological evolutions, workforce shifts, and financial changes. Even with these headwinds, there's forward progress to be made.

Attracting New Talent

To get different results in staffing, you must change how you define, promote and recruit your job opportunities. How do you become magnetic to high-quality early-career candidates?

Test and Inspection

Test and inspection methods are undergoing rapid change. In this issue, we consider the influence of AOI, AI, and human eyes. How exactly are these pieces of the puzzle changing the role of test and inspection?

Columns

Latest Columns

||| MENU
PDR X-ray Solutions 4 µm Micro Focus X-ray Source Sets New Standard in Image Clarity
May 5, 2020 | PDR
Estimated reading time: Less than a minute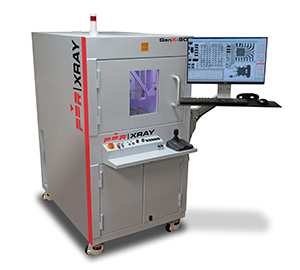 PDR X-ray Solutions is pleased to announce that additional X-ray options are now available for printed circuit board inspection, industrial NDT inspection, and bio medical device inspection. Available in multiple kV ranges and image detector options, PDR X-ray Solutions takes its customers' application needs seriously by configuring its X-ray systems appropriately to deliver the best image quality available based on specific needs.
With the ultimate in image enhancement software, PDR X-ray Solutions' 4 µm micro-focus capability offers uncompromising X-ray performance at a truly affordable price. The closed-tube technology now offers greater minimum detectable feature size recognition for sharp, high image clarity examination of target samples than less well-designed tubes on the market today.
With enhanced geometric magnification, coupled with low power consumption, PDR X-ray Solutions' total image chain is superbly engineered to provide outstanding image clarity. Additionally, GenX X-ray high performance X-ray systems offer programmable 4-axis (X, Y, Z 1/Z2) fully motorized motion control.
PDR systems are made in the USA with worldwide service and support, and one-year or multi-year warranties. PDR can help to determine the best X-ray source and detector depending on the application.
---
Suggested Items
12/04/2023 | Siemens
Siemens AG, a leading technology company, and Intel Corporation, one of the world's largest semiconductor companies, have signed a memorandum of understanding (MoU) to collaborate on driving digitalization and sustainability of microelectronics manufacturing.
12/04/2023 | Dan Beaulieu -- Column: It's Only Common Sense
Effective problem solving is a crucial skill in both personal and professional life. Whether you're dealing with a complex business challenge or a personal dilemma, a systematic approach can help you find viable solutions. The way you act as a company is determined by the way you solve problems. True leaders are defined by the way they solve problems. As I've said many times, great long-lasting customer relationships are forged by the way they come together as a team to solve problems.
12/01/2023 | Silicon Mountain
Silicon Mountain, a leading electronic manufacturing company, is pleased to announce its participation in the 3rd Annual Idaho Manufacturing Industry Trade Show & Conference, hosted by the Idaho Manufacturing Alliance.
11/30/2023 | PRNewswire
Hi Sharp, a leading maker of video surveillance systems, is globally announcing its expansion into AI and cloud-based technologies for video capture.
11/29/2023 | HyRel
HyRel Technologies, a global provider of quick turn semiconductor modification solutions, is pleased to announce a strategic partnership with EQC Southeast as its manufacturers' representative.