Books

Featured Books

smt007 Magazine

Latest Issues

Current Issue

Chips Don't Float

In Europe and the U.S., legislation is under way to revitalize PCB fabrication and packaging. What is the status of this work, and how specifically does this change the industry landscape for EMS companies? What will help keep us afloat?

Flying High With Digital Twin

The opportunity to use manufacturing simulation as a test bed for job planning and process optimization brings continuous improvement into the modern age. This may be an all-or-nothing type of project, but it's worth the investment.

Artificial Intelligence

In this issue, we (and AI) explored how and when artificial intelligence plays a role in manufacturing today. Whether on the factory floor, or in the front office, AI applications are emerging and changing how we approach planning, processes and problem solving.

Columns

Latest Columns

||| MENU
Manz's Fully Automatic Assembly Platform Meets the Healthcare Industry's Highest Quality Requirements for the Production of Smart Medical Devices
May 8, 2020 | Manz AG
Estimated reading time: 1 minute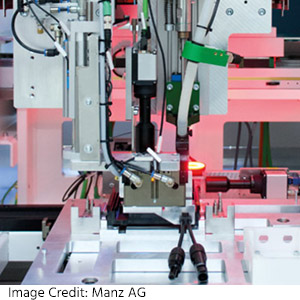 High-tech engineering company Manz AG will support a leading European medical technology manufacturer in automating its production processes. The two companies recently signed a corresponding agreement for the planned strategic cooperation. Manz will adapt its many years of expertise in electronics production to the fully automated production of smart medical devices.
Smart Medical Devices are networked medical devices, such as auto-injectors for insulin delivery, sensors for self-diagnosis or inhalers for asthma treatment, which patients can use and control themselves via display or app. Such devices remind patients, for example, of the recommended dosage and check that it is being used correctly. They can be linked to databases in the cloud or at the doctor in charge's office and significantly improve the quality of life of patients with particularly chronic diseases. To meet the growing demand for smart medical devices, manufacturers are increasingly turning to fully automated manufacturing processes. This is also intended to ensure high quality and the complete traceability of individual products in accordance with legal regulations and the compliance guidelines of health authorities. "Especially in light of the COVID 19 pandemic, the planned cooperation is a great vote of confidence for us," says Marijan Brcina, head of Manz's Electronic Devices division.
Integrated machine concept for complete traceability
For use in the medtech industry, Manz's LightAssembly modular assembly platform can be configured to meet specific requirements. The flexible system can handle up to 60 different production steps, such as laser welding, cutting and marking, ultrasonic welding, screwing and gluing, or dosing and joining. LightAssembly can also be equipped with a wide range of inline testing and inspection systems. "The advantage of our assembly system is the smooth integration of the individual process steps," explains Marijan Brcina. "This enables us to offer our customers high throughput with consistently high quality. Thanks to the possibility of changing the product parameters via software, LightAssembly is also extremely flexible, for example when it comes to small batch sizes or devices that are individually adapted to individual patients".
Manz's LightAssembly assembly system is particularly suitable for the reliable and high-precision production of complex assemblies with varying dimensions. It is currently used in electronics production or in the manufacture of cell contacting systems for electromobility, among other things.
---
Suggested Items
09/19/2023 | Andy Shaughnessy, Design007
Rigid-flex assembly brings its own set of issues, but designers can do quite a bit to make things easier on their downstream brethren. We asked IPC instructor Kris Moyer to give us the lowdown on DFA for rigid-flex circuitry.
09/07/2023 | Emerald EMS
Emerald EMS, an innovative solutions provider, is pleased to announce plans to exhibit in Booth #3815 at MD&M Minneapolis, scheduled to take place Oct. 10-11, 2023, at the Minneapolis Convention Center in Minneapolis, MN.
09/06/2023 | Yamaha Robotics
Yamaha Robotics will display the latest-generation 1 STOP SMART SOLUTION at A3.323 at Productronica 2023, bringing together the complete set of new YR series printers, surface-mounters and inspection machines.
09/06/2023 | ViTrox
ViTrox, which aims to be the world's most trusted technology company, is excited to announce that we will be participating in SMTA International (SMTAi), at Hall B, Booth #1316 at the Minneapolis Convention Center, MN, USA. SMTAi, the Midwest's Largest Electronics Manufacturing Event, will take place on the 10th and 11th of October 2023.
09/27/2023 | Michael Ford -- Column: Smart Factory Insights
The PCB has become a neglected component from the Smart assembly manufacturing perspective, wrongly regarded as just a "given" material. We need to put it right. PCB manufacturing needs to become Smart in order to make the local fabrication business model work as part of the holistic electronics' "smarter, secure, and sustainable" approach—what I'm calling the new three Ss of manufacturing.