Books

Featured Books

smt007 Magazine

Latest Issues

Current Issue

Economic Headwinds

This issue takes stock of the current economic outlook and how companies are using current conditions to move themselves through technological evolutions, workforce shifts, and financial changes. Even with these headwinds, there's forward progress to be made.

Attracting New Talent

To get different results in staffing, you must change how you define, promote and recruit your job opportunities. How do you become magnetic to high-quality early-career candidates?

Test and Inspection

Test and inspection methods are undergoing rapid change. In this issue, we consider the influence of AOI, AI, and human eyes. How exactly are these pieces of the puzzle changing the role of test and inspection?

Columns

Latest Columns

||| MENU
Manz's Fully Automatic Assembly Platform Meets the Healthcare Industry's Highest Quality Requirements for the Production of Smart Medical Devices
May 8, 2020 | Manz AG
Estimated reading time: 1 minute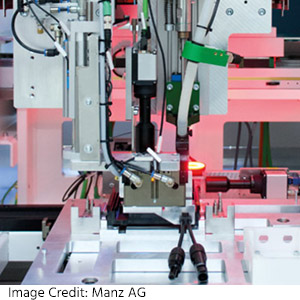 High-tech engineering company Manz AG will support a leading European medical technology manufacturer in automating its production processes. The two companies recently signed a corresponding agreement for the planned strategic cooperation. Manz will adapt its many years of expertise in electronics production to the fully automated production of smart medical devices.
Smart Medical Devices are networked medical devices, such as auto-injectors for insulin delivery, sensors for self-diagnosis or inhalers for asthma treatment, which patients can use and control themselves via display or app. Such devices remind patients, for example, of the recommended dosage and check that it is being used correctly. They can be linked to databases in the cloud or at the doctor in charge's office and significantly improve the quality of life of patients with particularly chronic diseases. To meet the growing demand for smart medical devices, manufacturers are increasingly turning to fully automated manufacturing processes. This is also intended to ensure high quality and the complete traceability of individual products in accordance with legal regulations and the compliance guidelines of health authorities. "Especially in light of the COVID 19 pandemic, the planned cooperation is a great vote of confidence for us," says Marijan Brcina, head of Manz's Electronic Devices division.
Integrated machine concept for complete traceability
For use in the medtech industry, Manz's LightAssembly modular assembly platform can be configured to meet specific requirements. The flexible system can handle up to 60 different production steps, such as laser welding, cutting and marking, ultrasonic welding, screwing and gluing, or dosing and joining. LightAssembly can also be equipped with a wide range of inline testing and inspection systems. "The advantage of our assembly system is the smooth integration of the individual process steps," explains Marijan Brcina. "This enables us to offer our customers high throughput with consistently high quality. Thanks to the possibility of changing the product parameters via software, LightAssembly is also extremely flexible, for example when it comes to small batch sizes or devices that are individually adapted to individual patients".
Manz's LightAssembly assembly system is particularly suitable for the reliable and high-precision production of complex assemblies with varying dimensions. It is currently used in electronics production or in the manufacture of cell contacting systems for electromobility, among other things.
---
Suggested Items
11/30/2023 | Chris Young, Young Engineering Services
There are many ways, dozens to be sure, and most likely many more, to streamline a PCB design. My goal here is to pick a single-digit number of rules to abide by, that can be reasonably adhered to, and provide some bang for the buck. These rules are meant to reduce design scope creep, avoid PCB respins, and improve production yields.
11/30/2023 | Hirose
Hirose has expanded its low-profile DF51K wire-to-board connector series to include a surface mount technology (SMT) version. Compatible with automated assembly processes, including pick-and-place machines, the DF51K SMT Series simplifies the assembly process and saves significant manufacturing time and cost. 
11/21/2023 | Pete Starkey, I-Connect007
Productronica 2023 played host to the IPC World Hand Soldering Competition, bringing talented regional solder champions from all over the globe to compete for the title of World Champion. Each competitor was given sixty minutes to assemble a complex printed circuit board with their performance judged in accordance with IPC-A-610 Class 3 criteria. Each competitor's efforts were rated on the merits of the results achieved, scored on the quality of the assembly process, the electrical functionality of the assembly and the speed at which the assembly was produced.
11/16/2023 | CIL
In early November 2023, CIL completed the installation of its first volume SMT PCBA assembly line at its BP2 Semiconductor packaging facility
11/15/2023 | PIT Equipment
PIT – Equipment Services, LLC is pleased to announce Don Dennison, founder and CEO of PIT Equipment Services, has been honored with the prestigious 2023 GLOBAL Technology Award in the category of Best Manufacturers Representative - USA. The award ceremony took place during productronica in Munich on November 14, 2023.