Books

Featured Books

smt007 Magazine

Latest Issues

Current Issue

Economic Headwinds

This issue takes stock of the current economic outlook and how companies are using current conditions to move themselves through technological evolutions, workforce shifts, and financial changes. Even with these headwinds, there's forward progress to be made.

Attracting New Talent

To get different results in staffing, you must change how you define, promote and recruit your job opportunities. How do you become magnetic to high-quality early-career candidates?

Test and Inspection

Test and inspection methods are undergoing rapid change. In this issue, we consider the influence of AOI, AI, and human eyes. How exactly are these pieces of the puzzle changing the role of test and inspection?

Columns

Latest Columns

||| MENU
SMTA Additive Electronics TechXchange Speakers List Announced
October 12, 2020 | I-Connect007 Editorial Team
Estimated reading time: 3 minutes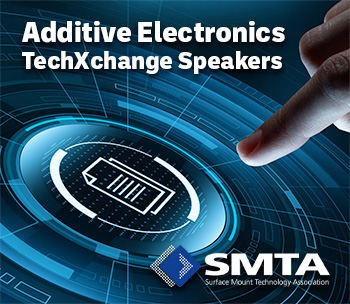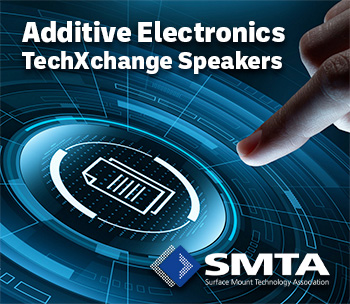 The Additive Electronics TechXchange, organized by SMTA, is scheduled for Thursday, October 15, 2020. This will be a virtual event and is open to SMTA members and non-members alike. SMTA members attend this session for free, and it's $150 for non-members. Here is the list of featured speakers for the upcoming event, including a keynote presentation and more. For full details and to register, visit smta.org/additive.
Keynote Speaker: Jeff Doubrava, Managing Partner, Prismark Partners LLC
"Outlook for Advanced Printed Circuit Board Fabrication: Applications, Technologies, and Production"
Before joining Prismark, Jeff spent 20 years with Shipley/Rohm and Haas, most recently as global business director for the printed wiring board materials business. Jeff holds a B.A. in chemistry from the University of Rochester and an M.B.A. from Babson College. He holds several U.S. patents for his development of enabling electronic materials.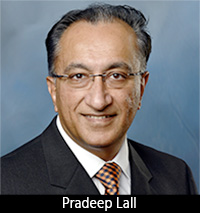 Pradeep Lall, Ph.D., Auburn University
Process Development for Additive Printing of Multilayer Flexible Substrates With Z-Axis Interconnects"
Pradeep Lall is the MacFarlane Endowed Distinguished Professor with the Department of Mechanical Engineering and Director of the NSF-CAVE3 Electronics Research Center at Auburn University. He holds Joint Courtesy Appointments in the Department of Electrical and Computer Engineering and the Department of Finance. He is a member of the technical-council, academic co-lead of the asset-monitoring TWG, and past-member of the governing council of NextFlex Manufacturing Institute.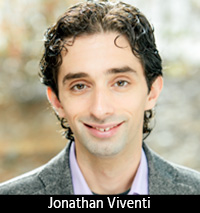 Jonathan Viventi, Ph.D., Duke University
"Flexible Electronics for Neural Interfaces"
Jonathan Viventi is an Assistant Professor of Biomedical Engineering at Duke University. Dr. Viventi earned his Ph.D. in bioengineering from the University of Pennsylvania and his M.Eng. and B.S.E. degrees in electrical engineering from Princeton University. Dr. Viventi's research applies innovations in flexible electronics, low-power analog circuits, and machine learning to create new technology for interfacing with the brain at a much finer scale and with broader coverage than previously possible.
Juan Landeros, Intel Corporation
"Design Drivers for Advancements in PCB Fabrication Technologies"
Juan Landeros is a principal engineer in the technology development group at Intel. He has worked on substrate and PCB design rule development across multiple technology generations and diverse set of platform definitions. Juan currently leads the PCB design rule roadmap. Juan is a graduate of San Jose State University with a degree in materials engineering.
Kourtney Wright, Ph.D., Lockheed Martin
Dr. Kourtney Wright is a senior research scientist at the Advanced Technology Center within Lockheed Martin Space. She leads projects to further develop and expand the applications for LM's CuantumFuse copper pastes and inks. Dr. Wright received her Ph.D. in chemistry from Rice University in 2017, where she studied organometallic chemistry.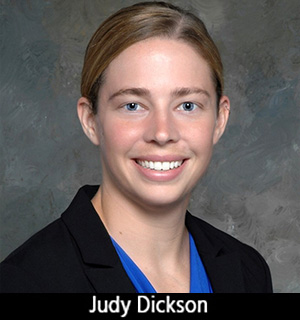 Judy Dickson, Ph.D., Northrop Grumman
"Advanced PWBs: A Collaboration Between Design, Operations, and the Supply Chain"
Judy Dickson joined Northrop Grumman in August 2017 as part of the Future Technical Leaders (FTL) program. She graduated summa cum laude with a B.S. in mechanical engineering from the University of Central Florida in 2012. She then went on to receive M.S. and Ph.D. degrees in materials science and engineering from the Georgia Institute of Technology, where she was a National Defense Science and Engineering Graduate (NDSEG) Fellow. Before Northrop Grumman, she worked with Siemens and Universal Alloy Corporation.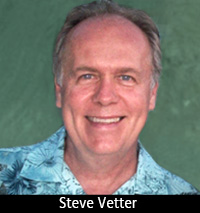 Steve Vetter, NSWC Crane
"Very High-Density Interconnect Process Development"
Mr. Steve Vetter has worked in the electronics interconnect industry throughout most of his 35-year professional career. A graduate of Western Kentucky University with a Bachelor of Science in Electrical Engineering Technology, Mr. Vetter has held quality, manufacturing and design engineering and management positions for small independent PCB manufacturers and assemblers as well as captive facilities for large defense contractors. Currently an electronics engineer for the Naval Surface Warfare Center, Crane, Indiana, Mr. Vetter provides technical support for the PCB executive agent assignment and serves as the technology development charter area lead.
The Additive Electronics TechXchange examines the manufacturing and design processes enabling line width and space from .003" to 5 microns as well as other new advanced technologies intended to meet the ever-increasing challenges of smaller, lighter and more powerful electronic devices. This year the event organizers expect to dive deeper into market trends, usage and where additive fits within low, medium and high-volume production for this portion of manufacture where the electronics industry straddles the line between PCB and IC substrate.
Sponsoring companies include AGC Taconic, American Standard Circuits, Inc., Averatek Corporation, Calumet Electronics Corporation, FTG - Firan Technology Group, Insulectro, MacDermid Alpha Electronics Solutions, and SUSS MicroTec. The conference is supported by I-Connect007.
To learn more about the conference, including an audio interview with the organizers, click here.
---
Suggested Items
11/30/2023 | BUSINESS WIRE
Nordson Electronics Solutions, a global leader in electronics manufacturing technologies, is pleased to announce the release of the new ASYMTEK Select Coat® SL-1040 conformal coating system.
11/29/2023 | TT Electronics
TT Electronics, a global provider of custom power solutions and engineered technologies, has announced that its Power and Control business has officially opened its new state-of-the-art research, development and manufacturing facility.
11/27/2023 | IPC
IPC welcomes the actions outlined today by the U.S. Government "to strengthen supply chains critical to America's economic and national security."
11/27/2023 | GOEPEL Electronics
The US branch of GÖPEL electronic is proud to announce the addition of David Kalaidjian as the new National Sales Development Manager.
11/27/2023 | Wurth Elektronik
HyPerStripes project partners will create a technology platform including manufacturing techniques for roll-to-roll (R2R) processing as well as the integration of electronic components onto very long ("endless"), flexible and stretchable printed circuit boards.