Books

Featured Books

pcb007 Magazine

Latest Issues

Current Issue

Finding Ultra

New demands on PCB fabrication, namely advanced packaging, ultra high density interconnect (UHDI), and new specialty materials, are converging, changing the landscape of our business. Is it time to start paying close attention to this convergence?

Developing a Strategy

A solid strategy is a critical part of success. This month, we asked some of the top industry leaders and business strategy "gurus" to share their thoughts on developing strategies.

Winning With TQM

In this issue, we explore how TQM has entered the DNA of continuous improvement disciplines, and the role leadership transformation plays in this. If you've ever competed against a TQM company, you understand their winning advantage.

Columns

Latest Columns

||| MENU
Top 10 Most-Read PCB Articles of 2020
December 31, 2020 | I-Connect007
Estimated reading time: 3 minutes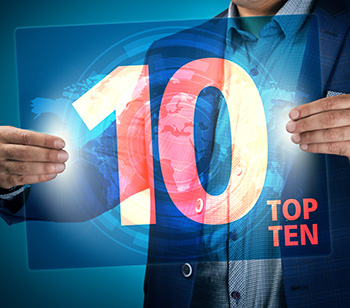 As 2020 comes to a close, the I-Connect007 Editorial Team takes a look back at its most read articles. Here are the top 10 reads in PCB from the past year.
1. 2020 EIPC Winter Conference, Day 1 
Pete Starkey recaps how the 2020 EIPC Winter Conference, held in mid-February, attracted around 90 delegates from a dozen European countries—as well as a few from North America—to an outstanding learning and networking experience for members of the PCB community. The theme of this year's event was: "The Needs for Next-Generation Electronic Devices and Changes in Fabrication Solutions for PCBs, PCBAs, Materials, and Technologies."
2. Happy Holden's Essential Skills: Online Instruction and Distance Learning 
Online courses have become increasingly available and popular. For this to be effective, specific requirements must be met for courses taken or produced over the internet in order to provide the user with a positive experience. Read Happy Holden's updated article from his series on 25 essential skills for engineers. 
3. ECWC15 Virtual Conference Keynote: 5G PCB Technology and Material Challenges 
The second day of the Electronic Circuits World Convention began with a keynote from Dr. Shiuh-Kao Chiang, managing partner of Prismark, describing the PCB technology and material challenges presented by the introduction of the fifth-generation cellular wireless communication network—the roll-out of which was continuing in spite of the coronavirus pandemic. Technical Editor Pete Starkey has more.
4. Residual/Free TBBPA in FR-4 
FR-4 laminates and prepregs are important fiberglass epoxy materials for printed circuit boards (PCBs). FR-4 base materials are the most popular grade used today because they offer a cost-effective and versatile solution for electrical engineers and product designers. The FR-4 designation was created by NEMA in 1968 and denotes the laminate is flame-retarded to meet a UL94 V-0 fire rating.
5. IPC President and CEO Dr. John Mitchell: COVID-19 Global Industry Update
On March 20, Dr. John Mitchell, IPC president and CEO, spoke with I-Connect007 publisher Barry Matties in an exclusive phone interview with updates on COVID-19-related current events in the manufacturing industry. In this information-packed 14-minute audio interview, Dr. Mitchell shared key takeaways from Friday's IPC Executive Forum conference call.
6. Heading Into 2020 With Isola 
Barry Matties recently spoke with Isola's Travis Kelly, who has moved from acting CEO into the position of president and CEO. Chief Sales and Marketing Officer Sean Mirshafiei also joins the conversation as they share an update on the progress on the company's new Arizona factory, as well as their views on the markets and technology trends.
7. Fresh Thinking on the Logistics of Laminate Distribution 
Mark Goodwin, COO of Europe and the Americas for Ventec International Group, sits down with Barry Matties to explain his approach to supply chain management, efficient distribution, and maintaining definitive product identity at every stage. 
8. Walt Custer's EIPC Business Outlook Webinar: 'You Can't Sugarcoat This Stuff!' 
In normal circumstances, it would have been the time of year for the EIPC Summer Conference, and Walt Custer would have opened the proceedings with his business outlook for the global electronics industry. However, circumstances were far from normal. Pete Starkey discusses some of the takeaways from Custer's global business outlook webinar, organized by EIPC.
9. IPC's Dr. John Mitchell Commends U.S. Manufacturers and Governors 
On March 31, Dr. John Mitchell, IPC president and CEO, gave Barry Matties an update on the industry response to COVID-19 since their conversation on March 20. Mitchell provides an overall update on the industry, commending U.S. manufacturers for their proactive responses.
10. Dr. John Mitchell: IPC's Ongoing Efforts Related to COVID-19 
On April 14, IPC president and CEO, Dr. John Mitchell, described IPC's ongoing efforts related to COVID-19 with I-Connect007 Publisher Barry Matties. From a standpoint approximately 30 days into the U.S. shutdown, Mitchell reported that 94% of the executives attending the executive forum are expressing concern. He also outlined many of the chaotic drivers and influences in the industry, including shifting over to different, mandated products; supply shortages; potential declining demand for normal products; and increased shipping costs. Worker and staffing shortages have also become an emerging concern.
---
Suggested Items
09/22/2023 | IPC
Join fellow EMS leaders in the region on Oct 5, 2023, 4:30 - 8:00pm EDT, to share industry pain points and solutions. Our focus for this meeting is how companies profitably reach the next level of revenue. Following a presentation on the current EMS market and revenue tiers in the industry, participants will discuss how to reach the next level and grow their business. Discussion will pull from direct experience, questions, and ideas. From there, the conversation goes where you, the leaders, take it. Every roundtable ends in unique takeaways.  
09/21/2023 | Intraratio
Intraratio, a provider of enterprise software solutions, is pleased to announce its participation in the SMTA Guadalajara Expo and Tech Forum 2023.
09/21/2023 | SEMI
The SEMI Semiconductor Climate Consortium (SCC) issued its first report of the semiconductor ecosystem's greenhouse gas (GHG) emissions profile, an in-depth analysis of the semiconductor value chain's carbon footprint and priority-ranked carbon emission sources for the industry to address.
09/20/2023 | PDR
PDR is set to showcase its cutting-edge IR-E3 Series of SMD/BGA IR rework systems, as well as its industry-leading X-ray solutions.
09/20/2023 | Hentec Industries/RPS Automation
Hentec Industries/RPS Automation, a leading manufacturer of selective soldering, component lead tinning and solderability test equipment, announces that it has added assembly and production staff members to its team to accommodate its recent increase in sales and order demand.