Books

Featured Books

pcb007 Magazine

Latest Issues

Current Issue

Finding Ultra

New demands on PCB fabrication, namely advanced packaging, ultra high density interconnect (UHDI), and new specialty materials, are converging, changing the landscape of our business. Is it time to start paying close attention to this convergence?

Developing a Strategy

A solid strategy is a critical part of success. This month, we asked some of the top industry leaders and business strategy "gurus" to share their thoughts on developing strategies.

Winning With TQM

In this issue, we explore how TQM has entered the DNA of continuous improvement disciplines, and the role leadership transformation plays in this. If you've ever competed against a TQM company, you understand their winning advantage.

Columns

Latest Columns

||| MENU
Pete Starkey Discusses a Favorite Career Moment
December 31, 2020 | I-Connect007 Editorial Team
Estimated reading time: Less than a minute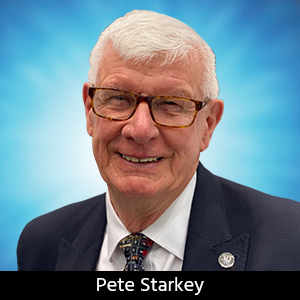 Andy Shaughnessy recently asked Pete Starkey to discuss one of his favorite moments from his long career. Pete's reporting, as readers know very well, is masterful; Pete's pen can capture all the feel and vibrancy of a technical conference—and his readership numbers often top our charts. No wonder then, that Pete's favorite moment includes something he wrote going "viral" with the help of the UK government. Listen in!
---
Suggested Items
12/29/2022 | Andy Shaughnessy, Design007 Magazine
Jim van den Hogen has been teaching PCB designers and design engineers about fabrication processes for decades. Twenty years ago, I had the opportunity to see a class of his at PCB West; even back then, the room was jammed with designers eager to learn more about DFM techniques. Now Jim is bringing his teaching expertise to IPC APEX EXPO 2023 this January with a similar class directed at PCB designers. I asked Jim to give us a sneak peek into his curriculum and to share what he hopes attendees will take away from his class, as well as his thoughts on how to best bridge the gap between design and fabrication.
04/26/2022 | Altair
Altair, a global leader in computational science and artificial intelligence (AI), announces the release of its latest simulation solutions, which focus on next-generation connectivity, architecture, engineering, and construction (AEC), as well as circuit board and electronic design capabilities; the release also includes a myriad of updates to Altair's traditional solutions.
03/07/2022 | SEMI
The vital importance of workplace inclusion and diversity to the growth of the global semiconductor industry will take center stage as the Women in Semiconductors (WiS) program returns in-person on May 2 in conjunction with the SEMI Advanced Semiconductor Manufacturing Conference (ASMC 2022) in Saratoga Springs, New York.
04/28/2021 | Aismalibar
For many years, the PCIM event has been the world's leading exhibition and conference on power electronics, intelligent motion, renewable energy, and energy management.
03/29/2021 | TRI
Test Research, Inc. (TRI), a leading Test and Inspection systems provider for the electronics manufacturing industry, recently opened a new office in B?c Ninh, Vietnam to accommodate the rapid growth of the industry.