Books

Featured Books

pcb007 Magazine

Latest Issues

Current Issue

The Registration Sweet Spot

Registration is underrated and underappreciated. The key is to ensure proper registration from layer to layer across the entire printed circuit board. It's a holistic process requiring anticipation, prediction, precise attention at each step, and detailed data tracking and monitoring.

High-reliability Fabrication

In this month's issue, our expert contributors discuss the latest in technologies, trends, complexities and resources regarding high-reliability fabrication.

Finding Ultra

New demands on PCB fabrication, namely advanced packaging, ultra high density interconnect (UHDI), and new specialty materials, are converging, changing the landscape of our business. Is it time to start paying close attention to this convergence?

Columns

Latest Columns

||| MENU
I-Connect007 Editor's Choice: Five Must-Reads for the Week
January 29, 2021 | Andy Shaughnessy, I-Connect007
Estimated reading time: 2 minutes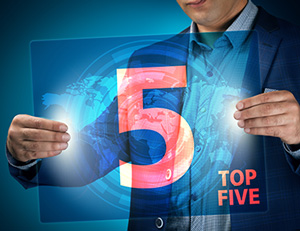 We're a month into the new year, and so far, so good. I'm just glad to be out of 2020. As Chris Farley said in "Tommy Boy" after his character fell off of a mountain, "What in the hell was that all about?"
This week, we have a variety of news and articles to share, and it's all positive. We have a new president, and he's pledging to help American businesses. December PCB sales were up 4.5% over the same period a year ago. Atotech is just about ready to launch an IPO. Sunstone has tweaked its free CAD tool, PCB123, to make it even easier for designers to receive their Gerber files. And columnist John Watson breaks down what we all learned during the chaos that was 2020.
IPC Welcomes President Biden's 'Buy American' Executive Order
Published January 25
Newly sworn-in President Joe Biden has signed dozens of executive orders in his first week at the White House. There are ongoing arguments, pro and con, about the merits of many of these EOs, but here's one that we can all get behind. The "Buy American" Executive Order states that it will "close current loopholes" that can hamstring American companies, while helping smaller companies get access to federal contracts, among other things. IPC agrees with this EO, and the organization is asking Biden to continue to support U.S. manufacturers. 
Atotech Commences Initial Public Offering
Published January 25
Time to go public! German specialty chemicals company Atotech is moving forward with an IPO designed to raise about $700 million. The 34 million common shares are expected to bring between $19 and $22 per share. Atotech's customers include manufacturers of consumer electronics, automotive electronics, and smartphones, as well as communication and cloud computing companies.
Gerber File Option Added to Sunstone's PCB123 Order Process
Published January 26
There are several free PCB design tools available today, and one of the better ones comes courtesy of Sunstone Circuits—PCB 123. Now, PCB123 users no longer have to call or email Sunstone for a copy of their Gerber files. All they have to do is check a box during the ordering process to receive their Gerbers. By giving customers their Gerbers, Sunstone is signaling it's confident that you're going to come back again.
Elementary, Mr. Watson: 2020—The Year that Taught Us Resilience
Published January 23
Altium's John Watson penned a great column about what we all learned in 2020. And let's face it—as crazy as it was, the trials and tribulations of 2020 made many of our companies stronger and smarter than they've ever been. John discusses some of the main takeaways from last year, including the need to be proactive, and that it's okay to fail.
North American PCB Industry Sales up 4.5 Percent in December
Published January 27
In more IPC news, December's PCB industry sales were up 4.5% over the same month last year. And PCB bookings shot up 9.2% YOY, and 9.1% over the previous month. In a sign of the resiliency of this industry, the PCB community closed out 2020 on a positive note. Let's hope we can carry this into 2021.
---
Suggested Items
12/06/2023 | Indium Corporation
Indium Corporation is proud to announce the addition of Sales Engineer Meik Fratzel to its European team.
12/06/2023 | SEMI
SEMI announced the SEMI Leadership Accelerator to foster industry growth by assisting organizations in cultivating the next generation of leaders.
12/05/2023 | Travis Kelly -- Column: American Made Advocacy
For this month's PCBAA Member Profile, the focus is on Hari Pillai, president, Technology Components, Sanmina. Hari says, "I think I've had a good dose of luck throughout my career. But beyond luck, I had a vision to become a general manager as far back as my undergraduate years. I made all my career decisions based on that. My evaluation criteria was always, "How does this opportunity get me closer to my goal?" Sometimes opportunities come from unexpected places."
12/05/2023 | American Standard Circuits
West Chicago, Illinois-based PCB fabricator American Standard Circuits will be exhibiting at this year's Annual Association of Old Crows International Symposium to be held from December 11 through the 13th in National Harbor, Maryland.
12/05/2023 | Mycronic
Mycronic AB has received an order for an SLX mask writer from a new customer in Asia. The order value is in the range of USD 5-7 million. Delivery of the system is planned for the first quarter of 2025.