Books

Featured Books

smt007 Magazine

Latest Issues

Current Issue

Chips Don't Float

In Europe and the U.S., legislation is under way to revitalize PCB fabrication and packaging. What is the status of this work, and how specifically does this change the industry landscape for EMS companies? What will help keep us afloat?

Flying High With Digital Twin

The opportunity to use manufacturing simulation as a test bed for job planning and process optimization brings continuous improvement into the modern age. This may be an all-or-nothing type of project, but it's worth the investment.

Artificial Intelligence

In this issue, we (and AI) explored how and when artificial intelligence plays a role in manufacturing today. Whether on the factory floor, or in the front office, AI applications are emerging and changing how we approach planning, processes and problem solving.

Columns

Latest Columns

||| MENU
Excerpt: The Printed Circuit Assembler's Guide to… Smart Data
April 7, 2021 | Sagi Reuven and Zac Elliott, Siemens Digital Industries Software
Estimated reading time: 3 minutes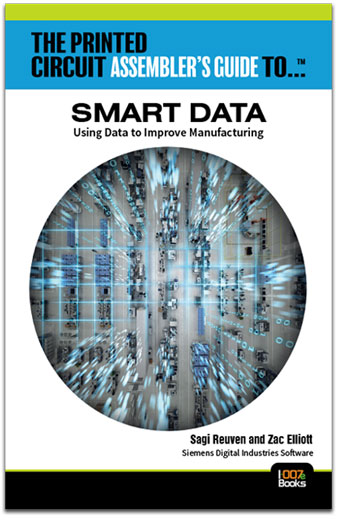 The following excerpt is from The Printed Circuit Assembler's Guide to...™ Smart Data: Using Data to Improve Manufacturing book.

Introduction
Whenever we discuss data, keep in mind that people have been collecting data, verifying it, and translating it into reports for a long time. And if data is collected and processes are changed automatically, people still will be interpreting and verifying the accuracy of the data, creating reports, making recommendations, solving problems, tweaking, improving, and innovating. Whatever data collection system is used, any effort to digitalize needs to engage and empower the production team at the factory. Their role is to attend to the manufacturing process but also to act as the front line of communications and control.
When operations are not performing as expected, they need to be able to:
Act as the first line of issue containment so that they can minimize the effect of the problem on the final product or process through problem-solving and corrective actions in real-time.
Act as intelligence gatherers during escalation events when engineering is called to the work cell so that they can spend less of their time on data gathering and more on re-engineering for root-cause elimination to remove the possibility for any undesired condition to reappear.
To help your factory take the next steps in the journey to digitalization, in this book, we're going to look at some of the major hurdles that your teams face in collecting manufacturing data that then will be useful—not only for improving processes but also for improving materials and supply chain management, tracing the sources of problems and defective or counterfeit parts, and providing trends analysis for business forecasting and reporting.
In our previous book The Printed Circuit Assembler's Guide to… Advanced Manufacturing in the Digital Age, we looked at what needs to be done to create a smart factory that is able to collect data—including how to remove barriers in an organization, protect the data, and create a system for managing it.
In Chapter 1, we will look at the challenges of collecting good data and where collecting it makes sense for the factory and improving business. In Chapter 2, we will examine what makes data smart, meaning the difference between data on its own and analytics. In Chapter 3, we will cover how data can be distributed from the underlying infrastructure for external use. We also detail some of the tools available today to help you put these principles into practice and look at a real-world example of how companies are reaping the benefits of putting their data to good use with analytics.
The requirements for product quality and reliability contribute to the growing need for meaningful analytics in manufacturing. With growing demands from quality-sensitive industries—such as aerospace, automotive, smartphones, and medical—manufacturers need to ensure their factory operations work properly. Analyzing data simply is not enough. Company managers need to use analytics to create knowledge that can positively affect manufacturing.
Today, with internet of things (IoT) technology entering the manufacturing world, factory managers can take their efficiency and waste-reduction efforts to the next phase using big-data analytics. Advanced big-data analytics can help electronics manufacturers cope with the sheer number and complexity of production activities that influence yield, providing a granular approach to diagnosing and correcting process flaws.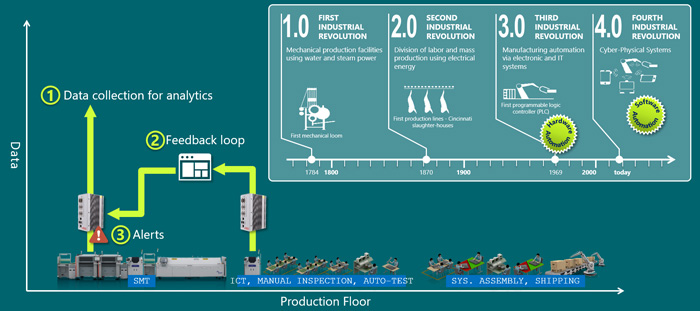 Figure 0.1: Manufacturing intelligence enables Industry 4.0.
Advanced analytics refers to the application of statistics and other mathematical tools to business data to assess and improve practices. In manufacturing, operations managers can use advanced analytics to take a deep dive into historical process data, identify patterns and relationships among discrete process steps and inputs, and then optimize the factors that prove to have the greatest effect on yield.
With IoT applications gathering huge amounts of real-time, shop-floor data constantly, what the electronics manufacturing industry now needs are analytics solutions that can aggregate these isolated data sets and analyze them to reveal important insights. These insights can be leveraged to enable better decision-making and ultimately reduce cost and waste.
To download this free eBook, published by I-Connect007, click here.
To view the entire I-Connect007 eBook library, click here.
Other related content
I-007e Micro Webinar: Implementing "Digital Twin" Best Practices From Design Through Manufacturing
Realtime with I-Connect007 Roundtable: Siemens and Computrol: Achieving Operational Excellence in Electronics Manufacturing
I-Connect007 Column: Lean Digital Thread, from Sagi Reuven, Siemens Digital Industries Software
---
Suggested Items
09/26/2023 | GlobalFoundries
GlobalFoundries (GF) announced it has applied for U.S. CHIPS and Science Act Funding, with two full applications submitted to the CHIPS Program Office of the U.S. Department of Commerce.
09/22/2023 | GlobalFoundries
The U.S. Department of Defense (DoD) has awarded GlobalFoundries (Nasdaq: GFS) (GF) a new 10-year contract for a supply of securely manufactured, U.S.-made semiconductors for use across a wide range of critical aerospace and defense applications. 
09/25/2023 | APCT
APCT, a leading name in the PCB and electronics industry, is delighted to announce the appointment of Peter Austin as its President and CEO, effective September 1. Peter takes the reins from former CEO, Steve Robinson, who has retired after years of dedicated service to the company.
09/22/2023 | Happy Holden, I-Connect007
Ever since high density interconnect (HDI) was created in 1982 by Hewlett-Packard to package its first 32-bit computer powered by a single chip, it has continued to evolve and provide the solutions for miniaturized products. The leading edge of HDI technology became the process used for organic flip-chip packaging for the semiconductor industry. The two distinct markets—IC substrates and product-system integration—are now colliding and utilizing the same ultra-HDI manufacturing processes.
09/21/2023 | KIC
KIC, a renowned pioneer in thermal process and temperature measurement solutions for electronics manufacturing, is thrilled to announce its participation in the upcoming SMTA Guadalajara Expo & Tech Forum.