Books

Featured Books

smt007 Magazine

Latest Issues

Current Issue

Test and Inspection

Test and inspection methods are undergoing rapid change. In this issue, we consider the influence of AOI, AI, and human eyes. How exactly are these pieces of the puzzle changing the role of test and inspection?

Chips Don't Float

In Europe and the U.S., legislation is under way to revitalize PCB fabrication and packaging. What is the status of this work, and how specifically does this change the industry landscape for EMS companies? What will help keep us afloat?

Flying High With Digital Twin

The opportunity to use manufacturing simulation as a test bed for job planning and process optimization brings continuous improvement into the modern age. This may be an all-or-nothing type of project, but it's worth the investment.

Columns

Latest Columns

||| MENU
Whizz Systems Installs Crest Ultrasonics' Powersonic
June 25, 2021 | Whizz Systems
Estimated reading time: 1 minute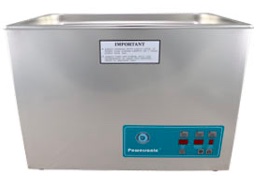 Whizz Systems, Inc., the award-winning premier provider of electronics product design, development, and manufacturing services located in the heart of the Silicon Valley, today announced the addition of a Powersonic™ Benchtop Ultrasonic Cleaner from Crest Ultrasonics.
Crest Ultrasonics' patented ceramically enhanced transducers provide greater cleaning power and reliability, when compared to conventional wafer-type transducers — and they have transferred that high performance technology to the PowersonicTM line of benchtop ultrasonic cleaners.
This tabletop unit ensures uniform cleaning throughout the tank by sweeping the ultrasonic frequency 3 kHz, which creates overlapping ultrasonic waves. This approach eliminates inconsistent cleaning due to hot spots (areas of intense ultrasonic activity) in the cleaning solution, which is caused by the unvarying or "standing" waves produced by conventional ultrasonic power supplies.
Over the last 20 years, Whizz Systems has invested in its engineers with the best technologies and practices to provide the best service and products in the industry. With in-house world-class manufacturing, the company prides itself in being equipped to successfully design, develop and manufacture the products that its customers need in today's rapidly advancing market.
Whether a client has a single need or requires the entire suite of product design and development, Whizz Systems is a partner and an extension of its clients' resources at any and every step along the journey.
---
Suggested Items
09/28/2023 | Technica USA
Technica USA announced it has reached a Master Distribution Agreement with SAA to promote and support automation systems & technology offered by SAA.
09/26/2023 | Lockheed Martin
Lockheed Martin Skunk Works, in partnership with the U.S. Air Force, completed the first flight of the U-2 Dragon Lady's Avionics Tech Refresh (ATR) program.
09/26/2023 | PRNewswire
Macronix International Co., Ltd., a leading integrated-device manufacturer in the non-volatile memory (NVM) market, announced its OctaFlash memory line has received ISO 26262 ASIL D (Automotive Safety Integrity Level) certification from SGS TÜV Saar, ensuring makers of automotive electronic systems that OctaFlash meets the highest level of safety in automotive electronics.
09/25/2023 | Alison James
"Electronics systems are at the heart of almost all modern technology. The performance and functionality of these systems have increased at breathtaking speed, chiefly as a result of advancements in semiconductor technology. Semiconductors do not function in isolation," writes Alison James, IPC senior director of government relations, in a 2023 report for the European Commission's Directorate General for Internal Market, Industry, Entrepreneurship. "These electronics systems feature prominently in key sectors like defence, aerospace, space, automotive, medical, and high-performance computing, but electronics are vital to every industry and are central to a variety of EU priorities, including the twin digital and green transitions and Europe's technological sovereignty."
09/28/2023 | Michael Carano -- Column: Trouble in Your Tank
In a previous column, the critical process of desmear and its necessity to ensure a clean copper surface connection was presented. Now, my discussion will focus on obtaining a void-free and tightly adherent copper plating deposit on these surfaces. After the desmear process, the task is to insure a continuous, conductive, and void-free deposit on the via walls and capture pad. Today, there are several processes that can be utilized to render vias conductive.