Books

Featured Books

smt007 Magazine

Latest Issues

Current Issue

Economic Headwinds

This issue takes stock of the current economic outlook and how companies are using current conditions to move themselves through technological evolutions, workforce shifts, and financial changes. Even with these headwinds, there's forward progress to be made.

Attracting New Talent

To get different results in staffing, you must change how you define, promote and recruit your job opportunities. How do you become magnetic to high-quality early-career candidates?

Test and Inspection

Test and inspection methods are undergoing rapid change. In this issue, we consider the influence of AOI, AI, and human eyes. How exactly are these pieces of the puzzle changing the role of test and inspection?

Columns

Latest Columns

||| MENU
Whizz Systems Installs Crest Ultrasonics' Powersonic
June 25, 2021 | Whizz Systems
Estimated reading time: 1 minute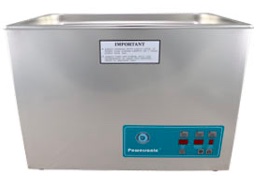 Whizz Systems, Inc., the award-winning premier provider of electronics product design, development, and manufacturing services located in the heart of the Silicon Valley, today announced the addition of a Powersonic™ Benchtop Ultrasonic Cleaner from Crest Ultrasonics.
Crest Ultrasonics' patented ceramically enhanced transducers provide greater cleaning power and reliability, when compared to conventional wafer-type transducers — and they have transferred that high performance technology to the PowersonicTM line of benchtop ultrasonic cleaners.
This tabletop unit ensures uniform cleaning throughout the tank by sweeping the ultrasonic frequency 3 kHz, which creates overlapping ultrasonic waves. This approach eliminates inconsistent cleaning due to hot spots (areas of intense ultrasonic activity) in the cleaning solution, which is caused by the unvarying or "standing" waves produced by conventional ultrasonic power supplies.
Over the last 20 years, Whizz Systems has invested in its engineers with the best technologies and practices to provide the best service and products in the industry. With in-house world-class manufacturing, the company prides itself in being equipped to successfully design, develop and manufacture the products that its customers need in today's rapidly advancing market.
Whether a client has a single need or requires the entire suite of product design and development, Whizz Systems is a partner and an extension of its clients' resources at any and every step along the journey.
---
Suggested Items
12/07/2023 | OSI Systems
OSI Systems, Inc. announced that its Optoelectronics and Manufacturing division has received orders totaling approximately $5 million to provide electronic assemblies to a leading technology OEM. The Company plans to use its operations in the United Kingdom to fulfill these orders.
12/06/2023 | BUSINESS WIRE
Nortech Systems, Inc., , a leading provider of engineering and manufacturing solutions for complex electromedical and electromechanical products announced today Andrew LaFrence has been named CFO and Senior Vice President of Finance.
12/05/2023 | PRNewswire
RTX will help the Department of Defense (DoD) address systemic risk in the procurement and delivery of supplies under an $8 million DARPA contract.
11/30/2023 | PRNewswire
Hi Sharp, a leading maker of video surveillance systems, is globally announcing its expansion into AI and cloud-based technologies for video capture.
11/29/2023 | Airbus
Airbus has signed a contract with the Spanish Ministry of Defence for the development and acquisition of SIRTAP, a High Performance Tactical UAS that will reinforce the tactical capabilities of the Spanish Army and the Air and Space Force.