Books

Featured Books

design007 Magazine

Latest Issues

Current Issue

Simplification

On the subject of simplification, our expert contributors explain how to design PCBs without making them complex and over-constrained—whatever the level of technology. In addition, we discuss the effect your decisions and tradeoffs have on design complexity.

The Standards of Design

Our expert contributors discuss how PCB designers can utilize standards to save time and money, not to mention frustration. We also spotlight the newly updated version of the IPC Checklist, a handy guide that illustrates which standards cover which topics, from front-end design through assembly.

Rigid-flex: Designing in 3D

In this month's issue, our expert contributors share their best tips, tricks and techniques for designing rigid-flex circuits. If you're a rigid board designer considering moving into the 3D world of rigid-flex, this issue is just what the doctor ordered!

Columns

Latest Columns

||| MENU
AltiumLive 2022: Tamara Jovanovic Discusses Lessons Learned at AltiumLive
January 20, 2022 | Andy Shaughnessy, Design007 Magazine
Estimated reading time: Less than a minute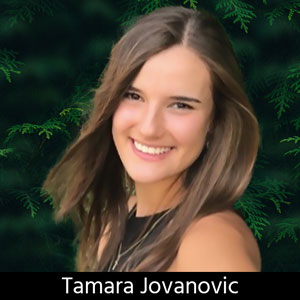 Shortly after graduating three years ago, design engineer Tamara Jovanovic attended her first AltiumLive in San Diego and discovered the global community of PCB designers. With a few years of experience designing PCBs for smart baby beds with Happiest Baby, Tamara is now working on her master's degree.
In this audio interview, Tamara explains why she plans to attend AltiumLive again this year, and she discusses what it's like attending class as an experienced PCB technologist.
To download this audio (mp3) file, click here.
---
Suggested Items
11/29/2023 | Anaya Vardya -- Column: Standard of Excellence
To sustain a standard of excellence, it's equally important to look at both what we're doing today as well as what we'll do in the future. In other words, plan ahead. In that spirit, I thought it would be prudent to peek into the future and talk about what a printed circuit board fabrication facility with a "standard of excellence" will look like five years from now.
11/28/2023 | Preeya Kuray -- Column: Material Insight
On May 11, 2023, Reps. Blake Moore (R-UT) and Anna Eshoo (D-CA) introduced the Protecting Circuit Boards and Substrates (PCB) Act to Congress. In October, I had the great pleasure of discussing the bipartisan Protecting Circuit Boards and Substrates Act with Congressman Moore, who represents Utah's First Congressional District. He shared his thoughts on how supporting and investing in the domestic PCB industry can help bolster American security.
11/20/2023 | Aidan Salvi -- Column: Facing the Future
For some time now, many of us just assumed that robots would take over our jobs, and then, well, what would happen next? But what we've found is that one of, if not the best, aspects of a factory is the cooperation between humans and automation. Particularly with Factory 5.0 and its philosophy of "cobots" (the cooperation between humans and robots), that prospective of robots taking over has changed drastically. For the first-time, people are respected as an integral part of the manufacturing process. Humans are the "head" and robots are the "hands," as together we take part in this new and exciting manufacturing process.
11/16/2023 | Pete Starkey, I-Connect007
After a rainy Tuesday for the start of productronica, we had a brief respite on Wednesday morning, so we were able to walk from the U-bahn to the west entrance of Messe München without getting wet. We were accompanied by a horde of eager exhibition attendees mobbing the turnstiles to get into what promised to be an even livelier second day of the show. Yes, productronica has come back to life after COVID and re-established its identity as a premier event with more than 1,300 exhibitors from 45 countries, together with an exclusive supporting program.
11/16/2023 | John Watson -- Column: Elementary, Mr. Watson
William of Ockham was a significant figure in medieval philosophy who lived from 1285 to 1347 and was an English Franciscan friar, philosopher, and theologian. William of Ockham is most famously known for formulating the principle of Occam's Razor, also known as the principle of parsimony. In simple terms, Occam's Razor is a problem-solving rule suggesting that when you have multiple possible explanations, the simplest one is usually the best. The most straightforward solution that fits all the facts without adding extra assumptions or complications.