Books

Featured Books

design007 Magazine

Latest Issues

Current Issue

Odd Geometries

In this issue, we discuss some of the challenges, pitfalls and mitigations to consider when designing non-standard board geometries. We share strategies for designing odd-shaped PCBs, including manufacturing trade-offs and considerations required for different segments and perspectives.

Simplification

On the subject of simplification, our expert contributors explain how to design PCBs without making them complex and over-constrained—whatever the level of technology. In addition, we discuss the effect your decisions and tradeoffs have on design complexity.

The Standards of Design

Our expert contributors discuss how PCB designers can utilize standards to save time and money, not to mention frustration. We also spotlight the newly updated version of the IPC Checklist, a handy guide that illustrates which standards cover which topics, from front-end design through assembly.

Columns

Latest Columns

||| MENU
IPC Student Director: Three Things IPC APEX EXPO Taught Me
March 7, 2022 | Paige Fiet, TTM Technologies
Estimated reading time: 4 minutes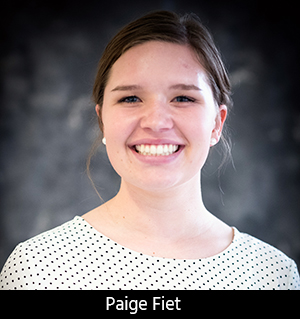 IPC APEX EXPO 2022 was my first in-person APEX EXPO event, and it surely did not disappoint. The show this year was packed with high quality technical courses, engaging professional development courses and, of course, an admirable show floor exhibition. This year APEX EXPO really resonated with me, and I would like to leave you with three insights I learned while attending.
1. Inspiration comes from meeting other young professionals.
Nothing is more encouraging to me than meeting with peers who have the same excitement for the industry as I do. IPC has done a wonderful job retaining talent with the help of its Emerging Engineer Program. Engineers in their first five years in the industry are paired with experienced mentors for three years as they navigate networking, APEX EXPO, career building, and much more. This was my second year in the program with my mentor, Mike Carano of RBP Chemical Technology.
While at APEX EXPO, mentees and mentors are asked to complete a passport that allows the mentees to fully indulge in all the conference has to offer. Some of the courses and events on the passport include activities I might not attend on my own. My favorite events from this year's passport included breakfast with the other Emerging Engineers, participating in the STEM outreach event for local high school students, and of course, the trivia networking night. Each of these events created an opportunity to meet and greet with others who are in similar places in their careers. Nothing is more inspiring to me than seeing an associate present a technical paper or receive a sought-after promotion. I like to think that if they are capable of tremendous accomplishments, I am too.
2. The importance of being an active participant in standards committees.
The first committee meeting I joined was IPC-610/JSTD-001. As a newcomer to the industry, it was nothing short of intimidating. The meeting lasts for days and there are so many people in the room. How do you keep track of all their names, and what do you mean there's a difference between a lead, wire, and a conductor? Nonetheless, what I witnessed was truly fascinating. In what other industry are you able to sit in a room with your competitors, suppliers, and customers to discuss how products are to be manufactured?
Once I wrapped my brain around the verbal tennis match in front of me, I learned that even though these committee meetings can create heated discussions, at the end of the day everyone wants what's best for their companies and the industry. The committee members who aren't vocalizing their opinions will be forced to manufacture their products to standards that they had no say in creating. Sitting in committee meetings should not just be checking boxes; rather, committee memberships should create action for all attendees.
After following up with other committees (many smaller than IPC-610, I should note), I learned that engaging in committee meetings also increases the awareness to the biggest concerns in industry. There may be issues in a process of one company that can be resolved through the experience of another. We can't know of issues that may have been resolved by someone else if we aren't willing to voice them.
3. The gravity needed to actively advance the electronics industry in the United States
My favorite speech from APEX EXPO came from Joe O'Neil as he accepted his Raymond E. Pritchard Hall of Fame Award. One of the most noteworthy stories Joe told was about his seat with the "giants" of the industry during a lunch at his first APEX EXPO. He explained his awe as he watched the biggest competitors in the industry work as a team. Joe was shocked as they offered each other help if one of them needed to use another's equipment to keep production moving. The executives from Joe's story had the insight into a dying industry in the United States. They realized they weren't competing against each other for business but with each other to maintain a spot for PCB manufacturing in the U.S.
This point was reiterated to me as I sat down with Happy Holden. Happy and I discussed how PCB manufacturing technology is 10 to 15 years behind the technology in Asia. We then analyzed ways the United States could increase their technologies and Happy hypothesized advances to the industry that I may see in my career.
All in all, APEX EXPO was a wonderful experience. I am saddened to not have been able to meet all my virtual connections in person but am looking forward to IPC APEX EXPO 2023 in San Diego.
Paige Fiet is a process engineer at TTM Technologies Logan Division.
This article originally appeared in the Real Time with... IPC APEX EXPO 2022 Show & Tell Magazine.
---
Suggested Items
12/07/2023 | ESIA
The General Assembly of the European Semiconductor Industry Association (ESIA), representing the European semiconductor industry and broader ecosystem, unanimously confirmed Jochen Hanebeck, Chief Executive Officer of Infineon Technologies, as the new ESIA President for a two-year mandate. Mr Hanebeck is succeeding NXP Semiconductors' President and CEO Kurt Sievers.
12/06/2023 | Indium Corporation
Indium Corporation is proud to announce the addition of Sales Engineer Meik Fratzel to its European team.
12/06/2023 | SEMI
SEMI announced the SEMI Leadership Accelerator to foster industry growth by assisting organizations in cultivating the next generation of leaders.
12/05/2023 | Travis Kelly -- Column: American Made Advocacy
For this month's PCBAA Member Profile, the focus is on Hari Pillai, president, Technology Components, Sanmina. Hari says, "I think I've had a good dose of luck throughout my career. But beyond luck, I had a vision to become a general manager as far back as my undergraduate years. I made all my career decisions based on that. My evaluation criteria was always, "How does this opportunity get me closer to my goal?" Sometimes opportunities come from unexpected places."
12/05/2023 | American Standard Circuits
West Chicago, Illinois-based PCB fabricator American Standard Circuits will be exhibiting at this year's Annual Association of Old Crows International Symposium to be held from December 11 through the 13th in National Harbor, Maryland.