Books

Featured Books

smt007 Magazine

Latest Issues

Current Issue

Economic Headwinds

This issue takes stock of the current economic outlook and how companies are using current conditions to move themselves through technological evolutions, workforce shifts, and financial changes. Even with these headwinds, there's forward progress to be made.

Attracting New Talent

To get different results in staffing, you must change how you define, promote and recruit your job opportunities. How do you become magnetic to high-quality early-career candidates?

Test and Inspection

Test and inspection methods are undergoing rapid change. In this issue, we consider the influence of AOI, AI, and human eyes. How exactly are these pieces of the puzzle changing the role of test and inspection?

Columns

Latest Columns

||| MENU
MacDermid Alpha Launches ALPHA OM-565 HRL3, Next Generation, Low Melt Point Solder Paste
March 10, 2022 | MacDermid Alpha Electronics Solutions
Estimated reading time: 1 minute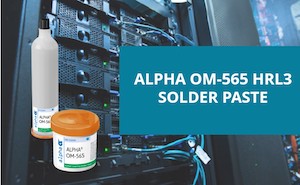 MacDermid Alpha Electronics Solutions, a global supplier of integrated solutions from our Circuitry, Assembly and Semiconductor divisions that provides unmatched capabilities in electronics design and manufacturing, announces the launch of ALPHA OM-565 HRL3, next-generation, high-reliability low-temperature solder paste formulated for a broad range of assemblies to mitigate warpage induced defects in temperature-sensitive chip-scale packages.
ALPHA OM-565 HRL3 solder paste is designed to enable target reflow temperatures of 175 °C with superior wettability to minimize post reflow defects such as Non-Wet-Open (NWO) and Head-in-Pillow (HiP). The HRL3 alloy offers superior thermomechanical and drop shock performance compared to existing low-temperature solutions. The ALPHA OM-565 chemistry enhances electrochemical performance over existing low-temperature solders, providing excellent compatibility in contact rework applications with ALPHA tested cored wire and rework fluxes.
"The HRL3 alloy represents MacDermid Alpha's commitment to providing innovative low-temperature alloy solutions to meet next-generation electronic assembly needs", comments Paul Salerno, Global Portfolio Manager, SMT. "ALPHA OM-565 HRL3 enables lower peak reflow temperatures, minimizes common warpage induced defects, and enhances mechanical reliability in assemblies requiring larger, thinner form factor package designs that are becoming common in the latest handheld and computing applications."
The ALPHA HRL3 alloy is also available in solid solder formats including bar solder and wire for selective and dip soldering processes.


Download The Printed Circuit Assembler's Guide to… Low-Temperature Soldering by Morgana Ribas. You can also view other titles in our full I-007e Book library here. 
---
Suggested Items
11/30/2023 | AIM
AIM Solder, a leading global manufacturer of solder assembly materials for the electronics industry, is pleased to announce its new NC259FPA Ultrafine No Clean Solder Paste, which it revealed recently during the Productronica Germany trade show.
11/27/2023 | Real Time with...productronica
Koh Young's Harald Eppinger talks about the company's technology for the semiconductor and advanced packaging market and how they address the challenges introduced by reflective components and micro solder deposits.
11/27/2023 | HyRel
HyRel Technologies, a global provider of quick turn semiconductor modification solutions, announces the achievement of International Traffic in Arms Regulations (ITAR) registration.
11/24/2023 | Mek (Marantz Electronics)
Mek (Marantz Electronics), a leader in Automated Optical Inspection (AOI) solutions, used last weeks' Productronica show in Munich to proudly introduce the SpectorBOX X series, a modular full 3D AOI system for THT solder joints and THT components.
11/21/2023 | Pete Starkey, I-Connect007
Productronica 2023 played host to the IPC World Hand Soldering Competition, bringing talented regional solder champions from all over the globe to compete for the title of World Champion. Each competitor was given sixty minutes to assemble a complex printed circuit board with their performance judged in accordance with IPC-A-610 Class 3 criteria. Each competitor's efforts were rated on the merits of the results achieved, scored on the quality of the assembly process, the electrical functionality of the assembly and the speed at which the assembly was produced.