Books

Featured Books

smt007 Magazine

Latest Issues

Current Issue

Chips Don't Float

In Europe and the U.S., legislation is under way to revitalize PCB fabrication and packaging. What is the status of this work, and how specifically does this change the industry landscape for EMS companies? What will help keep us afloat?

Flying High With Digital Twin

The opportunity to use manufacturing simulation as a test bed for job planning and process optimization brings continuous improvement into the modern age. This may be an all-or-nothing type of project, but it's worth the investment.

Artificial Intelligence

In this issue, we (and AI) explored how and when artificial intelligence plays a role in manufacturing today. Whether on the factory floor, or in the front office, AI applications are emerging and changing how we approach planning, processes and problem solving.

Columns

Latest Columns

||| MENU
The Future is Driven by Data
April 7, 2022 | I-Connect007 Editorial Team
Estimated reading time: 3 minutes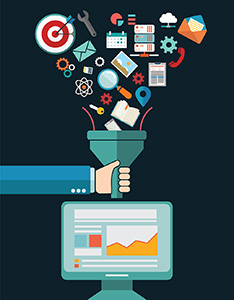 When we visited Rocket EMS in 2013 to observe a DIY 4.0 factory data collection and management system in action, we were very impressed. This was clearly a factory of the future, even back then. We recently followed up with Rocket's president, Michael Kottke, to discuss how this work has given the company a huge advantage over the competition. The moment he realized he's now in a data collection business that happens to build printed circuit boards, everything changed. Is this where all companies should be headed? Perhaps, but you'll want to take a cue from this type of innovative thinking.
Barry Matties: When we ask for a definition of Factory of the Future, we see it boils down to the data—incorporating it throughout the equipment, the facility, and your management, as well as interpreting and utilizing the data. There's also the mechanization of process, which is the automated aspect of the machines doing the work, moving material, and so on. When I visited Rocket EMS back in 2013, you were already well ahead of the curve. 
Michael Kottke: The most important thing about the Smart factory is building the factory to what you need to support. I hear everyone talk about the Smart factory, the connected factory, but depending on what you're doing and what customers you're supporting, it means two vastly different things. If you're building 40,000 boards a month of the same thing, it looks a lot different than having 100 different customers a month. We want to look forward to what the customer needs and support that by building a factory that supports a high amount of change, very fast turns, and lots and lots of data. That's probably what has driven us, and it's such an incredible ride right now.
Our new facility is in Carson City, Nevada, and it's significantly bigger than our Santa Clara, California, facility. Carson City will do more production than the one in Santa Clara because building production just isn't economically feasible to do in the Bay Area. It's significantly more expensive to build in Santa Clara than Carson City for many reasons, including power, insurance, and so forth. The overhead is a drop in the bucket. We can be much more competitive because we can do production in Carson City and leverage all the tools of Voyager, our software platform. We are actively extending Voyager to support multiple locations and full-blown production.
Matties: Michael, when did you start or bring your Carson City plant online?
Kottke: We secured it two years ago, started with the logistics and system integration, and added SMT mid last year. It's just awesome.
Matties: You're filling it to capacity, or do you have more room?
Kottke: I have so much more room.
Matties: Please talk about your software platform and how you decided to be a data-driven factory.
Kottke: Data is everything. I tell everybody that we're not a manufacturing company, we're a data collection company that builds printed circuit boards. It's gotten to the point now where there's so much data in Voyager that it drives every decision and predicts solutions. Now we have so much data that we can take it and look at everything from quoting and pricing a job, to equipment selection, and defect prediction scenarios where we can flag, "These components are something that we see a higher number of defects on. It's in a new design, so how do we prevent it?" 
Matties: Now, your platform considers the work coming in, looks at the components and other factors, then optimizes the flow in your factory for the day, the hour, or the minute. You would be able to shift work around on the fly.
To read this entire conversation, which appeared in the April 2022 issue of SMT007 Magazine, click here.
---
Suggested Items
09/20/2023 | I-Connect007 Editorial Team
Panasonic's Darren Hitchcock spoke with the I-Connect007 Editorial Team on the complexities of moving toward ultra HDI manufacturing. As we learn in this conversation, the number of shifting constraints relative to traditional PCB fabrication is quite large and can sometimes conflict with each other.
09/19/2023 | Anaya Vardya -- Column: Standard of Excellence
In my last column, I discussed cutting-edge innovations in printed circuit board technology, focusing on innovative trends in ultra HDI, embedded passives and components, green PCBs, and advanced substrate materials. This month, I'm following up with the products these new PCB technologies are destined for. Why do we need all these new technologies?
09/18/2023 | ViTrox
ViTrox, which aims to be the world's most trusted technology company, is excited to announce that our trusted Sales Channel Partner (SCP) in Mexico, SMTo Engineering, S.A. de C.V., will be participating in SMTA Guadalajara Expo & Tech Forum. They will be exhibiting in Booth #911 from the 25th  to the 26th of October 2023,  at the Expo Guadalajara in Jalisco, Mexico.
09/18/2023 | Intel
Intel announced one of the industry's first glass substrates for next-generation advanced packaging, planned for the latter part of this decade.
09/18/2023 | Aidan Salvi -- Column: Facing the Future
I have been in and around circuit boards most of my life. I started 20 years ago in my family's PCB shop, leaving after a couple of years to start my own software company. About a year ago, I returned to the family business, and the first thing I noticed was that nothing had really changed. We were doing the same things in the same way as the day I left. After talking to several experts in the industry, I realized it was worse than that: The manufacturing of PCBs had not changed in 70 years.