Books

Featured Books

smt007 Magazine

Latest Issues

Current Issue

Attracting New Talent

To get different results in staffing, you must change how you define, promote and recruit your job opportunities. How do you become magnetic to high-quality early-career candidates?

Test and Inspection

Test and inspection methods are undergoing rapid change. In this issue, we consider the influence of AOI, AI, and human eyes. How exactly are these pieces of the puzzle changing the role of test and inspection?

Chips Don't Float

In Europe and the U.S., legislation is under way to revitalize PCB fabrication and packaging. What is the status of this work, and how specifically does this change the industry landscape for EMS companies? What will help keep us afloat?

Columns

Latest Columns

||| MENU
KIC Adds Wave Monitoring Technology to Industry 4.0 Ecosystem for Thermal Processes
April 13, 2022 | Andy Shaughnessy, I-Connect007
Estimated reading time: 7 minutes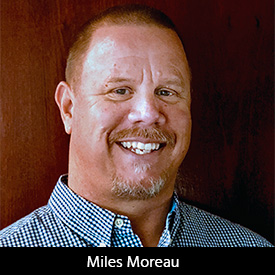 At the SMTA Dallas Expo, Andy Shaughnessy sat down with Miles Moreau of KIC to discuss the company's latest offering in wave process inspection technology. Miles also explains how KIC's early focus on automated real-time process monitoring has enabled them to become a leader in Smart factory implementation.
Andy Shaughnessy: How's it going, Miles? Good to see you here in Dallas.
Miles Moreau: The show is going well. It's good to get out to these SMTA tabletop shows again. We did a couple of them in the fall and now the spring season is starting up. People are happy to get out and be face to face with customers.
Shaughnessy: You have a couple of new processes that you've been working on. Why don't you tell us about the latest things you have going on?
Moreau: KIC has always had monitoring systems. It's been our bread-and-butter core technology for the past 40 years. This past year we added wave process inspection (WPI) as our latest state-of-the-art next generation system. We're not only monitoring the preheat of the wave or the temperature, but we're monitoring aspects of the wave. We have profile data throughout the entire process: through the wave, and peak temperatures on the wave, as well as the preheat during production. We also have an industry first: measuring the dwell time in the wave soldering process for every production board.
That's the big addition to our technology this past year; it fills the suite of what we have, what we call the thermal process component of inspection, where you have your SPI monitoring what's happening on the paste print. You have AOI post placement and AOI at the end of the line, but there's always that missing segment from reflow and wave. That's only been handled by the occasional pass-through profile, and with the KIC RPI system, we fill that final void in the whole process of inspecting as you go down the line.
Shaughnessy: That's really interesting. It must be something to have to write the software that can do this.
Moreau: Yes. From the beginning of KIC, we have had analytics and AI based on sensor technology. There are other systems available that do some type of monitoring, but we've had embedded systems, which are sensors embedded into the ovens, accurately tracking the product, knowing the speed it's going through and the temperatures along the board path. Because of that, for 40 years of having that amount of experience and data, and being out in the field with our customers, we've been able to develop very accurate algorithms and modeling. Our software is very powerful and able to accurately tell the temperature profile of every single production.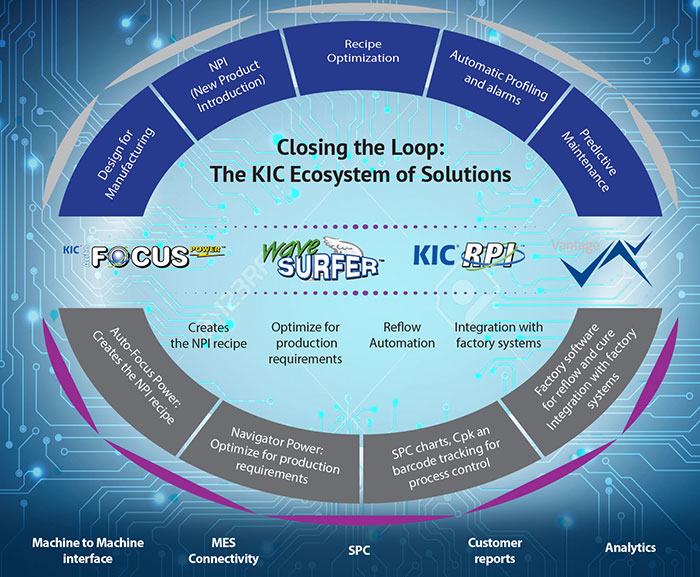 Shaughnessy: If it gets sent overseas to some huge volume shop, you can automatically sense what kind of oven it is and figure out what's going on?
Moreau: Right. Because we have this unique metric that we use in our software called process window index (PWI), it gives the indication of that temperature profile: how well it fits in the process. So, if you are a company with just the development products here in the United States, building up the processes to hand off to either Eastern Europe, Mexico, or over to Asia, the technology transfer for the reflow process becomes very simple because regardless of what oven the other manufacturer has, if you integrate that KIC system in there, now you're comparing apples to apples and can easily transfer that technology and that process over.
Shaughnessy: They have access to the data when they need it, and in a format that they prefer.
Moreau: You can compare and then push the date up along with the other inspection data, looking at Industry 4.0, for instance, where you're trying to not only manage the quality of the processes during production, but have smart systems that can correlate that data and act on it. Our RPI and WPI systems can do this; If an electronics manufacturer is noticing a particular defect from end of line AOI or functional test, they're not just having to go machine by machine, one by one, and do some data collection to find the problem. In almost real-time, they can do some comparisons and see whether it was related to reflow. Was that print related? Was it a combination of both? There's no way you can do that if you're missing a full set of data from one of the processes, the thermal process. That's where this real-time monitoring on the reflow process inspection becomes important.
Shaughnessy: It's like the missing link.
Moreau: Yes, exactly.
Shaughnessy: This fits in well with CFX, Hermes, and all these other formats as well?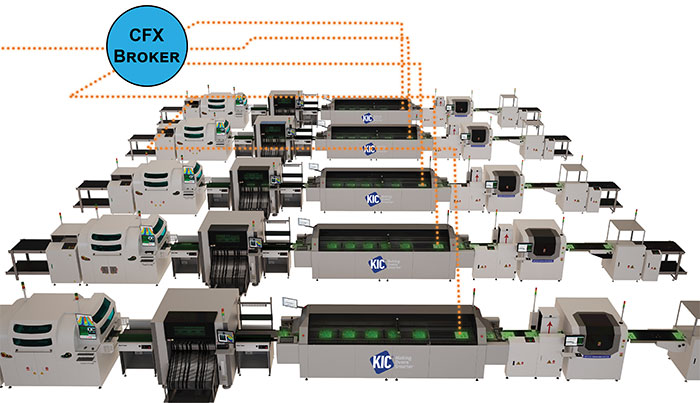 Moreau: The whole idea of a smart factory and how it would be accomplished started probably eight or nine years ago. KIC was a founding member of the IPC-CFX standards committee. We were also one of the original 17 companies developing the Hermes standard. Now we have standards that are keyed in on Industry 4.0, so you have a common set of data where all the equipment and processes are doing things in the same way, almost like a plug-and-play smart factory. Then, you can utilize those systems to automate the factory, so it's a self-improving manufacturing line. KIC is the only company focused on thermal process inspection that is listed on the IPC CFX qualified product list (QPL) and is Hermes capable as well.
Shaughnessy: Right. That's really cool.
Moreau: For the longest time, it was an educational process for the customers. They understand running a profile to see what the temperature of the board is, but why do you need to monitor the process in real-time? Why do you need to know what every single board is seeing? For the past 20 years, we've been showing them, "This is why, here's the value you gain, we can improve your quality by automating, and you reduce your cost." We demonstrated this to help the customer justify what the value is. Now, as the smart factories come on, the KIC solution is the perfect fit, and the customer is seeing that.
Shaughnessy: You were already there, right?
Moreau: Maybe we were even a little bit before our time.
Shaughnessy: You had a foot in the door.
Moreau: It has worked out well to be involved in developing those standards because our system is a key to that whole smart factory solution.
Shaughnessy: Everybody says they want to evolve, but when you talk to them and you hear about the pain of change, you realize they don't really want to change. But you did and it's working out.
Moreau: It's exciting because we're looking at newer technologies and seeing how we can be more integrated into the manufacturing process so that even at the automating, at the NPI level, we have tools where high-mix factories have to change boards four or five times a day. They get new customers coming in. They might have 10 assemblies they need to set up every week or every couple weeks. How do you get the process ready?
We look at how we can automate that. How can we have another solution for our customers? We focus on machine maintenance, of having this strong core technology to monitor and improve the process, but also all the areas of thermal process in the manufacturing enterprise. When looking at design for manufacturing all the way through to the final board, we ask, "Where is the thermal process involved and how can KIC provide a solution there?" We try to interconnect the full ecosystem of solutions so we can see what the customer needs and provide value.
Shaughnessy: Is there anything else you want to mention?
Moreau: Today we had a lot of visits to our booth, and it really hit two areas which we've discussed here. A couple of customers were looking for the automation. They run profiles now and they see that this is a much better way. Because they can automate, they might only have to run a profile every few months.
We've also had some customers in the areas of high-reliability products in automotive and so forth that need the traceability requirements for those products that they're building for their end customers. We had those conversations at IPC APEX EXPO, and here at SMTA Dallas, so it continues.
Shaughnessy: Thank you, Miles. It was good to see you again.
Moreau: Thank you as well.
Related Links:
---
Suggested Items
11/30/2023 |
The goal of the collaboration is to promote the standardization of post-quantum cryptography.
11/30/2023 | PRNewswire
Hyundai Mobis is poised to secure new orders for premium vehicle displays, characterized by large screens, high definition, and slim design, using a fusion of innovative technologies targeting global automakers.
11/30/2023 | Aoshikang
On November 28, Aoshikang Technology Co., Ltd., a prominent player among the world's top 100 PCB companies, held a grand topping-out ceremony for its Thailand-based production base, SUNDELL Technology Co., Ltd.
11/29/2023 | Intel
Ahead of Enlit Europe, Intel announced that its technology is helping power the Edge for Smart Secondary Substations (E4S) Alliance's new solution to modernize the energy grid.
11/29/2023 | HyRel
HyRel Technologies, a global provider of quick turn semiconductor modification solutions, is pleased to announce a strategic partnership with EQC Southeast as its manufacturers' representative.