Books

Featured Books

smt007 Magazine

Latest Issues

Current Issue

Chips Don't Float

In Europe and the U.S., legislation is under way to revitalize PCB fabrication and packaging. What is the status of this work, and how specifically does this change the industry landscape for EMS companies? What will help keep us afloat?

Flying High With Digital Twin

The opportunity to use manufacturing simulation as a test bed for job planning and process optimization brings continuous improvement into the modern age. This may be an all-or-nothing type of project, but it's worth the investment.

Artificial Intelligence

In this issue, we (and AI) explored how and when artificial intelligence plays a role in manufacturing today. Whether on the factory floor, or in the front office, AI applications are emerging and changing how we approach planning, processes and problem solving.

Columns

Latest Columns

||| MENU
GPV's Business Improvement Meeting in Slovakia
June 8, 2022 | GPV
Estimated reading time: Less than a minute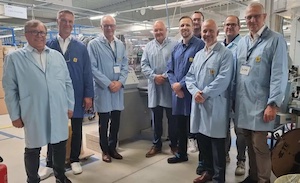 Top Management visited our two sites in Slovakia, Hlohovec, GPV Electronics SK and GPV Cables SK, as part of this year's Business Improvement Meeting tour. At the sites, Top Management met with Managing Director in GPV Electronics SK Rastislav Ondrejka, GPV Cables SK Site Manager Peter Korobov, and Managing Director Hans-Peter Süss, and the local management teams of both sites.
"We have had some productive days with the local management teams, discussing site-specific challenges and initiatives. Among the subjects, we have touched upon, is our updated strategy, safety on our production sites, our values, and sustainability, which is increasingly essential to our business strategy as well as our footprint on the planet. The Business Improvement Meetings give us new input and good talks about our way of doing business, so we can keep improving and optimizing to ensure the highest service and quality to our customers. We enjoyed meeting with all our colleagues in Slovakia," says Bo Lybæk, CEO at GPV.
---
Suggested Items
09/22/2023 | IPC
Join fellow EMS leaders in the region on Oct 5, 2023, 4:30 - 8:00pm EDT, to share industry pain points and solutions. Our focus for this meeting is how companies profitably reach the next level of revenue. Following a presentation on the current EMS market and revenue tiers in the industry, participants will discuss how to reach the next level and grow their business. Discussion will pull from direct experience, questions, and ideas. From there, the conversation goes where you, the leaders, take it. Every roundtable ends in unique takeaways.  
09/20/2023 | Gartner, Inc.
IT spending in the Middle East and North Africa (MENA) region is forecast to accelerate in 2024, increasing 4% from 2023, according to the latest forecast by Gartner, Inc.
09/15/2023 | Gartner, Inc.
Gartner, Inc. highlighted five technologies that will transform the digital future of organizations. They include digital humans, satellite communications, tiny ambient IoT, secure computation and autonomic robots.
09/18/2023 | Dan Beaulieu -- Column: It's Only Common Sense
Often, standing still and doing nothing is the most dangerous tactic you can take. Most companies who get themselves in a jam did it because they didn't do anything. They saw their impending doom but were too frozen in their fear of uncertainty to do anything about it. Transitioning from a mindset of absolute certainty to one focused on accomplishment and growth can be a powerful, but necessary shift. To help you with changing that mindset, here are 12 things to consider.
09/14/2023 | HansaMatrix
Maris Macijevskis is leaving his position as Finance Director and Member of the Board at Hansamatrix. He joined the company in 2017 and has played a significant role in developing financial and risk management directions of a Nasdaq-listed company, as well as management of investor relations.