Books

Featured Books

smt007 Magazine

Latest Issues

Current Issue

Economic Headwinds

This issue takes stock of the current economic outlook and how companies are using current conditions to move themselves through technological evolutions, workforce shifts, and financial changes. Even with these headwinds, there's forward progress to be made.

Attracting New Talent

To get different results in staffing, you must change how you define, promote and recruit your job opportunities. How do you become magnetic to high-quality early-career candidates?

Test and Inspection

Test and inspection methods are undergoing rapid change. In this issue, we consider the influence of AOI, AI, and human eyes. How exactly are these pieces of the puzzle changing the role of test and inspection?

Columns

Latest Columns

||| MENU
Ventec's Book on Thermal Management: The Summer Sequel You've Been Waiting For
June 24, 2022 | I-Connect007
Estimated reading time: 1 minute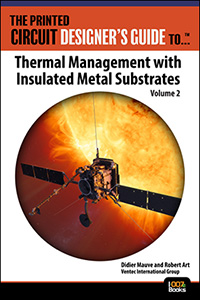 I-Connect007 is excited to announce the release of the second title in Ventec's series on thermal management, The Printed Circuit Designer's Guide to… Thermal Management with Insulated Metal Substrates, Volume 2.
This second volume covers the latest developments in the field of thermal management, particularly in insulated metal substrates, using state-of-the-art products as examples, and focusing on specific solutions and enhanced properties of IMS.
Written by Ventec International Group's Didier Mauve, Head of Global OEM and Technology, and Robert Art, Global Account Manager IMS/TIM, this book also addresses the key challenge of how to improve reliability of components as they become increasingly smaller and more efficient.
Peer reviewer Jan Pedersen, Director of Technology at NCAB Group, says, "IMS materials have been in the marketplace for decades now without a standard for the user's reference. This textbook is an important contribution to the understanding of IMS materials and, specifically, the focus on total thermal resistance and the new IPC Test Method TM-650 2.3.54."
Readers will learn the various methods that have been applied to the modeling and testing of thermal materials. Different approaches give varying values of thermal conductivity when applied to the same material; the effects of measurement errors and tolerance in dielectric thickness can also vary.
Download your free copy today at I-007eBooks.com. You can also view our full library at I-007eBooks.com.
Dedicated to educating PCB designers, The Printed Circuit Designer's Guide to… series of books is a valuable resource for people seeking the most relevant information available. 
Look for other exciting titles in this series, like:
Stackups: The Design within the Design
High Performance Materials
System Analysis: Electromagnetic Interference and Thermal Analysis of Electronic Systems
…and more coming this summer
We hope you enjoy The Printed Circuit Designer's Guide to… Thermal Management with Insulated Metal Substrate, Volume 2.
For more information, contact:
Barb Hockaday
I-Connect007 eBooks
barb@iconnect007.com
+1-916-365-1727 (GMT-7)
---
Suggested Items
09/20/2023 | I-Connect007 Editorial Team
Panasonic's Darren Hitchcock spoke with the I-Connect007 Editorial Team on the complexities of moving toward ultra HDI manufacturing. As we learn in this conversation, the number of shifting constraints relative to traditional PCB fabrication is quite large and can sometimes conflict with each other.
09/19/2023 | Anaya Vardya -- Column: Standard of Excellence
In my last column, I discussed cutting-edge innovations in printed circuit board technology, focusing on innovative trends in ultra HDI, embedded passives and components, green PCBs, and advanced substrate materials. This month, I'm following up with the products these new PCB technologies are destined for. Why do we need all these new technologies?
09/18/2023 | ViTrox
ViTrox, which aims to be the world's most trusted technology company, is excited to announce that our trusted Sales Channel Partner (SCP) in Mexico, SMTo Engineering, S.A. de C.V., will be participating in SMTA Guadalajara Expo & Tech Forum. They will be exhibiting in Booth #911 from the 25th  to the 26th of October 2023,  at the Expo Guadalajara in Jalisco, Mexico.
09/18/2023 | Intel
Intel announced one of the industry's first glass substrates for next-generation advanced packaging, planned for the latter part of this decade.
09/18/2023 | Aidan Salvi -- Column: Facing the Future
I have been in and around circuit boards most of my life. I started 20 years ago in my family's PCB shop, leaving after a couple of years to start my own software company. About a year ago, I returned to the family business, and the first thing I noticed was that nothing had really changed. We were doing the same things in the same way as the day I left. After talking to several experts in the industry, I realized it was worse than that: The manufacturing of PCBs had not changed in 70 years.