Pony.ai, SAIC AI Lab to Develop Fully Driverless EV Robotaxi
September 27, 2022 | Business Wire
Estimated reading time: 2 minutes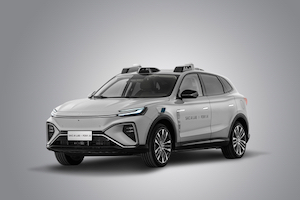 Pony.ai, a leading global autonomous driving technology company, announced that it is collaborating with SAIC AI Lab, a division of SAIC Motor (Shanghai Automotive Industry Corporation), China's largest auto manufacturer to jointly explore and advance driverless technology. Together with SAIC AI Lab, Pony.ai launched a concept vehicle based on the SAIC Marvel R model and will build out a fleet of autonomous vehicles equipped with Pony.ai's L4-level driverless solutions, over time.
The concept car is equipped with the latest generation of Pony.ai technology, which utilizes 17 integrated automotive-grade sensors to create a 360-degree visual range covering 200 meters, eliminating blind spots around the vehicle. The vehicle also features a new streamlined, compact design, including a new generation intelligent cockpit featuring a foldable steering wheel that provides a human-machine interaction experience that significantly advances automobile autonomy.
The two companies will comprehensively collaborate on automotive chassis, intelligent cockpit, human-machine interface, remote assistance, and other intelligent driving technologies and jointly promote the implementation of Shanghai's driverless policy. Ultimately, this mass-produced, purpose-built vehicle will accelerate the widespread commercial adoption of robotaxi services and autonomous driving technology across multiple cities in China.
This news builds on today's announcement of the launch of the "Shanghai Driverless Demo Zone," which is part of the National Intelligent Vehicle Pilot in Shanghai. The planned driverless demo zone will include an area of 3.8 kilometers of semi-closed roads at the Shanghai Auto Expo Park. The first 1.2 kilometers have already been constructed and are in use, with the remaining 2.6 kilometers expected to be completed by the end of this year.
"SAIC is a world-class automotive company, and Pony.ai is a leader in autonomous driving technology. Together we will break through tech boundaries and accelerate the development of driverless technology and promote and advance the application of driverless technology," said James Peng, Pony.ai co-founder and CEO.
"Pony.ai is a global leader in autonomous driving. SAIC AI Lab has mature technical strengths in driverless operation, vehicle development, and intelligent cockpit. Its robotaxi project has been affirmed by the market. It is believed that the cooperation between the two companies will accelerate commercialization progress, upgrade mobility services, and advance the establishment of intelligent urban transportation," said Dang Xiang, General Manager of SAIC AI Lab. 
In the near future, SAIC AI LAB will continue SAIC's strategy of intelligent network connection and effectively create a new format of intelligent transportation. In parallel, Pony.ai is moving at an impressive pace to evolve its robotaxi service programs since establishing its Shanghai R&D center in July 2020. In July 2021, Pony.ai launched its robotaxi services in Shanghai's Jiading District, which covers the main urban sections of Jiading, and in November 2021, Pony.ai further expanded the scale of its PonyPilot+ service and fleet to the public in Shanghai. The collaboration with SAIC allows Pony.ai to increase its footprint in Shanghai and strengthen its leading position in Tier-1 cities in China.
---
Suggested Items
09/25/2023 | StenTech
StenTech Inc., the leading multinational SMT Printing Solutions company, is pleased to announce plans to exhibit at the SMTA Guadalajara Expo, scheduled to take place Oct. 25-26, 2023 at the Expo Guadalajara in Guadalajara, Jalisco, Mexico.
09/22/2023 | ACN Newswire
Nanofiber Quantum Technologies Inc. raised $8.5m from leading venture capital investors. Phoenix Venture Partners (PvP) in the US, and Japan's JAFCO Group Co Ltd, SPARX Group Co Ltd, Keio Innovation Initiative, Inc. (KII), and Waseda University Ventures (WUV) financed the round through convertible notes.
09/21/2023 | ViTrox
ViTrox, which aims to be the world's most trusted technology company, is pleased to announce the addition of Hayden Dalton to our team as a Field Support Engineer who based in Milwaukee, WI, effective August 21, 2023.
09/20/2023 | Qualcomm Technologies, Inc.
Qualcomm Technologies, Inc. is ushering in a new era of home connectivity, and new opportunities for service providers, with the introduction of the Qualcomm® 10G Fiber Gateway Platform and its signature feature, Qualcomm® Service Defined Wi-Fi technology.
09/19/2023 | Mirtec
MIRTEC, 'The Global Leader in Inspection Technology', is pleased to announce its participation in the upcoming SMTA Guadalajara Expo on Wednesday, Oct. 25, 2023.