Books

Featured Books

smt007 Magazine

Latest Issues

Current Issue

Chips Don't Float

In Europe and the U.S., legislation is under way to revitalize PCB fabrication and packaging. What is the status of this work, and how specifically does this change the industry landscape for EMS companies? What will help keep us afloat?

Flying High With Digital Twin

The opportunity to use manufacturing simulation as a test bed for job planning and process optimization brings continuous improvement into the modern age. This may be an all-or-nothing type of project, but it's worth the investment.

Artificial Intelligence

In this issue, we (and AI) explored how and when artificial intelligence plays a role in manufacturing today. Whether on the factory floor, or in the front office, AI applications are emerging and changing how we approach planning, processes and problem solving.

Columns

Latest Columns

||| MENU
I-Connect007 Editor's Choice: Five Must-Reads for the Week
September 30, 2022 | Nolan Johnson, I-Connect007
Estimated reading time: 2 minutes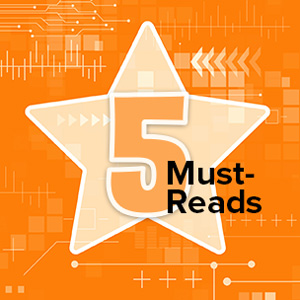 This week, our five must-reads include the IPC report on the EMS industry and a report on ICs for the automotive market. Add to that Lockheed's most powerful DoD laser yet, IPC's APEX keynote announcement, and—for you conference and expo junkies—a calendar of upcoming industry events. 
I can't help but notice that much of our news is about, well, something new. In this case, my editor's picks for the week capture new technology, new perspectives, new ways to communicate content, and new developments that we can expect to see in our future daily life. To borrow a phrase from the TV show "Firefly," everything is "shiny" this week.   
I've got a busy travel schedule in October. I will be at PCB West, the IPC Advanced Packaging symposium, SMTA International, and electronica. If you see me, say hello, and share something cool about the part of the industry you're in. Need to know details on those events? Read item No. 4 in my list below.  
North American EMS Industry Up 14.9% in August 
Published September 22
The August book-to-bill, as reported by IPC, is 1.31. It's a strong ratio, but the ratio has been trending downward from a high of 1.58 in January 2022. Shawn Dubravac comments the this is "in line with a slowing economy and slowing demand for durable goods." There's good news, too so check out the whole story. 
Automotive IC Marketshare Seen Rising to 10% by 2026 
Published September 28
"IC marketshare has steadily increased since 1998 growing from 4.7% of total IC sales that year to 7.4% in 2021. Marketshare gains are forecast to continue for the auto segment, with an 8.5% share expected this year and 9.9% share by the year 2026." I can't help but wonder when automotive ICs will reach a point where they start to spill over into other markets and applications simply because they're the most common—that's a bit of turnabout for the auto makers. There's more detail in the report, of course. 
Lockheed Martin Delivers Its Highest Powered Laser To Date To U.S. Department Of Defense 
Published September 27
Lockheed Martin delivered "a tactically-relevant electric 300 kW-class laser, the most powerful laser that Lockheed Martin has produced to date. This 300 kW-class laser is ready to integrate with the DOD demonstration efforts." The announcement states that Lockheed Martin "increased the power and efficiency and reduced the weight and volume" of the device over previous versions. Laser afficionados (like myself) will find this a short, but interesting read. 
Pack Your Bags! We've Got Your Trade Show Calendar Here 
Published September 23
The I-Connect007 industry events calendar has made its triumphant return and in a new format. Michelle Te tracks all the upcoming events, putting them in one easy-to-find resource. We'll be publishing updates periodically, of course. If we've missed an event, you can submit it to us at news@iconnect007.com. 
Engineer, Author and Emmy-nominated Science TV Host Emily Calandrelli to Keynote IPC APEX EXPO 2023 
Published September 28
As a science type, an engineer, and a degreed computer scientist myself, I'm a big fan of Emily Calandrelli's work to educate children on the value and fun in STEM. If you're not already aware of her work, look her up on Netflix or the Fox Channel before you listen to her keynote at IPC APEX EXPO 2023. Find details in this news item from IPC.
---
Suggested Items
09/22/2023 | IPC
Join fellow EMS leaders in the region on Oct 5, 2023, 4:30 - 8:00pm EDT, to share industry pain points and solutions. Our focus for this meeting is how companies profitably reach the next level of revenue. Following a presentation on the current EMS market and revenue tiers in the industry, participants will discuss how to reach the next level and grow their business. Discussion will pull from direct experience, questions, and ideas. From there, the conversation goes where you, the leaders, take it. Every roundtable ends in unique takeaways.  
09/21/2023 | Intraratio
Intraratio, a provider of enterprise software solutions, is pleased to announce its participation in the SMTA Guadalajara Expo and Tech Forum 2023.
09/21/2023 | SEMI
The SEMI Semiconductor Climate Consortium (SCC) issued its first report of the semiconductor ecosystem's greenhouse gas (GHG) emissions profile, an in-depth analysis of the semiconductor value chain's carbon footprint and priority-ranked carbon emission sources for the industry to address.
09/20/2023 | PDR
PDR is set to showcase its cutting-edge IR-E3 Series of SMD/BGA IR rework systems, as well as its industry-leading X-ray solutions.
09/20/2023 | Hentec Industries/RPS Automation
Hentec Industries/RPS Automation, a leading manufacturer of selective soldering, component lead tinning and solderability test equipment, announces that it has added assembly and production staff members to its team to accommodate its recent increase in sales and order demand.