Books

Featured Books

smt007 Magazine

Latest Issues

Current Issue

Chips Don't Float

In Europe and the U.S., legislation is under way to revitalize PCB fabrication and packaging. What is the status of this work, and how specifically does this change the industry landscape for EMS companies? What will help keep us afloat?

Flying High With Digital Twin

The opportunity to use manufacturing simulation as a test bed for job planning and process optimization brings continuous improvement into the modern age. This may be an all-or-nothing type of project, but it's worth the investment.

Artificial Intelligence

In this issue, we (and AI) explored how and when artificial intelligence plays a role in manufacturing today. Whether on the factory floor, or in the front office, AI applications are emerging and changing how we approach planning, processes and problem solving.

Columns

Latest Columns

||| MENU
Scanfil's Atlanta Factory Expansion Answers Customer's Need to Localize Products in the US
November 10, 2022 | Scanfil
Estimated reading time: 1 minute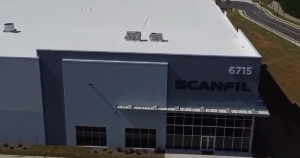 Business and opportunities in the US have been in a state of growth, and Scanfil has decided to meet the challenge head on with a significant expansion of the capabilities and floor space in Scanfil Atlanta. The company has seen a growing demand with our customers along with requests to meet our customers' strategy to localize production in the US. The Atlanta factory supports our global customers with their demands for production closer to the needed end customer market to reduce lead times, remove risk of supply chains, improve communication, support circular economy, and more.
We are expanding our logistics and systems integration footprint five minutes from the main facility in Buford, GA. This new space provides increased area for a few growing existing customers as well as space for new customers. "The main facility will stay as our primary business, and we have transferred most non-ESD required manufacturing to the new space to make space for growth in ESD sensitive products. The new operation brings on about twenty additional employees to three or four manufacturing lines and there is still room for growth", says Jaron Cherry, Director of Sales at Scanfil Atlanta.
The doors have opened in the beginning of July, and today we are around 40% operational capacity with the planned work for this new space. We saw the need for localization growing through the pandemic and we believe that it continues to grow now with the potential recession coming.
Scanfil Atlanta's primary operations include high-level assembly and finish product assembly, systems integration, distribution and warehousing, and a repair as a service organization with around twenty-five technicians.
---
Suggested Items
09/26/2023 | Cadence Design Systems, Inc.
Cadence Design Systems, Inc. announced the expansion of its node-to-node design migration flow based on the Cadence® Virtuoso® Studio, which is compatible with all TSMC advanced nodes, including the latest N3E and N2 process technologies.
09/25/2023 | Q Source
Q Source, a provider of custom solutions for the Bio-Medical, Electronic, Pharmaceutical Manufacturing industries, is excited to announce its strategic partnership with XDry Corporation, a renowned dry cabinet manufacturer.
09/22/2023 | Qualcomm Technologies, Inc.
Charter Communications, Inc. and Qualcomm Technologies, Inc., today announced a collaboration to deliver the next-generation Advanced Wi-Fi router that will bring Wi-Fi 7 and 10 Gbps Wi-Fi capabilities to Spectrum Internet users, helping support and enhance the converged connectivity experience for residential and small and medium-sized business customers. Advanced Wi-Fi routers with Wi-Fi 7 are expected to be available to Spectrum customers in 2024.
09/21/2023 | Dymax
Dymax, a leading manufacturer of light-curing materials and equipment, will exhibit in booth 1526 at SMTA International 2023 in Minneapolis, MN, from October 10-11.
09/21/2023 | Altus Group
Altus Group, a leading supplier of capital equipment and services to the electronics manufacturing industry, has signed an agreement with SMT Thermal Discoveries to distribute its advanced reflow soldering and thermal technology solutions in Ireland.