Books

Featured Books

smt007 Magazine

Latest Issues

Current Issue

Chips Don't Float

In Europe and the U.S., legislation is under way to revitalize PCB fabrication and packaging. What is the status of this work, and how specifically does this change the industry landscape for EMS companies? What will help keep us afloat?

Flying High With Digital Twin

The opportunity to use manufacturing simulation as a test bed for job planning and process optimization brings continuous improvement into the modern age. This may be an all-or-nothing type of project, but it's worth the investment.

Artificial Intelligence

In this issue, we (and AI) explored how and when artificial intelligence plays a role in manufacturing today. Whether on the factory floor, or in the front office, AI applications are emerging and changing how we approach planning, processes and problem solving.

Columns

Latest Columns

||| MENU
Absolute EMS Sponsors Race for Research Driver Benefiting St. Jude
November 10, 2022 | Absolute EMS, Inc.
Estimated reading time: 2 minutes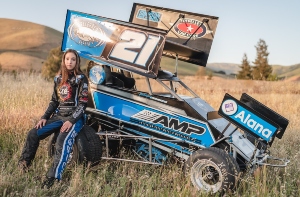 Absolute EMS, Inc., an award-winning EMS provider of turnkey and consignment manufacturing services, is pleased to announce that the company is sponsoring a 16-year-old driver in the Race for Research Event benefiting St. Jude Children's Research Hospital.
Every once in a while, you meet someone who just has a little something extra.  Drive, passion, charisma, or sometimes they are just wise old souls. Ms. Mickelina Monico is a young woman who is not only smashing the proverbial glass ceiling but will not allow one to exist in her world young and exciting world.
When Monico was turning 15 she wanted to take up race car driving.  Not just drive, but be the best in her sport. When her sport outstripped her family's ability financially, it was not a problem.  She created her own sponsorship package to take to local businesses with an enticing story as to why they should sponsor her, and yes, she was successful. But she was young then. She is 16 now and has her eyes set on larger challenges and goals.
The young driver's father had cancer when he was younger. When he recovered, he wanted to give back to St Jude. He single-handedly organized one of the most profitable fundraisers for St Jude. Now, his daughter is coordinating a fundraiser for St. Jude and using her racing as a conduit.  Monico would like to organize one of the most profitable fundraisers for St Jude and we can join. 
"When you see a young person with this much passion, it has always been my reaction to run, not walk, to help them!" said Jayne Carthy, Vice President of Sales and Marketing. "Mickelina is 16! I don't know who she will be when she is 30 but I can guarantee she will be a leader of sorts making this world a better place for all of us – all while she elegantly carves a path into racecar driving for young women. Yes please, we very much wish to be a part of this."
Absolute EMS is proud to support young women determined to break the glass ceiling. The company has contributed to the young, ambitious driver's fundraiser and looks forward to leading her to success. The fundraiser will take place Friday, May 12, 2023 at the Hilton Garden Inn Fairfield, and the race will be held Saturday, May 13, 2023 at the Dixon Speedway in California.
Absolute EMS is a leader in end-to-end electronic manufacturing services solutions that help its customers rapidly introduce innovative new technology by facilitating speed-to-market in their marketplace. Speed-to-market starts with engineering services, and extends into prototypes, pilots and then into production.
A long-time commitment to sustainability contributes to Absolute EMS leading the way for manufacturing operations among EMS organizations.
---
Suggested Items
09/21/2023 | SEMI
The SEMI Semiconductor Climate Consortium (SCC) issued its first report of the semiconductor ecosystem's greenhouse gas (GHG) emissions profile, an in-depth analysis of the semiconductor value chain's carbon footprint and priority-ranked carbon emission sources for the industry to address.
09/21/2023 |
Intraratio, a provider of enterprise software solutions, is pleased to announce that Ryan Gamble, CEO and Founder of Intraratio, will deliver an informative keynote presentation at SMTA International 2023. T
09/20/2023 | Siemens
Siemens Digital Industries Software announced that Gotion High-tech Co., Ltd. has selected the Siemens Xcelerator portfolio of industry software to build an intelligent battery manufacturing platform as part of achieving its digital transformation goals.
09/20/2023 | Zentech Manufacturing
Zentech Manufacturing is pleased to announce that it has chosen Tim Facklam to be its Chief Operating Officer.
09/20/2023 | BTU International, Inc.
BTU International, Inc., a leading supplier of advanced thermal processing equipment for the electronics manufacturing market, is joining forces with SMarTsol Technologies at the upcoming SMTA Guadalajara Expo, scheduled to take place Oct. 25-26, 2023 at the Expo Guadalajara in Guadalajara in Jalisco, Mexico.