Books

Featured Books

smt007 Magazine

Latest Issues

Current Issue

Chips Don't Float

In Europe and the U.S., legislation is under way to revitalize PCB fabrication and packaging. What is the status of this work, and how specifically does this change the industry landscape for EMS companies? What will help keep us afloat?

Flying High With Digital Twin

The opportunity to use manufacturing simulation as a test bed for job planning and process optimization brings continuous improvement into the modern age. This may be an all-or-nothing type of project, but it's worth the investment.

Artificial Intelligence

In this issue, we (and AI) explored how and when artificial intelligence plays a role in manufacturing today. Whether on the factory floor, or in the front office, AI applications are emerging and changing how we approach planning, processes and problem solving.

Columns

Latest Columns

||| MENU
Ryan Flaherty Celebrates 15-Year Anniversary with SMTA
December 8, 2022 | SMTA
Estimated reading time: 2 minutes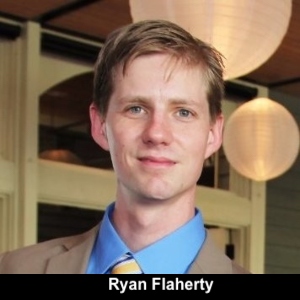 SMTA Communications Director Ryan Flaherty celebrated a special anniversary on Monday, November 28—his 15th year with the association. Ryan joined the staff in 2007 after graduating from the University of Minnesota with a BIS in Architectural Studies, Design, and Psychology.
"Ryan's commitment to the SMTA and its members over the past 15 years has been exemplary; his dedication and hard work has been key in supporting this special organization," says Tanya Martin, SMTA Executive Director.
Ryan has been a mentor and friend to so many over his 15-year career. The nature of his work has him integrated into many departments which allow him to forge relationships with other staff members.
"When I first started working at the SMTA 12 years ago, one of the first tasks I was given was transcribing the comments from an event survey," says Karen Frericks, director of chapter relations. "I was surprised by how many people commented on how great someone named Ryan was – always helpful and knowledgeable, etc. It wasn't long before I discovered that all those comments were right. Ryan is the glue that holds this office together and the best co-worker anyone could ask for. Even now, 12 years later, he still answers all my dumb questions patiently, and comes up with smart solutions for any problems that I pose to him (and there are a LOT!)  Congrats on 15 years here, Ryan. Here's hoping for 15 more."
"Ryan is one of those guys that you can go to for guidance," says Alec Young, marketing and communications manager at SMTA. "He's the one person that we can call upon when we need help, and he will happily offer any assistance. He's got a genuine heart that just gives and is a great presence to be around in the office."
"It has been an honor to work with Ryan the past six years," says Karlie Severinson, SMTA meetings and events manager. "He is a wonderful coworker and mentor. Watching him interact within the SMTA network over the years really shows you how much he cares for everyone in this association. Ryan is "the guy" for any questions and I appreciate all the time he has spent with me and my colleagues! Cheers to 15 years Ryan!"
"I am often asked, what department is Ryan in? Truthfully, he is in every department," says Saniya Pilgaonkar, membership services manager. "He knows how to navigate and get things right. Ryan is an inspiration to the newer staff. The word 'No' is not in his dictionary. I am always grateful for him being the best teacher and always being helpful. Kudos to 15 years."
The SMTA thanks Ryan for his incredible dedication and service to the association these past 15 years.
---
Suggested Items
09/22/2023 | Nolan Johnson, I-Connect007
This week has been chock full of news about upcoming trade shows and conferences. Clearly, the season is upon us. This week, I-Connect007 reported on PCB West in Santa Clara (often referred to as the show which kicks off trade show season) and the topic of artificial intelligence was everywhere. By the looks of it, not just at the conference, either. For months now, the mainstream media has been gobbling up all sorts of news about generative AI engines, painting the picture that we'll all lose our jobs to these tools, while also reporting on situations where the results from AI have gotten progressively worse over time.
09/21/2023 | IDC
Global shipments for wearable devices returned to growth in the second quarter of 2023 (2Q23) reversing two quarters of decline, according to new data from the International Data Corporation (IDC) Worldwide Quarterly Wearable Device Tracker.
09/12/2023 | I-Connect007 Editorial Team
In Chapter 4 of 'The Printed Circuit Designer's Guide to... Manufacturing Driven Design,' the author, Max Clark, explores industry advancements that bridge the gap between concurrent and intelligent DFM. Both systems complement each other within the typical workflow and represent the beginnings of a transition away from a classical DFM, allowing for an improved NPI process.
09/01/2023 | I-Connect007 Editorial Team
In Europe and the U.S., legislation is under way to revitalize unified circuit manufacturing—PCB fabrication and packaging. To help make the most of this legislative work, industry advocates strive to make a difference by educating legislators and their staff on the electronics supply chain, including the dire need for local substrate sources. This gives rise to the rallying cry: "Chips don't float!"
08/31/2023 | I-Connect007 Editorial Team
There's been a lot of talk lately about digital twin and its use in PCB fabrication and assembly. Manufacturers have been quick to get onboard the digital twin train. But what about PCB designers and design engineers? Can the front-end folks benefit from digital twin? We asked David Wiens, Xpedition product manager for Siemens Digital Industries Software, to weigh in on this topic. He's been involved with digital twin for years, and he explained what digital twin can potentially offer to PCB design, and why he believes designers have been using digital twin for decades, whether they realize it or not.