Books

Featured Books

smt007 Magazine

Latest Issues

Current Issue

Economic Headwinds

This issue takes stock of the current economic outlook and how companies are using current conditions to move themselves through technological evolutions, workforce shifts, and financial changes. Even with these headwinds, there's forward progress to be made.

Attracting New Talent

To get different results in staffing, you must change how you define, promote and recruit your job opportunities. How do you become magnetic to high-quality early-career candidates?

Test and Inspection

Test and inspection methods are undergoing rapid change. In this issue, we consider the influence of AOI, AI, and human eyes. How exactly are these pieces of the puzzle changing the role of test and inspection?

Columns

Latest Columns

||| MENU
Ryan Flaherty Celebrates 15-Year Anniversary with SMTA
December 8, 2022 | SMTA
Estimated reading time: 2 minutes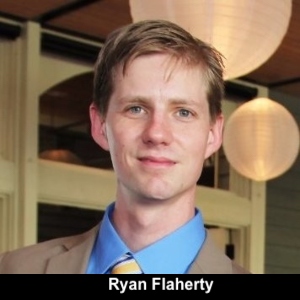 SMTA Communications Director Ryan Flaherty celebrated a special anniversary on Monday, November 28—his 15th year with the association. Ryan joined the staff in 2007 after graduating from the University of Minnesota with a BIS in Architectural Studies, Design, and Psychology.
"Ryan's commitment to the SMTA and its members over the past 15 years has been exemplary; his dedication and hard work has been key in supporting this special organization," says Tanya Martin, SMTA Executive Director.
Ryan has been a mentor and friend to so many over his 15-year career. The nature of his work has him integrated into many departments which allow him to forge relationships with other staff members.
"When I first started working at the SMTA 12 years ago, one of the first tasks I was given was transcribing the comments from an event survey," says Karen Frericks, director of chapter relations. "I was surprised by how many people commented on how great someone named Ryan was – always helpful and knowledgeable, etc. It wasn't long before I discovered that all those comments were right. Ryan is the glue that holds this office together and the best co-worker anyone could ask for. Even now, 12 years later, he still answers all my dumb questions patiently, and comes up with smart solutions for any problems that I pose to him (and there are a LOT!)  Congrats on 15 years here, Ryan. Here's hoping for 15 more."
"Ryan is one of those guys that you can go to for guidance," says Alec Young, marketing and communications manager at SMTA. "He's the one person that we can call upon when we need help, and he will happily offer any assistance. He's got a genuine heart that just gives and is a great presence to be around in the office."
"It has been an honor to work with Ryan the past six years," says Karlie Severinson, SMTA meetings and events manager. "He is a wonderful coworker and mentor. Watching him interact within the SMTA network over the years really shows you how much he cares for everyone in this association. Ryan is "the guy" for any questions and I appreciate all the time he has spent with me and my colleagues! Cheers to 15 years Ryan!"
"I am often asked, what department is Ryan in? Truthfully, he is in every department," says Saniya Pilgaonkar, membership services manager. "He knows how to navigate and get things right. Ryan is an inspiration to the newer staff. The word 'No' is not in his dictionary. I am always grateful for him being the best teacher and always being helpful. Kudos to 15 years."
The SMTA thanks Ryan for his incredible dedication and service to the association these past 15 years.
---
Suggested Items
12/01/2023 | GÖPEL electronic
Having been responsibly committed to a clean environment for many years, GÖPEL electronic GmbH has taken an important step towards greater climate protection by obtaining its initial certification in accordance with DIN EN ISO 14001:2015.
12/01/2023 | Epec Engineering Technologies
Precision Technology, Inc. (PTI) and Epec Engineered Technologies shared that they have joined together to give customers a greater range of high-quality printed circuit boards and other electronic products.
11/29/2023 | ESCATEC
The Board of Directors are delighted to announce a significant development in the leadership of the company, underscoring their commitment to its long-term stability.
11/20/2023 | Unimicron
Unimicron has been adhering to a stable management and sustainability concept, promoting corporate sustainability actions, and actively playing a core role in the ESG wave.
11/15/2023 | PIT Equipment
PIT – Equipment Services, LLC is pleased to announce Don Dennison, founder and CEO of PIT Equipment Services, has been honored with the prestigious 2023 GLOBAL Technology Award in the category of Best Manufacturers Representative - USA. The award ceremony took place during productronica in Munich on November 14, 2023.