Books

Featured Books

smt007 Magazine

Latest Issues

Current Issue

Chips Don't Float

In Europe and the U.S., legislation is under way to revitalize PCB fabrication and packaging. What is the status of this work, and how specifically does this change the industry landscape for EMS companies? What will help keep us afloat?

Flying High With Digital Twin

The opportunity to use manufacturing simulation as a test bed for job planning and process optimization brings continuous improvement into the modern age. This may be an all-or-nothing type of project, but it's worth the investment.

Artificial Intelligence

In this issue, we (and AI) explored how and when artificial intelligence plays a role in manufacturing today. Whether on the factory floor, or in the front office, AI applications are emerging and changing how we approach planning, processes and problem solving.

Columns

Latest Columns

||| MENU
Indium Corporation's Miloš Lazi? Joins Thermal Interface Materials Team
December 20, 2022 | Indium Corporation
Estimated reading time: Less than a minute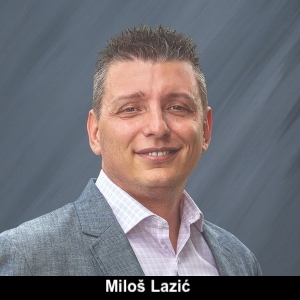 Indium Corporation is pleased to announce that Miloš Lazi? has assumed a new role as Product Development Specialist for Thermal Interface Materials (TIMs).
In his new capacity, Lazi? is responsible for facilitating team initiatives to deliver fully-scaled, launched, and marketable product solutions for thermal materials. He works with members of the R&D, Marketing, Technical Support, and Sales departments to execute the new product development process.
Lazi? joined Indium Corporation in March 2018 as a Technical Support Engineer, most recently serving as Coordinator for the Live@ Program—a global initiative designed to align Indium Corporation and its industry partners in the promotion of agile response, resource management, and efficiency improvement.
Prior to joining Indium Corporation, Lazi? worked as the Deputy Technical Director at Radio-Television Nis in Serbia. He earned his master's degree in electronics engineering and his bachelor's degree in electrical engineering from the University of Nis in Serbia. He is an Energy Efficiency Engineer certified by the Serbian Chamber of Engineers in Belgrade; a Certified SMT Process Engineer; and is fluent in English, Serbian, Croatian, and Bosnian.
---
Suggested Items
09/13/2023 | SMTA
The SMTA is proud to honor the 2023 "Members of Distinction" award recipients who have shown exceptional dedication to the association and the electronics manufacturing industry.
09/22/2023 | Ronald C. Lasky -- Column: Maggie Benson's Journey
Editor's note: Indium Corporation's Ron Lasky continues this series of columns about Maggie Benson, a fictional character, to demonstrate continuous improvement and education in SMT assembly. In this installment, Paul LaCroix tests his math skills in determining how much to spend on a component placement machine and what his earning potential might be.
08/29/2023 | Gen3
Gen3, Global leader in SIR, CAF, Solderability, Ionic Contamination & process optimization equipment, is excited to announce its participation at the 24th European Microelectronics & Packaging Conference (EMPC) taking place Sept. 11-14, 2023 at the Wellcome Genome Campus, Hinxton, near Cambridge, UK.
08/29/2023 | Indium Corporation
Indium Corporation Senior Area Technical Manager Jason Chou will present at SEMICON Taiwan on September 7, in Taipei, Taiwan.
08/24/2023 | IPC
IPC Day Romania: Build Electronics Better with Standards and Solutions, Conference Powered by Flex, which will be held on Sep 27, 2023 at 12:00pm and Sep 28, 2023 at 6:00pm EEST, will provide a unique opportunity to learn about the latest advancements in electronics manufacturing, participate in industry discussions, and network with a community of professionals dedicated to building electronics better.