Spinoff from Argonne-led Innovation Hub Opens New Frontier for Batteries
December 23, 2022 | Business Wire
Estimated reading time: 1 minute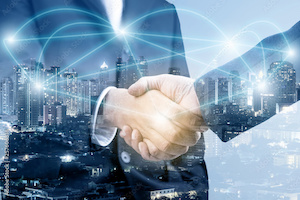 Research by the Joint Center for Energy Storage Research (JCESR) has enabled spinoff company Blue Current to develop a safe, solid-state battery that is ready for megawatt-scale manufacturing. JCESR is an Energy Innovation Hub led by the U.S. Department of Energy's Argonne National Laboratory. An arm of Koch Industries has invested $30 million in Blue Current to build its first pilot factory in Hayward, California. Blue Current's target market is electric vehicles.
Solid-state batteries, which contain solid electrolytes, are much less flammable than liquid batteries, potentially making them safer. But solid electrolytes face technical challenges.
A crystalline class of solids known as glass ceramics have good conductivity. But they lack the ability to stick to the chemically active materials in battery electrodes that store lithium ions. Another class of materials known as polymers is effective at sticking to electrodes. But they have low conductivity.
In 2015, as part of JCESR-sponsored research, Lawrence Berkeley National Laboratory addressed the shortcomings of glass ceramics and polymers by bonding them together. The resulting composite solid electrolyte demonstrated good conductivity and good stickiness. Inspired by the composite's potential, Blue Current developed it further.
Since then, the company has refined its components and addressed technical challenges common with solid-state batteries. For example, to help solid electrolytes stick to electrodes, some companies add heavy metal plates and bolts that put battery cells under high pressure. These fixtures increase manufacturing costs. Blue Current's composite can maintain good contact with electrodes without the use of plates.
As part of rigorous safety testing, the company subjected its cells to harsh conditions that electric vehicles could encounter in the real world. Thermal runaway—an overheating event that can lead to fires—never occurred.
"JCESR creates and proves the ideas that eventually go commercial," said George Crabtree, JCESR's director and an Argonne senior scientist. "These are the riskier ideas that no investors would fund—and that companies are unlikely to pursue—because the outcome is so uncertain." 
"The idea of using composites in batteries was new and unproven prior to the JCESR program," said Kevin Wujcik, Blue Current's Chief Technology Officer. "JCESR put resources behind composites because the materials had potential to address a market need for safe, solid-state batteries while solving important technical challenges."
---
Suggested Items
09/25/2023 | Purdue University
Purdue University continues building momentum as America's leading university in semiconductors, with a broad range of updates this fall semester.
09/20/2023 | Siemens
Siemens Digital Industries Software announced that Gotion High-tech Co., Ltd. has selected the Siemens Xcelerator portfolio of industry software to build an intelligent battery manufacturing platform as part of achieving its digital transformation goals.
09/19/2023 | I-Connect007 Editorial Team
As expected, the U.S. Department of Commerce is actively administering to the $53 billion of funding in the CHIPS Act. A key committee in this process is the CHIPS Act Industrial Advisory Committee (IAC). Recently IPC vice president and chief technology officer Matt Kelly offered a printed circuit board and system-wide perspective to the IAC, part of the ongoing advocacy efforts being undertaken by IPC and other organizations, and later answered some questions about what he presented and how it was received.
09/18/2023 | Murata
Sabae Murata Manufacturing Co., Ltd. (in Sabae, Fukui Prefecture), a manufacturing subsidiary of Murata Manufacturing Co., Ltd., has completed a new research and development building that had been under construction on its premises since February 2022.
09/14/2023 | PRNewswire
Xanadu (xanadu.ai), a world leader in photonic quantum computing, announced a partnership with the Electronics and Telecommunications Research Institute (ETRI), a top South Korean government-funded research institution.