Books

Featured Books

pcb007 Magazine

Latest Issues

Current Issue

The Registration Sweet Spot

Registration is underrated and underappreciated. The key is to ensure proper registration from layer to layer across the entire printed circuit board. It's a holistic process requiring anticipation, prediction, precise attention at each step, and detailed data tracking and monitoring.

High-reliability Fabrication

In this month's issue, our expert contributors discuss the latest in technologies, trends, complexities and resources regarding high-reliability fabrication.

Finding Ultra

New demands on PCB fabrication, namely advanced packaging, ultra high density interconnect (UHDI), and new specialty materials, are converging, changing the landscape of our business. Is it time to start paying close attention to this convergence?

Columns

Latest Columns

||| MENU
High-performance Computers: AT&S Works on Microchips of the Future
January 6, 2023 | AT&S
Estimated reading time: 2 minutes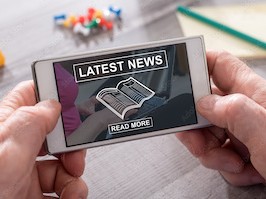 After decades of technological progress based on the continuous miniaturisation of transistors, the semiconductor industry is now approaching a fundamental limit. Future chip generations will have to follow different paths to become more efficient. Enormous potential lies in the smart packaging of multiple, partially highly specialised chips into compact systems. The Austrian microelectronics specialist AT&S is a leading force in the development of the required interconnect technologies.
Digitalisation and growing global interconnection, probably the key drivers of economic growth and tech-nological progress for more than a generation, are based on a simple equation: the faster and more effi-cient microchips become, the easier it is to process and distribute large data volumes. For a long time, the speed of progress was breath-taking: the number of transistors fitting onto a microchip doubled roughly every two years, just as Intel co-founder Gordon Moore had anticipated in his famous "Moore's law" in 1965. Each time the number doubled, our processors became faster and more energy-efficient.
In recent years, however, this development lost momentum for the first time. By now, the size of transis-tors is given in atomic diameters and is approaching fundamental physical limits, insurmountable by the technology used. The semiconductor industry is therefore developing new concepts in order to further improve the performance and electricity requirements of microchips in a different way. Heterogeneous integration is a promising approach: multiple small, specialised chips are packed into an extremely effi-cient overall package.
Smart packaging will be essential
"For a long time, semiconductor manufacturers used miniaturisation to ensure that microchips got better with each generation. In the future, however, innovation will increasingly also take place at the level of efficient packaging and bundling of specialised chips. As a technology leader, AT&S can make a valuable contribution and help make Europe more relevant in chip manufacturing again," says Gerald Reischl, VP Corporate Communications at AT&S.
Such complex systems of multiple chips are already used for applications that take microchips to their performance limits. Modern supercomputers and data centres, which have to process enormous vol-umes of information as fast and energy-efficiently as possible, already rely on high-tech packages con-sisting of 47 individual chips, including specialised graphics cores which manage even the most compli-cated calculations in no time at all. The complexity of computing units will continue to increase in the fu-ture because systems relying on artificial intelligence, and complex simulations for science require more and more computing power.
AT&S@CES
AT&S will present advanced V2X modules and other innovations at the CES trade show in Las Vegas from 5 to 8 January, where the company will be represented with its own booth and a team of experts. "CES offers a great networking opportunity in a condensed form as well as an opportunity to identify cur-rent application trends," says Wolfram Zotter, Director Application Engineering – BU ES, who will repre-sent AT&S on site.
---
Suggested Items
09/20/2023 | I-Connect007 Editorial Team
Panasonic's Darren Hitchcock spoke with the I-Connect007 Editorial Team on the complexities of moving toward ultra HDI manufacturing. As we learn in this conversation, the number of shifting constraints relative to traditional PCB fabrication is quite large and can sometimes conflict with each other.
09/19/2023 | Anaya Vardya -- Column: Standard of Excellence
In my last column, I discussed cutting-edge innovations in printed circuit board technology, focusing on innovative trends in ultra HDI, embedded passives and components, green PCBs, and advanced substrate materials. This month, I'm following up with the products these new PCB technologies are destined for. Why do we need all these new technologies?
09/18/2023 | ViTrox
ViTrox, which aims to be the world's most trusted technology company, is excited to announce that our trusted Sales Channel Partner (SCP) in Mexico, SMTo Engineering, S.A. de C.V., will be participating in SMTA Guadalajara Expo & Tech Forum. They will be exhibiting in Booth #911 from the 25th  to the 26th of October 2023,  at the Expo Guadalajara in Jalisco, Mexico.
09/18/2023 | Intel
Intel announced one of the industry's first glass substrates for next-generation advanced packaging, planned for the latter part of this decade.
09/18/2023 | Aidan Salvi -- Column: Facing the Future
I have been in and around circuit boards most of my life. I started 20 years ago in my family's PCB shop, leaving after a couple of years to start my own software company. About a year ago, I returned to the family business, and the first thing I noticed was that nothing had really changed. We were doing the same things in the same way as the day I left. After talking to several experts in the industry, I realized it was worse than that: The manufacturing of PCBs had not changed in 70 years.