Books

Featured Books

pcb007 Magazine

Latest Issues

Current Issue

Finding Ultra

New demands on PCB fabrication, namely advanced packaging, ultra high density interconnect (UHDI), and new specialty materials, are converging, changing the landscape of our business. Is it time to start paying close attention to this convergence?

Developing a Strategy

A solid strategy is a critical part of success. This month, we asked some of the top industry leaders and business strategy "gurus" to share their thoughts on developing strategies.

Winning With TQM

In this issue, we explore how TQM has entered the DNA of continuous improvement disciplines, and the role leadership transformation plays in this. If you've ever competed against a TQM company, you understand their winning advantage.

Columns

Latest Columns

||| MENU
Estimated reading time: 7 minutes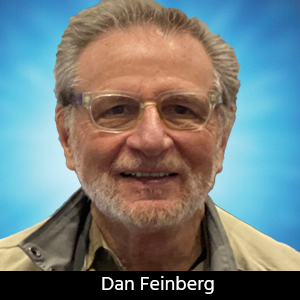 January 10, 2023
Fein-Lines: CES Recap—A Full Media Day and AMD Keynote
CES 2023 came and went, and after logging more than 20,000 steps a day, I'm finally sitting down to recap some of the most amazing innovations yet. There's so much to talk about that I've decided to share it in two parts. In this column, I'll share my impressions of the CES Media Day, Wednesday, Jan. 4, which filled its schedule with more good presentations than I could attend. And that's not a bad thing when you consider that these are companies such as Panasonic, Brunswick, TCL, and Samsung. I capped off my day across town with an opening keynote from Dr. Lisa Su, CEO of AMD.
Let's take them in order.
Panasonic
Panasonic spent the better part of its presentation talking about its GREEN IMPACT initiative. Climate change, climate change, climate change. No doubt Panasonic takes great effort to design and offer new energy-efficient products, and with GREEN IMPACT, the company's goal is to achieve zero environmental impact by the year 2030. The hope is that this effort will reduce C02 emissions by 300 million tons. One area of focus will be the use of hydrogen fuel cell technology in their facilities, a technology they will offer to other companies as well. With automobiles accounting for 25–30% of global greenhouse emissions, and the planned increase of e-cars in the coming years, Panasonic sees its experience with batteries as a significant opportunity.
One new device that I found particularly interesting was a small but seemingly valuable personal care system—the Panasonic MultiShape. While not super high tech, it makes me wonder why no one else has ever done this. Using a powered rechargeable handle, you can easily change out the various heads to be used as an electric toothbrush, shaver, or beard and body hair trimmer. It's billed as "A 'Take Back For Tomorrow'" program to promote to promote recycling shavers. Instead of throwing your shaver away, send it to Panasonic, and receive a discount on the MultiShape. The company's vision is to use the traded devices as recycled materials to become part of Panasonic batteries without adding more scrap to the environment.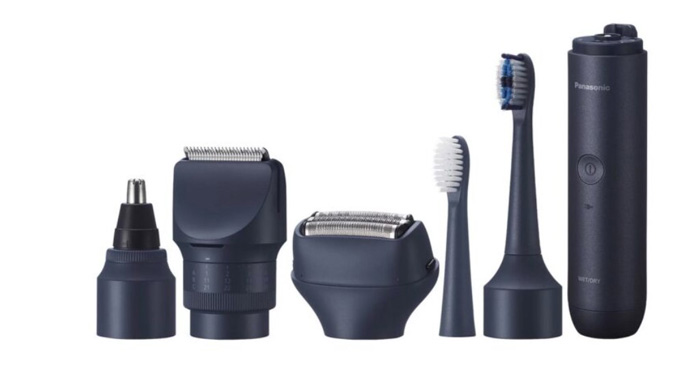 Panasonic also announced its flagship OLED MZ2000 TV series for 2023. Some of the offerings include:
Panasonic's pioneering new design ushers in a new era of OLED display picture quality expression, comprising a state-of-the-art panel with Micro Lens Array, and a bespoke multi-layer heat management configuration.
The brand's HCX Pro AI processor and Hollywood tuning ensures stunningly accurate HDR picture quality. An improved Filmmaker Mode means that viewers can enjoy content as the artist intended—in whatever environment they're watching.
New gaming features include NVIDIA G-Sync Compatibility, True Game Mode, source-oriented tone mapping, and Game Sound Modes.
Panasonic's proprietary 360° Soundscape is now further enhanced by an upgraded Bass Booster algorithm for deeper low frequencies.
Available in 55-, 65-, and 77-inch sizes.
Other Panasonic announcements included combining the use of Siri (Apple) and Alexa (Amazon) to allow both to be used on a single device, providing convenience and a reduction of power (battery) usage. They also announced updates to some of their home flagship devices, new wireless headphones, and new advanced smart glasses to aid mobility for those that are visually impaired. These glasses combine Panasonic's HDR-capable VR goggles in partnership with Barcelona-based Biel Glasses to incorporate AI technology to improve the sight of people who suffer from glaucoma and retinitis pigmentosa. And new upgraded versions of their well-known DSLR cameras, the LUMIX S5II and LUMIX S5IIX.
Brunswick
Marine engines are starting to move to electric power, and Brunswick engines power half of the nation's recreational boats. You might not think of Mercury Marine (one of their leading brands) as high tech, but they depend on technology to maintain the market leadership of their well-known Mercury engine brand as well as the newly announced Avator fully electric outboards.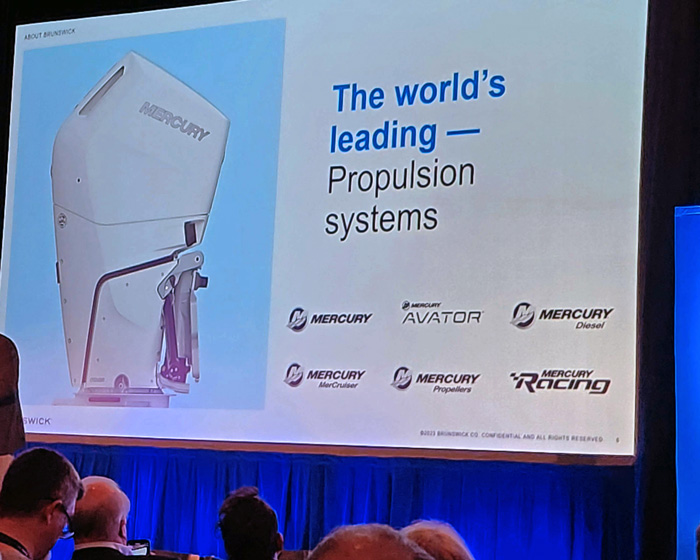 Other areas of technological advancement include their new concept of sensor equipment and controls that reduce the challenge of handling a watercraft in high winds, challenging currents and waves. This new suite of equipment will help detect obstacles and help deliver more precise handling and control.
TCL
TCL is a well-known Chinese multinational electronics company headquartered in Huizhou, Guangdong, and one of the largest consumer electronics companies in the world having sold more than 32 million television sets across the globe last year.
They are a vertically integrated company, and while vertical integration is not new and kind of went out of style in the early '70s, it has some significant advantages and seems to be making a comeback. Vertical integration means that they make almost every component that goes into whatever electronic devices the company produces, which includes televisions, air conditioners, audio devices, mobile phones, and other home appliances. Most other companies take a different approach, pulling together different components from various outsourcing companies and often using price as a key deciding factor. However, if you can produce all the parts yourself, there can be some significant savings and you'll have full control of the overall quality.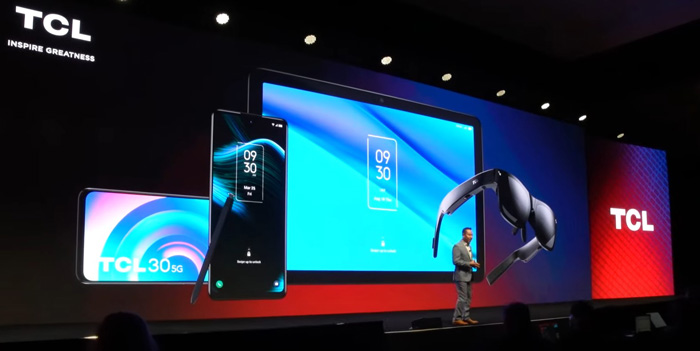 At CES 2023, TCL announced multiple new displays using innovations in display technology such as ultra-large screens using mini-LED and quantum dot high brightness technology as well as small, dual-purpose screens (TV and computer monitors). TCL has a series of sound bars for TVs that are visually pleasing, and I find it interesting that some TV manufacturers offer sound bars which most of us find as a necessary addition due to, IMHO, the poor sound quality that's usually coming from most modern TVs.
TCL states that their mobile phone market share is increasing and that their new air conditioners have made advances in air freshener technology. Their new AR glasses, the RayNeoX2, will also become available soon and will let you see translations of speech and navigation, etc., right in your field of vision.
Samsung
Samsung was the last press conference of the day I covered and the one I had been waiting for the most. Similar to Panasonic, Samsung aims to reduce carbon emissions and reach net zero carbon emissions by 2050, with their DX Division being net zero by 2030 and powered by renewable energy by 2027. Commendable for sure if achieved.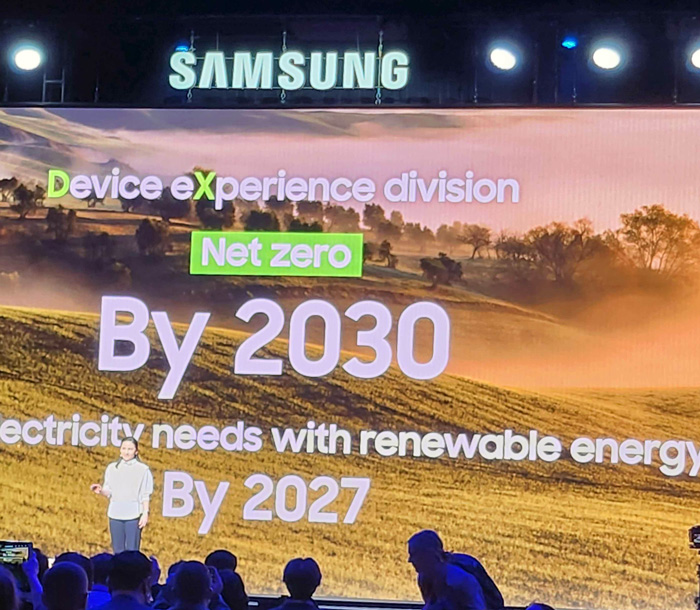 Samsung's newly announced ultra-wide gaming monitor, the Odyssey Neo G9, is truly a beast, with a resolution capable of 7680 × 2160. That means while the 59-inch monitor technically sports an 8K horizontal resolution, its vertical resolution (which is narrow in an ultrawide) is equivalent to a 4K display. I do not think my latest computer DIY build would be able to support it, especially if running in multimonitor mode.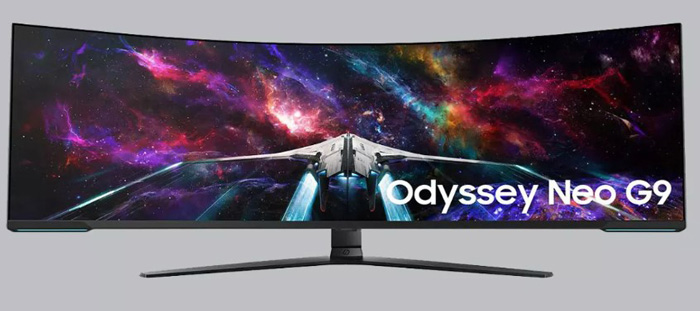 The company also showed its new foldable screen offerings, which are becoming popular for smartphones with its fold and flip versions getting attention. These new screen offerings indicate that the Z-Fold and Z-Flip phones have set a firm foundation for what is to come.
Other interesting Samsung announcements were based around smart home tech using the SmartThings Station to connect and automate your home, and the Home Monitor, which can send you an alert if it detects something unusual, for example, by using microphones on your TV. SmartThings Pet Care on a Samsung TV gives you the ability to check on your dog while away or when it detects barking as well.
AMD Opening Keynote
The last event of the day was the CES opening keynote address by AMD's amazing and highly successful chairman and CEO, Dr. Lisa Su.
She spoke about the advancements in technology AMD made this year before announcing new products and features that utilize AI and expand the capabilities of AMD technology. She stated, "There's so much transformation happening right now. These experiences need to empower and amplify what people can do with tech and I can certainly say we're really on that path already."
She then revealed the AMD XDNA, a new processor chip that AMD has been working on. This chip will be in the new AMD Ryzen 7040 series, and it's the world's first ultra-thin processor for AMD's notebook devices. Su did what she usually does when showing off a new chip: She held the chip in her hand to give the audience a visual of how small it is. This new chip is faster than the previous Ryzen chips and Apple M1 Pro chips.
AMD has some big plans that will make gamers happy. The Ryzen 7945 HX series is AMD's first mobile CPU based on a chipless design. Su said, "It's for gamers and creators who want the highest possible performance in a notebook laptop."  She then introduced senior executives from Microsoft and HP who all spoke very positively about their various partnerships with AMD.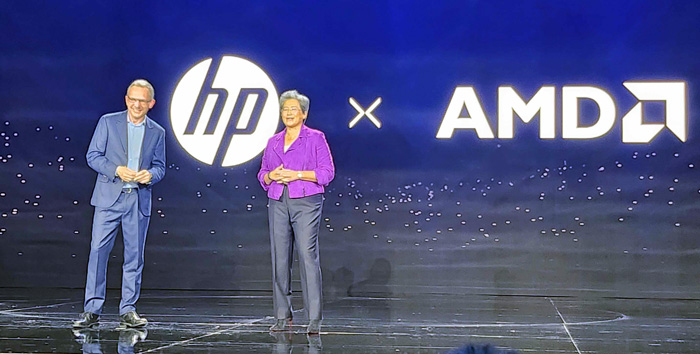 It was not that many years ago that any high-end personal computer would only be empowered by an Intel chip; however, that has changed since Su has come on the scene. In fact, the last computer I built is empowered by an AMD Ryzen 9.
At the end of the address, everyone in the hall applauded loudly—not so much for the presentation but for the accomplishments of AMD under her leadership.
Conclusion
With that, CES 2023 was underway. I hope you join me for thoughts on all things consumer electronics.
Dan Feinberg is an I-Connect007 technical editor and founder of Fein-Line Associates.