Books

Featured Books

pcb007 Magazine

Latest Issues

Current Issue

Finding Ultra

New demands on PCB fabrication, namely advanced packaging, ultra high density interconnect (UHDI), and new specialty materials, are converging, changing the landscape of our business. Is it time to start paying close attention to this convergence?

Developing a Strategy

A solid strategy is a critical part of success. This month, we asked some of the top industry leaders and business strategy "gurus" to share their thoughts on developing strategies.

Winning With TQM

In this issue, we explore how TQM has entered the DNA of continuous improvement disciplines, and the role leadership transformation plays in this. If you've ever competed against a TQM company, you understand their winning advantage.

Columns

Latest Columns

||| MENU
Estimated reading time: 4 minutes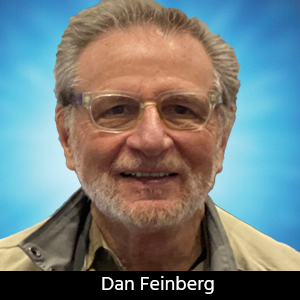 January 15, 2023
Fein-Lines: An Eye-Popping Eureka Park and ShowStoppers at CES 2023
CES 2023 has ended and two of the most interesting areas of probably any trade show I've ever attended were Eureka Park and ShowStoppers. Small booths, new and unique products, and new ideas for potential partners—all categorized by country and on full display to potential investors and customers. It's a unique opportunity to launch a new product, start a new service, or test an idea.
Entrepreneurs and budding startups come to Eureka Park with the hope of connecting with mentors, investors, and possible corporate partners who help startups launch and succeed. It's really like a giant "shark tank."  Investors come to Eureka Park to find their next new product, partner and/or idea. Global media like us come looking for our next story, while corporations come for partnerships and acquisitions.
This year the largest area at Eureka Park was the French segment, but there were also exhibitor segments featuring hundreds of new ideas and startups from other countries, regions and territories, including Japan, Korea, Israel, Italy, Taiwan, Turkey, Hong Kong, Netherlands, U.S., Ukraine and more. It takes at least a half-day to walk the aisles and talk about what you see with the exhibitors. That is exactly what I do when I attend CES, so here are just a few examples of the new ideas that impressed me most.
Kara Water, an innovative air-to-water filtration system that produces clean drinking water from the air., introduced Kara Pure, the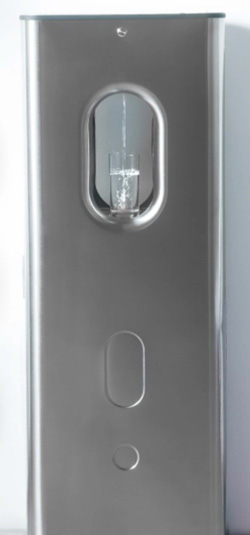 first-ever air-to-water dispenser that creates alkaline water from moisture in the air.
"The unit produces and dispenses 9.2+ pH alkaline and mineral-rich water at room temperature. It dispenses up to 2.5 gallons of potable water per day. The item not only functions as a water dispenser but also operates as an air purifier and a dehumidifier." They claim that it produces clean water even from the most polluted air. Coming in the shape of a refrigerator with a stainless-steel body, it uses a desiccant that absorbs water from the air which then goes through a filtration process. The air passes through this desiccant and the water is extracted and stored in Kara Pure's storage tank. After converting purified air into water, the rest of the cleaned and purified air is released back into the environment.
Another unique and impressive process I saw (and later used at ShowStoppers) was Anura. It is claimed to be the world's first and most comprehensive video-based health and wellness measurement app. The application uses the camera on your mobile device to assess your general wellness, providing medical-grade measurements using data gathered from a 30-second video selfie. I had a complete physical exam of sorts by as they took a short video of my face and then waited as the program ran my results. Within minutes I had a report of my heart rate, blood pressure, any irregular heart rate, and also cardiac workload. It examines other areas such as mental stress and anxiety, as well as physical measurements such as body mass index, facial skin, age, body shape, and general risks such as heart attack and stroke risk, hypertension, diabetes risk, A1C levels, etc.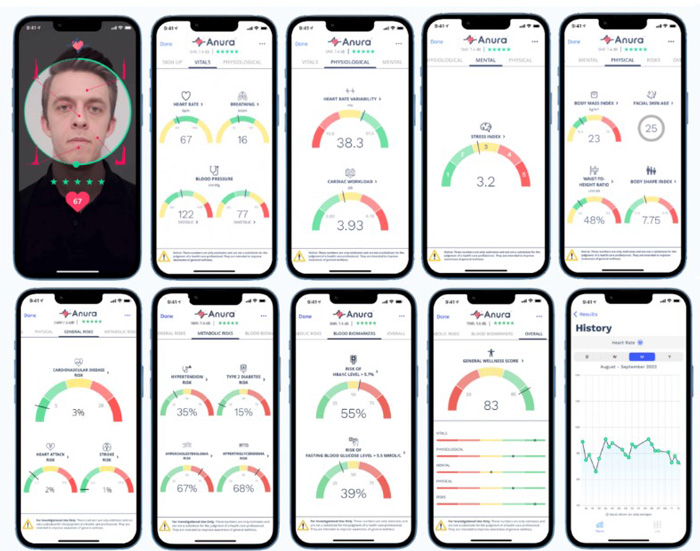 Automotive and industrial (farming, for example) has been a major focus at CES for years, but this year electric vehicles and autonomous/robotic activity were perhaps the largest areas at the show. For example, the robotic John Deere autonomous tractor received a lot of attention. It is a huge autonomous robot powered by a pure electric drive and is reported to have zero emissions. It is fully integrated and highly maneuverable. It was only a few years ago that John Deere exhibited a prototype and now the tractor is ready and available for use. It takes just an app on a smartphone or table to monitor the tractor's operations, receive alerts when there are obstacles or mechanical issues, and receive a live camera feed.  Take a look at this amazing device in action here.
Another area of focus included advances in XR (AR, VR, and basically use of the metaverse).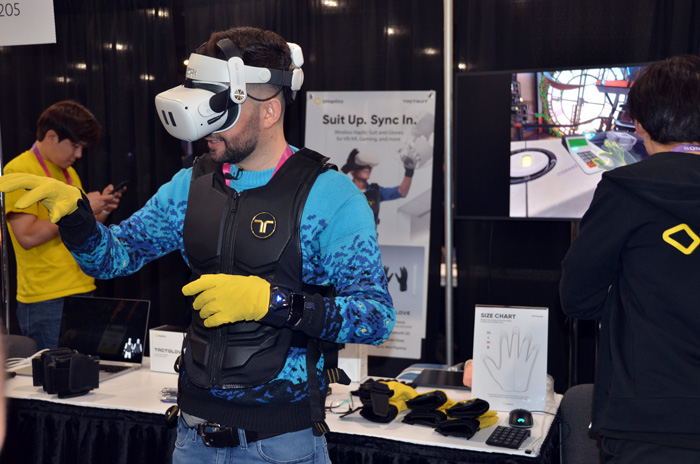 A few years ago the metaverse consisted of 3D visuals and audio enabled by a headset. That was followed by haptic gloves, and now we have complete haptic clothing that allows virtual feelings on most parts of our bodies. For example, if you are in a virtual fight, you can feel the effects on various parts of your body. But now developers have figured out how to add taste and smell to the virtual meta universe. At ShowStoppers, "AromaPlayer" announced the world's first scented video platform. Powered by Aromajoin's proprietary "Aroma Shooter®" technology, the device can instantly switch between various scents without any delay—and without any residual effect.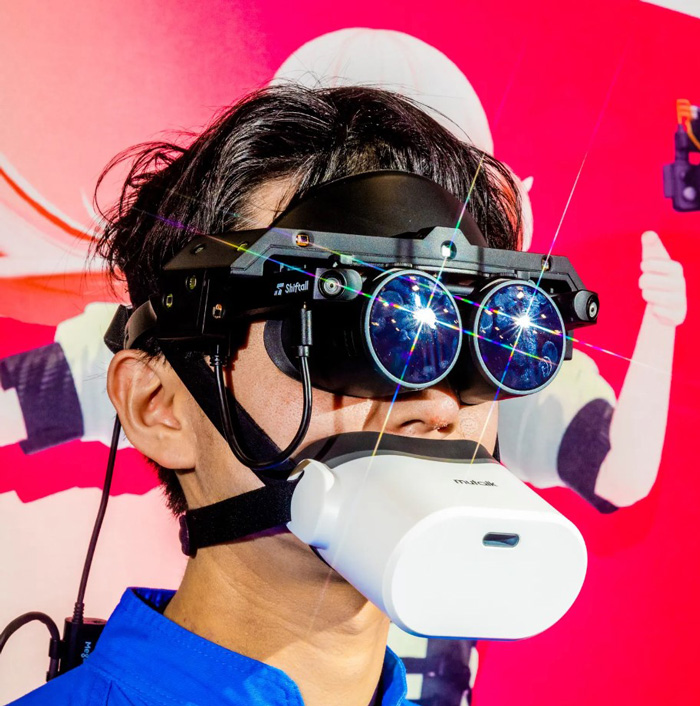 There were so many exciting products to see that it's hard to list all my favorites. Some other cool releases were totally foldable electric bikes, amazingly powerful smartwatches, DIY computer components, medical technology, advanced TVs with superior picture quality, advanced 4D print, and on and on.
If you plan your own trip to CES in the future, be sure to block out at least a half-day—and some good walking shoes—for Eureka Park. Walk, look, ask, and be amazed. I also recommend choosing the categories ahead of time that you want to explore. It will enhance your experience and hopefully not leave you wanting for more.
Dan Feinberg is an I-Connect007 technical editor and founder of Fein-Line Associates.