Books

Featured Books

smt007 Magazine

Latest Issues

Current Issue

Economic Headwinds

This issue takes stock of the current economic outlook and how companies are using current conditions to move themselves through technological evolutions, workforce shifts, and financial changes. Even with these headwinds, there's forward progress to be made.

Attracting New Talent

To get different results in staffing, you must change how you define, promote and recruit your job opportunities. How do you become magnetic to high-quality early-career candidates?

Test and Inspection

Test and inspection methods are undergoing rapid change. In this issue, we consider the influence of AOI, AI, and human eyes. How exactly are these pieces of the puzzle changing the role of test and inspection?

Columns

Latest Columns

||| MENU
Next-generation 3D-AOI Camera Heads From Saki Now Allow Easy On-site Interchangeability
January 17, 2023 | Saki Corporation
Estimated reading time: 2 minutes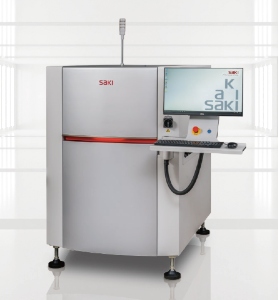 Saki Corporation, an innovator in the field of automated optical and X-ray inspection equipment, announces that it has developed a high-speed camera head with an optical resolution of 15?m that achieves high-performance quality inspection with the industry's fastest cycle time as a new option for the latest 3Di series of next-generation in-line 3D automated optical inspection (3D-AOI) equipment.
As a new 3Di series camera head capable of handling complex inspections of high-density printed circuit boards and mixed PCBs with extremely small and tall parts, the 15µm resolution camera head, which is ideal for high-speed inspection, has been added to the existing 8µm high-definition resolution head. The addition of the 15µm head now enables selectable camera options for existing machines. Both camera systems are interchangeable and can be quickly and easily switched without the need to change the entire AOI machine within the production line. Customers who have already installed a new 3Di series machine can therefore flexibly select and change the optimal camera configuration in terms of optical resolution and imaging speed according to their specific inspection requirements without changing the machine itself.
Saki will debut the 15µm camera option at the 37th NEPCON JAPAN, which will be held at Tokyo Big Sight on January 25-27. Visitors to the show are invited to Saki's booth (East Hall 2, Booth No. 15-1) for a demonstration and to discover Saki's latest solutions for the ever-changing inspection environment.
For efficient manufacturing operations, inspection speed is every bit as important as inspection performance. The newly developed 15?m resolution camera system leverages highly optimized software, developed completely in-house. Standby time is minimized by parallelizing image capture, data processing, and inspection, achieving the industry's fastest cycle time for AOI systems.
With on-site interchangeable automated inspection solutions that adapt to the ever-changing inspection environment, Saki contributes to strengthening quality assurance, improving productivity, and achieving sustainable scalability and sustainable manufacturing without defects. 
Norihiro Koike, President and CEO of Saki Corporation, commented: "Saki's new 15?m optical head delivers unmatched speed and clarity for the most challenging inspection requirements with its ultra-sharp 3D images. We continue to focus on developing customer-centric add-on solutions and functions that deliver on quality, offer flexibility, and contribute to sustainable manufacturing concepts that are shaping our customers' smart factories. In addition to our booth at NEPCON JAPAN, our latest AOI solutions will also be highlighted at IPC APEX Expo in San Diego on Booth No. 2475. We look forward to seeing you at the exhibitions."
---
Suggested Items
12/01/2023 | Nolan Johnson, I-Connect007
This week's news items taught me a few things I didn't know. For instance, there's news about the new equipment for THT work, governmental support for advanced packaging technologies, an upcoming webinar from iNEMI on counterfeits, an interview with U.S. Rep. Blake Moore, one of the sponsors of the bipartisan Protecting Circuit Boards and Substrates Act, and columnist Tim Haag, using Star Trek to illustrate why simplicity is, ahem, paramount.
11/30/2023 | PRNewswire
VPT, Inc., a HEICO company, VPT, Inc., a trusted provider of power conversion solutions for aerospace and defense, proudly announces its latest achievement of obtaining SAE AS9100 Revision D certification. SAE AS9100 Revision D enhances VPT's existing suite of certifications, including MIL-PRF-38534, MIL-STD-883, J-STD-001 (Space), IPC-A-610, and IPC-A-600, further cementing our commitment to excellence in quality and reliability.
11/29/2023 | TRI
Test Research, Inc. (TRI), the industry's leading provider of Test and Inspection systems for the electronics manufacturing industry, is pleased to announce the expansion of its Malaysian office, which opened in 2010.
11/29/2023 | Dana Korf -- Column: Dana on Data
November's issue of Design007 Magazine had an excellent theme that evolved around design simplification. There were exceptionally good articles about how to reduce over-constrained or needlessly complex designs. One significant time-consuming category is the creation of many design files and drawings which lead to lengthy creation and interpretation time along with the considerable time to resolve conflicting or erroneous information.
11/27/2023 | IPC
IPC welcomes the actions outlined today by the U.S. Government "to strengthen supply chains critical to America's economic and national security."