Books

Featured Books

smt007 Magazine

Latest Issues

Current Issue

Chips Don't Float

In Europe and the U.S., legislation is under way to revitalize PCB fabrication and packaging. What is the status of this work, and how specifically does this change the industry landscape for EMS companies? What will help keep us afloat?

Flying High With Digital Twin

The opportunity to use manufacturing simulation as a test bed for job planning and process optimization brings continuous improvement into the modern age. This may be an all-or-nothing type of project, but it's worth the investment.

Artificial Intelligence

In this issue, we (and AI) explored how and when artificial intelligence plays a role in manufacturing today. Whether on the factory floor, or in the front office, AI applications are emerging and changing how we approach planning, processes and problem solving.

Columns

Latest Columns

||| MENU
KYZEN Celebrates Its Leaping Water's Sweet Sixteen at IPC APEX EXPO 2023
January 23, 2023 | KYZEN'
Estimated reading time: 1 minute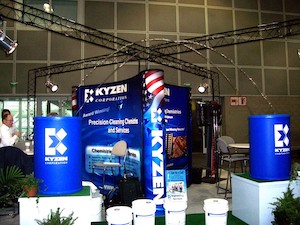 KYZEN, the global leader in innovative environmentally friendly cleaning chemistries, will celebrate the Sweet 16 of its world-famous Leaping Water Display at the 2023 IPC APEX EXPO, scheduled to take place Jan. 24-26, 2023 at the San Diego Convention Center in California. 
The display symbolizes the beauty of the convergence of science and care in a continuous, flowing movement of water that literally leaps back and forth in a captivating rhythm that never ceases to capture the amazement of onlookers. It also represents continuous improvement, like the KYZEN name (formed on the Japanese word KAIZEN).
KYZEN debuted Leaping Water for the first time at the 2007 IPC APEX EXPO in Los Angeles. The stunning presentation quickly grew in popularity to become a memorable part of every major industry tradeshow. Attendees' appreciation of KYZEN's Leaping Water sent it traveling across the oceans and around the world to be featured in Germany, Sweden, China, Australia, Asia and Mexico. Its luster has not faded over these past 16 years. It is captivating and draws the interest of all who see it, especially engineers who marvel with smiles at the visual display and the physics that make it work so beautifully.
Leaping Water also symbolizes KYZEN's commitment to solving complex cleaning problems through the convergence of science and uncompromising care. This intentional approach nurtures innovation, which is a hallmark of the KYZEN brand.
For more than 32 years, KYZEN's focus has been to look at the complete process and work with customers to improve that process. Their aim is to ultimately increase yields, advance reliability and help to realize cost savings along the way. KYZEN's innovative cleaning technologies, scientific expertise and customer support have been repeatedly recognized with the industry's most prestigious awards, unrivaled in the industry.
Visit KYZEN in Booth #1545 during the IPC APEX EXPO to learn why. If you have trouble finding them – just look for the incredible Leaping Water.
---
Suggested Items
09/18/2023 | IPC
IPC Day France: Aerospace Electronics is an aerospace-focused networking event featuring key industry experts from NASA and Airbus and will take place on October 2, 2023 . 
09/15/2023 | TRI
Test Research, Inc. (TRI), the leading test and inspection systems provider for the electronics manufacturing industry, will join productronica 2023, which will be held at Messe München Center from November 14 – 17, 2023.
09/13/2023 | I-Connect007 Editorial Team
For this month's issue on rigid-flex design, we spoke with instructor Kris Moyer, who teaches the IPC class "PCB Design for Flex and Rigid-Flex Boards." In this wide-ranging interview, Kris breaks down the hurdles facing rigid-flex designers and offers a variety of solutions for rigid board designers taking on their first rigid-flex circuits. He also provides a few horror stories to illustrate what happens if you don't follow sound design practices, rules, and standards. And, as Kris points out, "Your fabricator is your friend."
09/13/2023 | IPC
In conjunction with NEPCON Vietnam 2023, IPC hosted its popular IPC Hand Soldering and Rework Competition in Hanoi, Vietnam on September 6-8, 2023.
09/13/2023 | Hentec Industries/RPS Automation
Hentec Industries/RPS Automation, a leading manufacturer of selective soldering, lead tinning and solderability test equipment, is pleased to announce that Sinclair Manufacturing has purchased Pulsar solderability testing and Photon steam aging systems for installation in their Chartley, Massachusetts facility.