Books

Featured Books

design007 Magazine

Latest Issues

Current Issue

Rigid-flex: Designing in 3D

In this month's issue, our expert contributors share their best tips, tricks and techniques for designing rigid-flex circuits. If you're a rigid board designer considering moving into the 3D world of rigid-flex, this issue is just what the doctor ordered!

Simulation, Analysis, and AI

Getting today's designs "right the first time" is critical, especially with costly advanced PCBs. Simulation and analysis software tools can help you in the fight to eliminate respins. They're not magical, but they can predict the future of your design.

Advanced, Complex & Emerging Designs

This month, our contributors focus on designing PCBs with advanced, complex and emerging technologies. We investigate design strategies for boards that are on the cutting edge of technology, or crazily complex, or so new that designers are still writing the rules as they go.

Columns

Latest Columns

||| MENU
IPC APEX EXPO 2023: Face-to-Face Not Mask-to-Mask
January 25, 2023 | Pete Starkey, I-Connect007
Estimated reading time: 2 minutes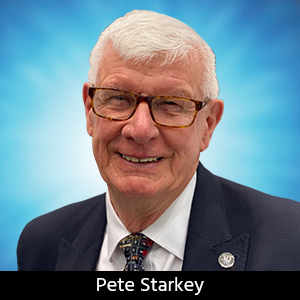 It was a bright, sunny California day as IPC APEX EXPO officially opened its doors on Tuesday, Jan. 24 at the San Diego Convention Center. The Technical Conference began on the same day, while the program of standards meetings and professional development courses had been in progress since Saturday, Jan. 21.
During the hustle and bustle of the show build-up over the weekend, it was clear to see that so many exhibitors had the confidence to bring so much major equipment and to invest in such spectacular booths to display it.
And probably most significant, this was going to be a true live event: Face-to-face instead of mask-to-mask as it had been last year.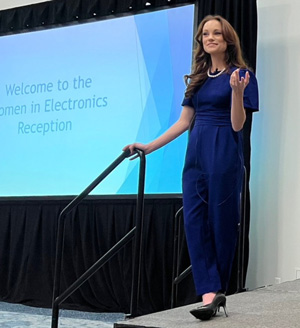 "Advance in a new era" was the headline theme, and the opening keynote came from the acclaimed science communicator Emily Calandrelli, who delivered an inspirational presentation on the subject of the sustainability, economics and advocacy of space exploration, as well as examining ways of getting and keeping more women in STEM. 
Calandrelli also spoke to a group of more than 100 gathered for an evening Women in Electronics reception, where she highlighted her efforts to effect policy change, sometimes simply because she was experiencing discrimination herself.

After her keynote address, a large crowd gathered to witness the ribbon-cutting ceremony before the doors were opened and a flood of enthusiastic visitors filled the aisles of the immaculately presented exhibit hall. Lots to see, lots of people to meet, lots to talk about and definitely lots of business to be done!
Representing North America's largest gathering of electronics manufacturing professionals, IPC's APEX EXPO 2023 promises to be a brilliant event.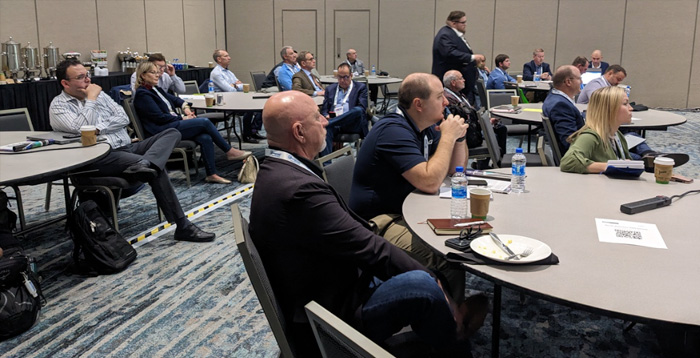 As part of the EMS Leadership Forum, IPC's Chris Mitchell offered the following report on Monday's gathering:
Monday's EMS Leadership Forum at APEX EXPO boasted many first-time attendees and a compelling agenda that touched on the most pressing issues facing electronics assembly.
The day started with an advocacy update that signaled promising developments in Washington as the industry leverages increased interest in electronics manufacturing to persuade policymakers to support a rebuilding of the domestic industry.
IPC Chief Economist Shawn DuBravac gave his outlook for the year ahead:
There are headwinds and tailwinds impacting electronics manufacturers
Expect flat to modest growth in the U.S. and flat to down growth in Europe
The forecast in Asia is shrouded in uncertainty but looking better now with China's decision to relax its Zero Covid policy
Another highlight of the EMS Leadership Summit was a supply chain panel featuring some of the industry's leading voices, including Summit's John Vaughn and SMTC's Ed Smith. The panel highlighted a global supply chain that is seeing reduced lead times and costs but poses ongoing challenges to EMS companies.
After a show floor reception on Tuesday at the close of the business day, most exhibitors wrapped up their machines and the crowd headed home. But the show continues Wednesday, when IPC President and CEO John W. Mitchell will deliver a keynote address, and the lively two-day STEM event gets underway.
---
Suggested Items
09/29/2023 | Dixon
Dixon wholly owned subsidiary- Padget Electronics Private Limited enters into an Agreement with Xiaomi to carry out manufacturing of smart phones and other related products for Xiaomi.
09/29/2023 | USPAE
In a major initiative to innovate how the Department of Defense (DoD) spurs commercial technology development, the U.S. Partnership for Assured Electronics (USPAE) and DoD launched a Defense Business Accelerator (DBX) to open doors for industrial base growth and stimulate private investment.
09/28/2023 | KYZEN'
KYZEN, the global leader in innovative environmentally friendly cleaning chemistries, is proud to announce that it is sponsoring the Women's Leadership Program Connection Reception to be held at SMTA International.
09/28/2023 | Nolan Johnson, I-Connect007
The practical question around CHIPS Act development and electronics assembly is, "Will this change how we do business?" Indium Corporation's Dr. Andy Mackie sat down with Nolan Johnson to share what he sees as emerging answers to that question from his perspective as an expert in electronics assembly and packaging, and as a participant in standards development through IPC, JEDEC, and SEMI.
09/28/2023 | ZESTRON
ZESTRON is happy to announce that Senior Application Engineer, Ravi Parthasarathy, will be presenting "Revolutionizing PCB Assembly Cleaning: