Books

Featured Books

smt007 Magazine

Latest Issues

Current Issue

Chips Don't Float

In Europe and the U.S., legislation is under way to revitalize PCB fabrication and packaging. What is the status of this work, and how specifically does this change the industry landscape for EMS companies? What will help keep us afloat?

Flying High With Digital Twin

The opportunity to use manufacturing simulation as a test bed for job planning and process optimization brings continuous improvement into the modern age. This may be an all-or-nothing type of project, but it's worth the investment.

Artificial Intelligence

In this issue, we (and AI) explored how and when artificial intelligence plays a role in manufacturing today. Whether on the factory floor, or in the front office, AI applications are emerging and changing how we approach planning, processes and problem solving.

Columns

Latest Columns

||| MENU
IPC Announces New Board Members at IPC APEX EXPO 2023
January 25, 2023 | IPC
Estimated reading time: 1 minute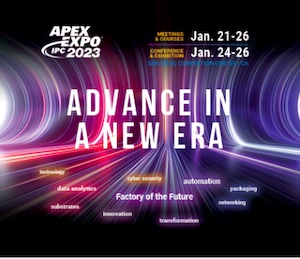 At the 66th IPC Annual Meeting on January 24, held in conjunction with IPC APEX EXPO 2023, the IPC Board of Directors announced new and second-term members. Board members serve a four-year term, and the student board member serves a one-year term.
The newly elected Board Members are:
First-time Board Member: Paul Baldassari, Executive Vice President, Worldwide Operations, Flex
First-time Board Member: Meredith LaBeau, Chief Technology Officer, Calumet Electronics
Second-term Board Member: Foo-Ming Fu, Chairman and CEO, HaiNa Cognitive Connections (HCC)
Second-term Board Member: Carsten Salewski, Executive Board Member, Sales, Marketing and International Business, Viscom AG
Student Board Member: Henry Crandall, University of Utah
"IPC is privileged to add these outstanding industry professionals to our current slate of Board members," said John W. Mitchell, IPC president and CEO. "We look forward to working with them as we work to advance the global electronics manufacturing industry to build electronics better."
In addition to Board election announcements, IPC honored three outgoing Board Members:
Nilesh Naik, Eagle Circuits
Peter Cleveland, Taiwan Semiconductor Manufacturing Co.
Hannah Nelson, Valparaiso University
Added Mitchell, "IPC expresses its sincere gratitude to Nilesh, Peter and Hannah for their dedicated service to the IPC Board. All three shared their expertise with IPC and industry – we thank them for imparting their knowledge and helping guide IPC to best serve our members and the global electronics community."
---
Suggested Items
09/25/2023 | Purdue University
Purdue University continues building momentum as America's leading university in semiconductors, with a broad range of updates this fall semester.
09/25/2023 | Alison James
"Electronics systems are at the heart of almost all modern technology. The performance and functionality of these systems have increased at breathtaking speed, chiefly as a result of advancements in semiconductor technology. Semiconductors do not function in isolation," writes Alison James, IPC senior director of government relations, in a 2023 report for the European Commission's Directorate General for Internal Market, Industry, Entrepreneurship. "These electronics systems feature prominently in key sectors like defence, aerospace, space, automotive, medical, and high-performance computing, but electronics are vital to every industry and are central to a variety of EU priorities, including the twin digital and green transitions and Europe's technological sovereignty."
09/25/2023 | APCT
APCT, a leading name in the PCB and electronics industry, is delighted to announce the appointment of Peter Austin as its President and CEO, effective September 1. Peter takes the reins from former CEO, Steve Robinson, who has retired after years of dedicated service to the company.
09/21/2023 | KIC
KIC, a renowned pioneer in thermal process and temperature measurement solutions for electronics manufacturing, is thrilled to announce its participation in the upcoming SMTA Guadalajara Expo & Tech Forum.
09/21/2023 | Dymax
Dymax, a leading manufacturer of light-curing materials and equipment, will exhibit in booth 1526 at SMTA International 2023 in Minneapolis, MN, from October 10-11.