I-Connect007 Editor's Choice: Five Must-Reads For the Week
February 3, 2023 | Nolan Johnson, I-Connect007
Estimated reading time: 3 minutes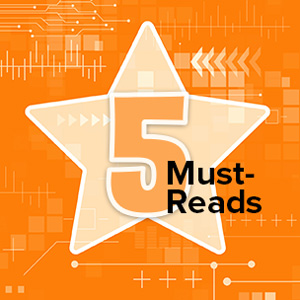 It's Feb. 3, 2023—2/3/23—and now we know the results of yesterday's Groundhog weather forecast straight from Gobbler's Knob in Pennsylvania. Punxsutawney Phil says six more weeks of winter. If you're watching the ongoing ice storms blanketing much of the United States at present, that seems like a safe bet.
Also a safe bet is that the most-read news this week is IPC APEX EXPO related. Additionally, this week IPC published its EMS and PCB numbers for December. All told, lots of industry news to read this week.
For readers who closely follow our weekly must-reads, I'm stepping in for Andy Shaughnessy, who's been busy covering DesignCon this week. It feels a little similar to Bill Murray in "Groundhog Day," where Andy's in a never-ending loop of on-the-road news reporting. I'm happy to step in for our road warrior this week.
These five news items might be my pick for the week, but I also encourage you to visit www.realtimewith.com to watch our on-the-floor video interviews; there is much to learn there. We'll be publishing these interviews to our newsletters as well over the next few weeks (of winter, if you believe Punxsutawney Phil.) Or you can binge on them right now.
NIST Resources for CHIPS Act Participants
Published January 27
This concise article was originally published in the January issue of SMT007 Magazine and summarizes some of the key resources available to our industry through NIST. This information was presented at IPC's advanced packaging symposium in October 2022. At the symposium, government representatives shared that CHIPS Act proposals would start being accepted in February 2023. Could it be that's leading to increased interest in resources such as these?
IPC APEX EXPO Wrap-up
Published January 30
Managing editor Andy Shaughnessy's post-show dispatch historically is a go-to piece for readers. Andy's knack for capturing both the business and the fun of the show is one of the reasons for his popularity, I'm sure. This year's newsletter report does not disappoint. Get a feel for the buzz, in Andy's very own words.
North American EMS Industry Down 2.7% in December
Published January 27
Shawn DuBravac, IPC's chief economist, is quoted in the report, "Looking forward, the economic climate is set to deteriorate in the first half of 2023. Despite this, overall industry demand appears to be holding up and backlogs appear healthy." For 2022 overall, shipments were up and orders were down. The heavy weight of recession fears hangs like a dark cloud, but what does it mean for you?
North American PCB Industry Sales Down 1.7% in December
Published January 27
The December industry report from IPC showed a mixed bag of increases and decreases, suggesting that there is still more settling to do. Commenting on the PCB fabrication numbers, Shawn DuBravac, IPC's chief economist stated, "Some of the weakness in this month's book-to-bill reflects uneven shipments figures in recent months. December results showed a second consecutive month of improvement. For the year, order were down 6.5 percent while shipments were up 10.1 percent." Click through here to find out how to access the full report.
SMTA Seeks Applications for 2023 Stromberg Scholarship
Published February 2
As we face a skilled talent shortage in our industry, every opportunity to encourage young students to pursue a career in on electronics need to be stressed. Likewise, getting students involved in the industry organizations early in their studies is a solid strategy for mentoring and retaining that student talent. SMTA's JoAnn Stromberg Scholarship celebrates students pursuing electronics who are also involved in the SMTA. Read about the scholarship here, then spread the word to the young people you know.
Secret Hidden Bonus Pick!
Don't Blink: The IPC APEX EXPO Time-lapse
Published January 31
The show floor time-lapse is one of our most popular videos each year. The media production team—Bryson Matties, Mike Radogna, Bryan Bernas, and our other unsung heroes at the show—make it a point to get this camera rolling as soon as we have access to our booth. Given how many views this video captures after the show, you all enjoy it just as much as we do.
---
Suggested Items
09/28/2023 | KYZEN'
KYZEN, the global leader in innovative environmentally friendly cleaning chemistries, is proud to announce that it is sponsoring the Women's Leadership Program Connection Reception to be held at SMTA International.
09/28/2023 | TSMC
TSMC announced the new 3Dblox 2.0 open standard and major achievements of its Open Innovation Platform (OIP) 3DFabric Alliance at the TSMC 2023 OIP Ecosystem Forum.
09/28/2023 | SIA
The Semiconductor Industry Association (SIA) announced Geoff Martha, chairman and CEO of healthcare technology leader Medtronic, will be the keynote presenter at the 2023 SIA Awards Dinner on Thursday, Nov. 16 in San Jose, Calif.
09/28/2023 | GlobalFoundries
GlobalFoundries (GF) announced the official opening of a new hub facility in Penang, Malaysia.
09/27/2023 | HyRel
HyRel Technologies, a global provider of quick turn semiconductor modification solutions, is proud to announce that Brian Watson, the company's Founder and President, will be a featured presenter at SMTA International. The event is scheduled to take place on Tuesday, October 10.