Books

Featured Books

pcb007 Magazine

Latest Issues

Current Issue

The Registration Sweet Spot

Registration is underrated and underappreciated. The key is to ensure proper registration from layer to layer across the entire printed circuit board. It's a holistic process requiring anticipation, prediction, precise attention at each step, and detailed data tracking and monitoring.

High-reliability Fabrication

In this month's issue, our expert contributors discuss the latest in technologies, trends, complexities and resources regarding high-reliability fabrication.

Finding Ultra

New demands on PCB fabrication, namely advanced packaging, ultra high density interconnect (UHDI), and new specialty materials, are converging, changing the landscape of our business. Is it time to start paying close attention to this convergence?

Columns

Latest Columns

||| MENU
Industry Advances in a New Era at IPC APEX EXPO 2023
February 8, 2023 | IPC
Estimated reading time: 3 minutes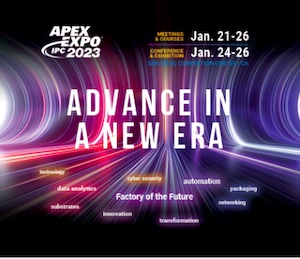 From the show floor – where 375 exhibitors displayed a multitude of high-tech machinery and in some cases artificial intelligence – including cutting-edge assembly, testing and inspection equipment, software automation, laser systems, additive manufacturing and factory of the future technologies, to dozens of technical conference sessions and PD courses covering such hot-topic tracks as smart factories, PCB fabrication and materials and high-density interconnects, IPC APEX EXPO 2023 was fueled by the possibilities of new advances in electronics manufacturing.
2023 ushered in a re-invigorated group of attendees and exhibitor personnel, drawing in a total number of 6,901 participants.
In keeping with the event's theme, "Advance in a New Era," the IPC APEX EXPO Technical Program Committee built a strong program with five tracks, 28 sessions and 104 papers, with peer-reviewed content from 18 countries, detailing original research and innovations from industry experts around the world. "From attendees, I was pleased to hear accolades on technical program offerings, many stating that it was the best conference in years – attendance was at an all-time high in more than a decade," said IPC President and CEO John W. Mitchell. "The paper presenters, international subject matter experts, eagerly shared their knowledge and expertise and provided attendees with quality technical content not found or presented anywhere else. We are very proud of the technical conference and set the bar high for paper submissions. New this year were two special technical sessions, one on advanced packaging presented by IPC's Chief Technical Officer Matt Kelly and another on e-Mobility lead by Brian O'Leary, Indium and Jason Schwartz, KYZEN. Both special sessions drew capacity crowds and earned high marks from attendees for their thoroughness of content." Mitchell added.
More than 100 standards development committees and task groups made significant progress on new and revised documents covering such topics as design, materials, board fabrication, cleaning, coating, assembly, cables and harnesses, printed electronics, connected factory, e-textiles, and more. "Task group meetings began on the weekend prior to official start of the show, and what a weekend it was during back-to-back full-day sessions!  With a record crowd of 175 participants, the 5-22a and 7-31b task groups combined their meetings to work on comment resolution for new revisions of J-STD-001 and IPC-A-610," said Teresa Rowe, IPC senior director, assembly and standards technology.
From survey responses, the APEX EXPO 2023 experience was resoundingly positive for exhibitors. "IPC APEX 2023 was a big hit for us – the best show in years! Our booth was consistently packed with every demo station in use by customers," said Davina McDonnell, global marketing manager, Cogiscan. "Our team had meaningful and productive conversations with lots of new contacts and we all left the show energized and excited about what's in store for the rest of the year. This was the best IPC APEX EXPO we have participated in," McDonnell added.
Added John Lee, vice president of marketing and brand strategy, Insulectro, "I extend my congratulations to IPC for a superb IPC APEX EXPO 2023. I applaud the association on its continued drive to improve, enhance, and spotlight things that matter to our industry. Insulectro had a super experience as well — our best exhibiting experience ever!"
Summing up IPC APEX EXPO 2023, Mitchell added, "IPC APEX EPXO is a gathering place for the present and future of electronics, enabling all of us to connect in remarkable ways. We at IPC are profoundly grateful to an industry that has encouraged and supported us in producing IPC APEX EXPO. We never lose sight of the fact that we could not host this event without the dedicated volunteers who share their time, their expertise, and their enthusiasm with all of us. Though IPC APEX EXPO 2023 is in our rear-view mirror, our dedicated events, education, technical, membership, and marketing and sales teams are already preparing for next year's event which will take place April 6-11, 2024, in Anaheim, California."
---
Suggested Items
12/01/2023 | Nolan Johnson, I-Connect007
This week's news items taught me a few things I didn't know. For instance, there's news about the new equipment for THT work, governmental support for advanced packaging technologies, an upcoming webinar from iNEMI on counterfeits, an interview with U.S. Rep. Blake Moore, one of the sponsors of the bipartisan Protecting Circuit Boards and Substrates Act, and columnist Tim Haag, using Star Trek to illustrate why simplicity is, ahem, paramount.
11/30/2023 | PRNewswire
VPT, Inc., a HEICO company, VPT, Inc., a trusted provider of power conversion solutions for aerospace and defense, proudly announces its latest achievement of obtaining SAE AS9100 Revision D certification. SAE AS9100 Revision D enhances VPT's existing suite of certifications, including MIL-PRF-38534, MIL-STD-883, J-STD-001 (Space), IPC-A-610, and IPC-A-600, further cementing our commitment to excellence in quality and reliability.
11/29/2023 | TRI
Test Research, Inc. (TRI), the industry's leading provider of Test and Inspection systems for the electronics manufacturing industry, is pleased to announce the expansion of its Malaysian office, which opened in 2010.
11/29/2023 | Dana Korf -- Column: Dana on Data
November's issue of Design007 Magazine had an excellent theme that evolved around design simplification. There were exceptionally good articles about how to reduce over-constrained or needlessly complex designs. One significant time-consuming category is the creation of many design files and drawings which lead to lengthy creation and interpretation time along with the considerable time to resolve conflicting or erroneous information.
11/27/2023 | IPC
IPC welcomes the actions outlined today by the U.S. Government "to strengthen supply chains critical to America's economic and national security."