Books

Featured Books

pcb007 Magazine

Latest Issues

Current Issue

Finding Ultra

New demands on PCB fabrication, namely advanced packaging, ultra high density interconnect (UHDI), and new specialty materials, are converging, changing the landscape of our business. Is it time to start paying close attention to this convergence?

Developing a Strategy

A solid strategy is a critical part of success. This month, we asked some of the top industry leaders and business strategy "gurus" to share their thoughts on developing strategies.

Winning With TQM

In this issue, we explore how TQM has entered the DNA of continuous improvement disciplines, and the role leadership transformation plays in this. If you've ever competed against a TQM company, you understand their winning advantage.

Columns

Latest Columns

||| MENU
Real Time with... Show & Tell 2023 Now Available for Download
February 23, 2023 | I-Connect007
Estimated reading time: 1 minute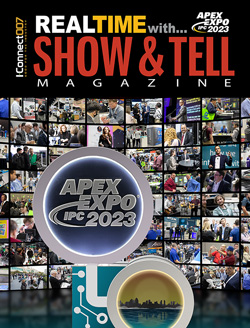 We are thrilled to announce the release of the sixth edition of Real Time with… IPC APEX EXPO 2023 Show & Tell Magazine, an exclusive, annual review of IPC's trademark event. In this issue, you'll find insightful articles, interviews with award winners, and reviews of the speakers, conferences, and courses.
(Re)live the experience through hundreds of high-quality images, hear from our technical experts, and watch videos that capture the flavor of the entire event.
You'll also learn more about the IPC Design Competition and gain insights from our show reviewers. Experience IPC APEX EXPO 2023 through our hundreds of high-quality images, hear from our many technical experts, and watch fun videos that capture the flavor of the entire event. 
"We specifically designed this issue so that whether or not you attended the event, you would be able to get a comprehensive feel for the whole show," says Michelle Te, managing editor of Show & Tell Magazine. "There is so much to see and do while you're there, it's impossible to experience it all. We wanted to provide an immersive experience through words and images. There's definitely something for everyone. We also encourage you to use this as a resource guide throughout the year. It's something you'll want to refer to again and again."
We have enjoyed putting this issue together for you and hope you will enjoy it as well. Please share it with your colleagues and friends!
---
Suggested Items
09/28/2023 | Nolan Johnson, I-Connect007
The practical question around CHIPS Act development and electronics assembly is, "Will this change how we do business?" Indium Corporation's Dr. Andy Mackie sat down with Nolan Johnson to share what he sees as emerging answers to that question from his perspective as an expert in electronics assembly and packaging, and as a participant in standards development through IPC, JEDEC, and SEMI.
09/28/2023 | IPC
IPC continues to collaborate with the electronics manufacturing industry to meet their current and future workforce training needs.
09/28/2023 | IPC
Though product demand weakened this month with Orders and Backlog Indexes slipping, overall electronics industry operations remain healthy per IPC's September 2023 Global Sentiment of the Electronics Supply Chain Report.
09/27/2023 | Cherie Litson, CID+, Litson1 Consulting
Rigid-flex circuits are unique structures; part rigid board and part flex, they're increasingly working their way into many of the electronic devices we use every day. There have been many advances in rigid-flex lately as more companies find themselves exploring this technology. So, before I started writing this article about rigid-flex design, I double-checked a few things. Fortunately, there is plenty of rigid-flex information available on a variety of great websites that we all know and trust.
09/18/2023 | IPC
IPC Day France: Aerospace Electronics is an aerospace-focused networking event featuring key industry experts from NASA and Airbus and will take place on October 2, 2023 .