Books

Featured Books

design007 Magazine

Latest Issues

Current Issue

Rigid-flex: Designing in 3D

In this month's issue, our expert contributors share their best tips, tricks and techniques for designing rigid-flex circuits. If you're a rigid board designer considering moving into the 3D world of rigid-flex, this issue is just what the doctor ordered!

Simulation, Analysis, and AI

Getting today's designs "right the first time" is critical, especially with costly advanced PCBs. Simulation and analysis software tools can help you in the fight to eliminate respins. They're not magical, but they can predict the future of your design.

Advanced, Complex & Emerging Designs

This month, our contributors focus on designing PCBs with advanced, complex and emerging technologies. We investigate design strategies for boards that are on the cutting edge of technology, or crazily complex, or so new that designers are still writing the rules as they go.

Columns

Latest Columns

||| MENU
I-Connect007 Editor's Choice: Five Must-Reads for the Week
February 24, 2023 | Nolan Johnson, I-Connect007
Estimated reading time: 3 minutes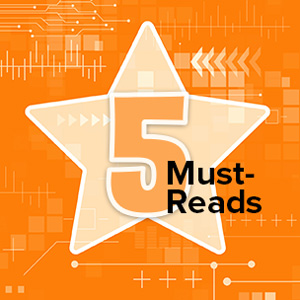 My weekly recommendations are tailor-made to help you understand and prioritize what we see as the biggest news of the week. How do we go about making those selections? I'd like to say it's a well-guarded secret with a patent pending, but that's not exactly true. Instead, we use our intuition and knowledge of the industry, backed up by the data we track. I like to think, though, that we follow a feeling. We often can sense a theme in what our readers are responding to, and we follow it. As I mentioned, sometimes those numbers are simply data-driven, but other times we pick up on the subtle clues. We think we have a good handle of what's on your minds.
This week, I used my super sleuthing skills to select news and articles that are both driven by numbers and themes. Let's see if my selection matches up with yours. We know our readers are opening our daily and weekly newsletters, scanning the important news of the day. The numbers tell me that. But it's the content within those clicks that help me lock in on a clear line of thought. This week, the topic of the week: investments.
It's hard to get around our extensive coverage of IPC APEX EXPO, of course (with good reason). Suffice it to say, our comprehensive, exclusive coverage of the show through our annual Show & Tell Magazine was eagerly anticipated. If you haven't downloaded your copy, I'm conveniently providing the link here. 
APCT Completes the Acquisition and Merger with Advanced Circuits 
Published February 17
Advanced Circuits, Inc., has been a high profile supplier of bare boards with a strong e-commerce model. Previously, Advanced Circuits was owned by a private equity firm; this shift in ownership to a PCB manufacturer with a reputation as a source for both U.S.-based and overseas manufacturing, will be interesting to track over time. 
Elna PCB Deepens Root in Penang With RM1 Billion Expansion Plan 
Published February 20
Malaysian-based Elna PCB Sdn Bhd makes the claim to be "one of the key PCB players in Penang." Speaking at the groundbreaking, the Chief Minister of Penang, the Right Honorable Mr. Chow Kon Yeow, "attested Penang as a sustainable location for investment." Greater Asia is expected to invest in order to take advantage of the adjusting global supply chain channels. Elna certainly seems to be using that strategy. Read more here.
Libra Industries Guaymas, Mexico Plant Expands Sheet Metal Vertical Integration Capacity 
Published February 21
Malaysia isn't the only region investing in capacity. Libra Industries is expanding in Guaymas, Mexico as well. Libra's expansion is interesting because, while Libra is an EMS company, the new facility targets high mix sheet metal fabrication and powder coating–critical for supporting a full box-build solution. See what Libra is up to.
Northrop Grumman to Manufacture U.S. Marine Corps Next Generation Handheld Targeting System 
Published February 21
I really enjoyed this news item, but then I'm a gear nerd just like most of us. And this one has high cool factor if you like laser and optics applications. From the article, "NGHTS performs rapid target acquisition, laser terminal guidance operation and laser spot imaging functions using its advanced range finder and designator. With NGHTS, ground forces have the option to call in a target, transmit the precise location or use laser designation where previously the only option was to call in target coordinates on a field radio. This single, ergonomic handheld product packed with advanced targeting capabilities will enable the Marines to quickly acquire and perform guidance against targets and generate target location data during combat operations." See what I mean? Read it here. 
U.S. Department of Commerce Announces CHIPS for America Leaders and Staff 
Published February 17 
This announcement is about the individuals who will be the "leaders and staff joining the CHIPS for America team who will play key roles implementing the bipartisan CHIPS and Science Act's historic investments in the semiconductor industry." Team members come from such sectors as semiconductor, financial, public service, among others. Read here to see who will be on the team.
---
Suggested Items
09/28/2023 | Nolan Johnson, I-Connect007
The practical question around CHIPS Act development and electronics assembly is, "Will this change how we do business?" Indium Corporation's Dr. Andy Mackie sat down with Nolan Johnson to share what he sees as emerging answers to that question from his perspective as an expert in electronics assembly and packaging, and as a participant in standards development through IPC, JEDEC, and SEMI.
09/28/2023 | IPC
IPC continues to collaborate with the electronics manufacturing industry to meet their current and future workforce training needs.
09/28/2023 | IPC
Though product demand weakened this month with Orders and Backlog Indexes slipping, overall electronics industry operations remain healthy per IPC's September 2023 Global Sentiment of the Electronics Supply Chain Report.
09/27/2023 | Cherie Litson, CID+, Litson1 Consulting
Rigid-flex circuits are unique structures; part rigid board and part flex, they're increasingly working their way into many of the electronic devices we use every day. There have been many advances in rigid-flex lately as more companies find themselves exploring this technology. So, before I started writing this article about rigid-flex design, I double-checked a few things. Fortunately, there is plenty of rigid-flex information available on a variety of great websites that we all know and trust.
09/18/2023 | IPC
IPC Day France: Aerospace Electronics is an aerospace-focused networking event featuring key industry experts from NASA and Airbus and will take place on October 2, 2023 .