Books

Featured Books

pcb007 Magazine

Latest Issues

Current Issue

Finding Ultra

New demands on PCB fabrication, namely advanced packaging, ultra high density interconnect (UHDI), and new specialty materials, are converging, changing the landscape of our business. Is it time to start paying close attention to this convergence?

Developing a Strategy

A solid strategy is a critical part of success. This month, we asked some of the top industry leaders and business strategy "gurus" to share their thoughts on developing strategies.

Winning With TQM

In this issue, we explore how TQM has entered the DNA of continuous improvement disciplines, and the role leadership transformation plays in this. If you've ever competed against a TQM company, you understand their winning advantage.

Columns

Latest Columns

||| MENU
Production Begins at SEL's $100M Printed Circuit Board Facility
February 27, 2023 | Schweitzer Engineering Laboratories
Estimated reading time: 2 minutes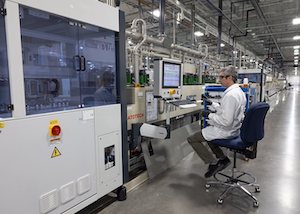 Schweitzer Engineering Laboratories will officially begin fabricating printed circuit boards in its new, state-of-the-art facility in Moscow, Idaho, next week.
The 162,000-square-foot facility, which the company began constructing in spring 2021, will house the operation to fabricate the printed circuit boards used in its products that protect, monitor, control and automate electric power systems around the world. SEL manufactures its electronic devices in Pullman, Washington; Lewiston, Idaho; Lake Zurich, Illinois; and West Lafayette, Indiana.
"SEL folks with many different backgrounds, educations, interests and experience teamed up to conceive, design, build and produce these essential components of our products—all on our own dime without any government handouts or subsidies," said President and Chief Technology Officer Edmund O. Schweitzer, III. "We committed to each other to do it right, and now we are safely producing the highest-quality boards in the cleanest plant, using the least amount of resources that science and engineering afford us today. This is $100M of employee owners' money well spent on creating our future right here at home. I'm proud of our entire team and grateful for the economic and political freedom we enjoy in America."
SEL has designed a highly automated and environmentally friendly process for manufacturing printed circuit boards that is focused on the health and safety of the community. The facility features zero-discharge water recycling and air filtration technology.
"We went into this not only thinking like a manufacturer but also like community members," said Senior Director of Vertical Integration Jessi Hall. "So much research, learning and testing has gone into designing our fabrication processes and selecting the best equipment and tools for the job. We are excited to see everything come together and to really start realizing the benefits of these investments."
The company will employ about 60 people in the facility. The positions range from a variety of engineering roles, including chemical, mechanical, software and computer-aided manufacturing to equipment operators and maintenance workers.
The printed circuit board process begins by layering fiberglass and copper to create a rigid and conductive base. The base board is then sent through a series of automated processes that include drilling, layering, copper plating and etching. The finished boards serve as the foundation of our manufacturing process, where integrated circuits and other electrical components are mounted to the board. Ultimately, the boards and added components serve as the information centers for our SEL products. 
The SEL property team served as the contractor for the construction project and partnered with multiple companies local to the Pacific Northwest. The team was able to complete the project within the expected timeline despite global supply chain challenges.
"I am so proud of SEL's partnership with dedicated subcontractors to find solutions when materials became scarce and timelines unwieldy," said Vice President of Property Jana Schultheis. "Our construction teams are second to none. It is a proud day to see this factory come online as a result of their ingenuity."
SEL plans to host a grand opening for the facility later in the year.
---
Suggested Items
09/20/2023 | I-Connect007 Editorial Team
Panasonic's Darren Hitchcock spoke with the I-Connect007 Editorial Team on the complexities of moving toward ultra HDI manufacturing. As we learn in this conversation, the number of shifting constraints relative to traditional PCB fabrication is quite large and can sometimes conflict with each other.
09/14/2023 | MKS' Atotech
MKS' Atotech, a leading surface finishing brand of MKS Instruments, will participate in the upcoming IPCA Expo at Bangalore International Exhibition Centre (BIEC) and showcase its latest PCB manufacturing solutions from September 13 – 15.
09/14/2023 | Vern Solberg -- Column: Designer's Notebook
Flexible circuit applications can be as basic as furnishing electrical interconnect between two conventional circuit board assemblies, or to prove a platform for placing and interconnecting electronic components. During the planning and pre-design phase of the flexible circuit, there will be several material and process related questions that need to be addressed. Most flexible circuit fabricators welcome the opportunity to discuss their customers' flexible circuit objectives prior to beginning the actual design process.
09/14/2023 | John Watson -- Column: Elementary, Mr. Watson
Electronics are continually evolving, driven by innovations in printed circuit board technology. Flexible PCBs have emerged as a revolutionary force, reshaping the PCB industry and influencing the design and functionality of countless electronic devices. Some believe that flexible PCBs are a relatively newer technology, but as we will see, that is not true. Since I'm an instructor, here's a short history lesson on how we got here and what we can expect.
09/11/2023 | PRNewswire
Can digital and/or high throughput manufacturing be applied to circuit boards? Can stretchable electronics be produced without sacrificing processing capabilities?