Books

Featured Books

design007 Magazine

Latest Issues

Current Issue

Rigid-flex: Designing in 3D

In this month's issue, our expert contributors share their best tips, tricks and techniques for designing rigid-flex circuits. If you're a rigid board designer considering moving into the 3D world of rigid-flex, this issue is just what the doctor ordered!

Simulation, Analysis, and AI

Getting today's designs "right the first time" is critical, especially with costly advanced PCBs. Simulation and analysis software tools can help you in the fight to eliminate respins. They're not magical, but they can predict the future of your design.

Advanced, Complex & Emerging Designs

This month, our contributors focus on designing PCBs with advanced, complex and emerging technologies. We investigate design strategies for boards that are on the cutting edge of technology, or crazily complex, or so new that designers are still writing the rules as they go.

Columns

Latest Columns

||| MENU
Thomas Marktscheffel: Collaboratively Revitalizing the Industry
March 10, 2023 | Patty Goldman, I-Connect007
Estimated reading time: 1 minute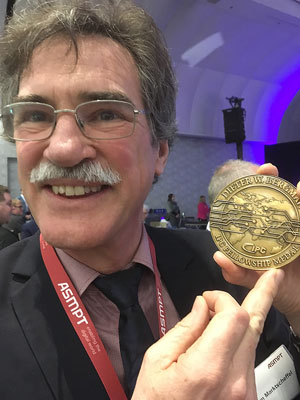 Interview by Patty Goldman
Thomas Marktscheffel, director of product management software solutions at ASMPT GmbH & Co. KG, reflects on the evolution of industry-wide standards and how his multidisciplinary approach to the development of CFX has been crucial to its success. With the advent of digitalization, cultivating a collaborative spirit is now more than ever an essential component of standards development.
Thomas, congratulations on winning the very prestigious Dieter Bergman IPC Fellowship Award. Did you know Dieter?
Yes, I met him in the early 2000s. We were developing some software and I was a delegate in our regional office in Norcross, Georgia. Back then we had first discussions about standards. Later at IPC APEX EXPO 2001, he came up with all these ideas about standardization, but maybe it was too early then. Now, with CFX it has happened again; we started discussions in 2017, and then published the first version in March 2019.
Do you think he was ahead of his time?
Yeah, at the time, maybe some ideas were too early. Now you may say it's quite late, but I don't think so. It is still a great thing with CFX, so I'm happy to be part of that.
What does this award mean to you?
I was head of our software department for about 20 years. We did a lot of customized solutions and were always struggling with communicating data. When we started CFX, I thought this would be the right solution, and in fact, the customer feedback was in that direction.
The call about this award in early December 2022 caught me by surprise. It's a big recognition, and I'm really happy about it. However, the CFX A-Team is a great team, we are eight to 10 people who contribute.
To read this entire conversation, which appeared in the 2023 edition of Show & Tell Magazine, click here.
---
Suggested Items
09/28/2023 | Nolan Johnson, I-Connect007
The practical question around CHIPS Act development and electronics assembly is, "Will this change how we do business?" Indium Corporation's Dr. Andy Mackie sat down with Nolan Johnson to share what he sees as emerging answers to that question from his perspective as an expert in electronics assembly and packaging, and as a participant in standards development through IPC, JEDEC, and SEMI.
09/28/2023 | IPC
IPC continues to collaborate with the electronics manufacturing industry to meet their current and future workforce training needs.
09/28/2023 | IPC
Though product demand weakened this month with Orders and Backlog Indexes slipping, overall electronics industry operations remain healthy per IPC's September 2023 Global Sentiment of the Electronics Supply Chain Report.
09/27/2023 | Cherie Litson, CID+, Litson1 Consulting
Rigid-flex circuits are unique structures; part rigid board and part flex, they're increasingly working their way into many of the electronic devices we use every day. There have been many advances in rigid-flex lately as more companies find themselves exploring this technology. So, before I started writing this article about rigid-flex design, I double-checked a few things. Fortunately, there is plenty of rigid-flex information available on a variety of great websites that we all know and trust.
09/18/2023 | IPC
IPC Day France: Aerospace Electronics is an aerospace-focused networking event featuring key industry experts from NASA and Airbus and will take place on October 2, 2023 .