Books

Featured Books

smt007 Magazine

Latest Issues

Current Issue

Economic Headwinds

This issue takes stock of the current economic outlook and how companies are using current conditions to move themselves through technological evolutions, workforce shifts, and financial changes. Even with these headwinds, there's forward progress to be made.

Attracting New Talent

To get different results in staffing, you must change how you define, promote and recruit your job opportunities. How do you become magnetic to high-quality early-career candidates?

Test and Inspection

Test and inspection methods are undergoing rapid change. In this issue, we consider the influence of AOI, AI, and human eyes. How exactly are these pieces of the puzzle changing the role of test and inspection?

Columns

Latest Columns

||| MENU
Juan Arango Joins Inovaxe as Senior VP Sales & Marketing Americas
March 13, 2023 | Inovaxe
Estimated reading time: 1 minute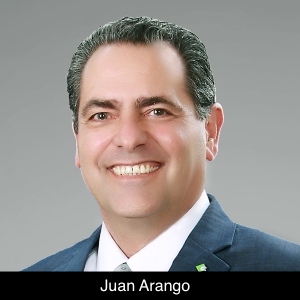 Inovaxe, a world leader and provider of innovative material handling and inventory control systems, today announced the appointment of Juan Arango to Senior VP of Sales & Marketing for the Americas, reporting to Ben Khoshnood, President and founder of Inovaxe Corporation based in South Florida, USA.
A high-energy and enthusiastic sales executive, Arango has more than 30 years of experience in the electronics assembly industry. Using his deep-rooted experience from industry-leading companies like Universal Instruments, Panasonic Factory Solutions and Koh Young America, Arango has enjoyed a career demonstrating consistent success for business and market share growth, with expansions in the US, Latin America, Europe and Canada. 
Ben Khoshnood added, "Juan brings a wealth of experience from the SMT manufacturing industry to our company. With his extensive knowledge and impressive track record of success, Juan will play an integral role in driving Inovaxe forward and further strengthening our position as a leading provider of innovative smart material handling solutions. We are thrilled to have him on board and are confident that his contributions will help us continue to expand in the dynamic and ever-evolving world of electronic manufacturing."
A Bachelor of Science in Electrical Engineering from the University of Texas at Dallas and a Master of Business Administration from the University of South Florida support Arango's practical manufacturing knowledge. Consequently, his combination of skills has helped advanced a market-leading position for companies within the electronics manufacturing industry in the Americas. Arango is always ready to adjust strategies, implement policies, and realign to ensure immediate and sustained growth.
Inovaxe's storage solutions streamline SMT material handling processes by decreasing handling time, cutting out errors and manual data entry, stopping line-down occurrences, reducing storage space and eliminating the black hole of WIP.
---
Suggested Items
12/07/2023 | Matt Stevenson -- Column: Connect the Dots
It makes sense to optimize your board using design for manufacturability (DFM) techniques. But applying DFM best practices can be confusing without formal training. The results are designs that are often incomplete, poorly designed, or too complex. When these issues arise, your PCB manufacturing partner rejecting the design can be considered a best-case scenario because it means they have your back. If your design is simply dropped into an automated queue without concern for manufacturability, the output can be a batch of unusable boards.
12/05/2023 | Travis Kelly -- Column: American Made Advocacy
For this month's PCBAA Member Profile, the focus is on Hari Pillai, president, Technology Components, Sanmina. Hari says, "I think I've had a good dose of luck throughout my career. But beyond luck, I had a vision to become a general manager as far back as my undergraduate years. I made all my career decisions based on that. My evaluation criteria was always, "How does this opportunity get me closer to my goal?" Sometimes opportunities come from unexpected places."
12/05/2023 | Amkor Technology
Amkor Technology, Inc., a leading provider of semiconductor packaging and test services, has announced its plan to build an advanced packaging and test facility in Peoria, Arizona.
12/05/2023 | HANZA
HANZA AB has signed an agreement to acquire all shares in Orbit One AB, a Swedish company that offers contract manufacturing of electronics and electromechanics. Orbit One has annual sales of approximately SEK 1.1 billion with an operating profit (EBITA) of approximately SEK 70 million.
12/05/2023 | Arch Systems
Arch Systems, the leading provider of data, analytics, and insightful actions for manufacturing operations, announced this week its collaboration with Plexus Corp., a global leader in complex product design, supply chain, manufacturing, and sustaining services.