Books

Featured Books

smt007 Magazine

Latest Issues

Current Issue

Test and Inspection

Test and inspection methods are undergoing rapid change. In this issue, we consider the influence of AOI, AI, and human eyes. How exactly are these pieces of the puzzle changing the role of test and inspection?

Chips Don't Float

In Europe and the U.S., legislation is under way to revitalize PCB fabrication and packaging. What is the status of this work, and how specifically does this change the industry landscape for EMS companies? What will help keep us afloat?

Flying High With Digital Twin

The opportunity to use manufacturing simulation as a test bed for job planning and process optimization brings continuous improvement into the modern age. This may be an all-or-nothing type of project, but it's worth the investment.

Columns

Latest Columns

||| MENU
Juan Arango Joins Inovaxe as Senior VP Sales & Marketing Americas
March 13, 2023 | Inovaxe
Estimated reading time: 1 minute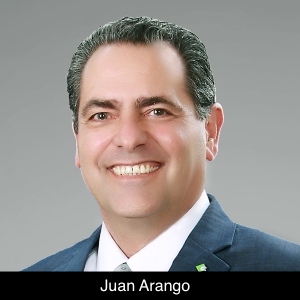 Inovaxe, a world leader and provider of innovative material handling and inventory control systems, today announced the appointment of Juan Arango to Senior VP of Sales & Marketing for the Americas, reporting to Ben Khoshnood, President and founder of Inovaxe Corporation based in South Florida, USA.
A high-energy and enthusiastic sales executive, Arango has more than 30 years of experience in the electronics assembly industry. Using his deep-rooted experience from industry-leading companies like Universal Instruments, Panasonic Factory Solutions and Koh Young America, Arango has enjoyed a career demonstrating consistent success for business and market share growth, with expansions in the US, Latin America, Europe and Canada. 
Ben Khoshnood added, "Juan brings a wealth of experience from the SMT manufacturing industry to our company. With his extensive knowledge and impressive track record of success, Juan will play an integral role in driving Inovaxe forward and further strengthening our position as a leading provider of innovative smart material handling solutions. We are thrilled to have him on board and are confident that his contributions will help us continue to expand in the dynamic and ever-evolving world of electronic manufacturing."
A Bachelor of Science in Electrical Engineering from the University of Texas at Dallas and a Master of Business Administration from the University of South Florida support Arango's practical manufacturing knowledge. Consequently, his combination of skills has helped advanced a market-leading position for companies within the electronics manufacturing industry in the Americas. Arango is always ready to adjust strategies, implement policies, and realign to ensure immediate and sustained growth.
Inovaxe's storage solutions streamline SMT material handling processes by decreasing handling time, cutting out errors and manual data entry, stopping line-down occurrences, reducing storage space and eliminating the black hole of WIP.
---
Suggested Items
10/03/2023 | Amitron
Amitron, a leading U.S.-based manufacturer of printed circuit boards (PCB), brings an additional 80,000 square feet of manufacturing space into the overall MIL-SPEC ecosystem with high automation, and the latest equipment technology and processes for military and aerospace applications.
10/03/2023 | I-Connect007 Editorial Team
Based on the wisdom of 50 years of PCB manufacturing at Sunstone Circuits, this book is a must-have reference for designers understanding the PCB manufacturing process as it relates to their design. Designing for manufacturability requires understanding the production process fundamentals and factors within the process that often lead to variations in manufacturability, reliability, and cost of the board.
10/03/2023 | Nolan Johnson -- Column: Nolan's Notes
A great example of AI's power at pattern matching images in medicine is the Google Automated Retinal Disease Assessment (ARDA) program, which turns retinopathy screening—once a test performed by an ophthalmologist—into a technician-level task. Given that only a small percentage of patients test positive for retinopathy, the AI-based assessment means that ophthalmologists now only see the patients who test positive on the app.
09/29/2023 | Intel
Intel celebrated the arrival of its Intel 4 technology, which uses extreme ultraviolet (EUV) technology, and the first use of EUV in high-volume manufacturing (HVM) in Europe.
09/29/2023 | Dixon
Dixon wholly owned subsidiary- Padget Electronics Private Limited enters into an Agreement with Xiaomi to carry out manufacturing of smart phones and other related products for Xiaomi.