Books

Featured Books

design007 Magazine

Latest Issues

Current Issue

Simplification

On the subject of simplification, our expert contributors explain how to design PCBs without making them complex and over-constrained—whatever the level of technology. In addition, we discuss the effect your decisions and tradeoffs have on design complexity.

The Standards of Design

Our expert contributors discuss how PCB designers can utilize standards to save time and money, not to mention frustration. We also spotlight the newly updated version of the IPC Checklist, a handy guide that illustrates which standards cover which topics, from front-end design through assembly.

Rigid-flex: Designing in 3D

In this month's issue, our expert contributors share their best tips, tricks and techniques for designing rigid-flex circuits. If you're a rigid board designer considering moving into the 3D world of rigid-flex, this issue is just what the doctor ordered!

Columns

Latest Columns

||| MENU
Optimizing Communication Between Fabricators and Designers
March 21, 2023 | Andy Shaughnessy, Design007 Magazine
Estimated reading time: 4 minutes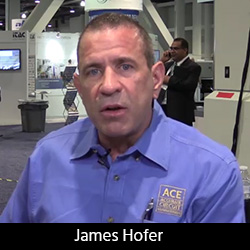 During DesignCon, I spoke with James Hofer from Accurate Circuit Engineering about some of his customers' biggest challenges. We discussed various ways to increase the level—and quality—of communication between designers and fabricators.
James also offered some interesting observations about bridging the gap between designer and fabricator. How often do you communicate with your fabricator? 
Andy Shaughnessy: James, you mentioned some of the unique challenges that your customers face. Tell us about their challenges.
James Hofer: We're doing more phased-array antennas and stacked laser-drilled microvias than ever before, but we're still having a disconnect between the layout folks and the manufacturer, wherein they forget to stagger the vias; staggering is important. If you stack your microvias directly on top of each other, you risk intersection separation, which means when the vias heat up, they crack open at the interface between vias and the break the connection; when they cool down, they reconnect. This is caused by Z-axis expansion due to the mismatch of CTEs of the copper plating and the epoxy via fill. There are two methods of mitigating this phenomenon: copper filling the vias that are being stacked, and staggering vias slightly off center so that the stacked pad hits the pad at the via underneath it—not directly onto the hole of the via underneath. That will help with the "separation anxiety."
I also run into designers who stack the microvias, but they'll leave an artifact in their layout as a through-hole. If it's not caught by them, it may also not be caught in a typical manufacturer's DRC and we may see that as a drilled hole and not a stacked laser. If we don't catch that, then we find ourselves trying to drill through stacked microvias, which could scrap the build. I had a rather big customer almost go through that. I spent half the day here on a conference call with them. But every customer's task is important. I would prefer to spend a little time with them while they're doing the layout or the designing of the boards to help them understand why we do what we do.
It's one thing just to tell customers, "You have to do it this way." But it's more important for them to understand why they should do it and what problems it could cause if one decides not to. If somebody doesn't want to listen to us, that's fine, but discuss it with us so we can put steps in place to mitigate the issues that arise by not doing it.
Shaughnessy: Most PCB designers have been doing this at least 30 years. Why is there still a communication gap between designers and fabricators?
Hofer: There always has been a bit of a separation between the electrical engineer, the designer, and the manufacturer. Everybody feels as though they know the right way to do this, and you can get in a certain groove with subject matter experts. You might have a longtime manufacturer who knows exactly how to make your boards robust enough to work right every time, but then you switch manufacturers and they don't know what you're doing. They're not used to you doing it this way or that way, so they don't put in the steps to make sure things are as robust as possible.
Unfortunately, a lot of fabricators say, "This is the way to note it because this is the way we do it." When we do a DFM with a customer, we suggest that they know the best way to clarify what they want and put that in a language that's universal to all fabricators, not just one.
Shaughnessy: You're ensuring that it's not just tribal knowledge.
Hofer: Right, it should not be tribal knowledge. Maybe you change fabricators because I am busy, or you don't like my price and you go away for a little while. I don't want you telling the other fabricator, "It turns out that James only told us the way ACE does it, so I didn't know that we needed to state our requirements that way."
Someone just mentioned to me that a few fabricators have an online tool they can use to generate Gerbers. But I told him that they're not really Gerbers; they're proprietary software tools for that fabricator. I said, "If you go somewhere else, they won't be able to use these files, and now you're locked into that fabricator unless you pay for new Gerbers" That's not good. I believe designers should be given as much information as possible, whether they stay with a particular manufacturer or not. I believe that we as manufacturers have a responsibility to help designers have knowledge of not only the particular manufacturers nuances but also if industry standards, so they might carry that knowledge with them no matter where they have there project built. 
Shaughnessy: Either way, they'll still remember that you tried to help them and not just nickel and dime them to death.
Hofer: That's right. One more thing, and I don't know if it's a good or a bad habit, but we ask a million questions, always clarifying what we're doing. This goes back to what I said at the beginning: "Don't just understand what we do, but why we do it." Then they can decide, "You know what? We're not worried about that." Give them the information so they can decide for themselves. If they go to another fabricator, they might find that fabricator doesn't work like we do.
Shaughnessy: Well, that's good stuff. Any closing thoughts? 
Hofer: I'm glad to be here at DesignCon. I'm glad to see everyone getting back on the road again.
Shaughnessy: Great talking to you, James.
Hofer: Thanks for coming by.
---
Suggested Items
11/13/2023 | Global Newswire
The "Global Copper Clad Laminates Market (by Type, Application, Reinforcement Material, & Region): Insights and Forecast with Potential Impact of COVID-19 (2023-2028)" report has been added to ResearchAndMarkets.com's offering.
11/07/2023 | SCHMID Group
The SCHMID Group, a global solution provider for the high-tech electronics, photovoltaics, glass and energy systems industries, will be exhibiting at productronica in Munich from November 14 – 17, 2023.
11/01/2023 | Alex Stepinski, Stepinski Group
The topic of intrinsic copper structure has been largely neglected in discussions regarding the PCB fabrication quality control process. At face value, this seems especially strange considering that copper has been the primary conductor in all wiring boards and substrates since they were first invented. IPC and other standards almost exclusively address copper thickness with some mild attention being paid to surface structure for signal loss-mitigation/coarse properties. 
10/26/2023 | Andy Shaughnessy, Design007
At PCB West, I sat down for an interview with John Andresakis, the director of business development for Quantic Ohmega. I asked John to update us on the company's newest materials, trends in advanced materials, and the integration of Ticer Technologies, which Quantic acquired in 2021. As John explains, much of the excitement in materials focuses on laminates with lower and lower dielectric constants.
10/25/2023 | Preeya Kuray -- Column: Material Insight
Printed circuit board (PCB) reliability testing is generally performed by exposing the board to various mechanical, electrical, and/or thermal stimuli delineated by IPC standards, and then evaluating any resulting failure modes. Thermal shock testing is one type of reliability test that involves repeatedly exposing the PCB test board to a 288°C pot of molten solder for a specific time (typically 10 seconds) and measuring the number of cycles it takes for a board's copper layer to separate from the organic dielectric layer. If there is no delamination, fabricators can rest assured that the board will perform within expected temperature tolerances in the real world.