Books

Featured Books

smt007 Magazine

Latest Issues

Current Issue

Chips Don't Float

In Europe and the U.S., legislation is under way to revitalize PCB fabrication and packaging. What is the status of this work, and how specifically does this change the industry landscape for EMS companies? What will help keep us afloat?

Flying High With Digital Twin

The opportunity to use manufacturing simulation as a test bed for job planning and process optimization brings continuous improvement into the modern age. This may be an all-or-nothing type of project, but it's worth the investment.

Artificial Intelligence

In this issue, we (and AI) explored how and when artificial intelligence plays a role in manufacturing today. Whether on the factory floor, or in the front office, AI applications are emerging and changing how we approach planning, processes and problem solving.

Columns

Latest Columns

||| MENU
Victor Madero to Represent PDR Rework & X-ray Systems in Mexico
March 23, 2023 | PDR Rework Systems
Estimated reading time: 1 minute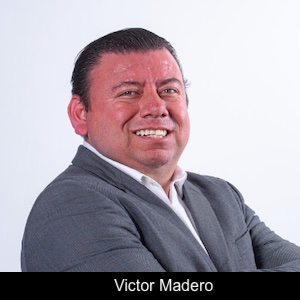 PDR, founded in 1985, and a leading manufacturer of BGA rework systems and X-ray systems, is pleased to announce that SMTVYS Technology is its newest manufacturers' representative. Under the agreement, Victor Madero will represent PDR's SMD/BGA Rework and X-ray systems throughout Mexico.
Dave White, CEO of White Industrial Corporation, parent company of PDR Americas, states: "PDR Rework and X-ray Systems is pleased to announce the appointment of SMTVYS to represent PDR in Mexico. SMTVYS, a leader in the sales, support and servicing of industrial production equipment throughout Mexico, and PDR, a manufacturer of both rework and X-ray systems, are committed to providing firms in Mexico with superior technology and customer service by providing world-class rework and X-ray products for the Mexico EMS industry."
SMTVYS offers solutions ranging from industrial equipment, spare parts, technical support, consulting, world-known brands of industrial equipment, automation, peripheral devices, electrostatic and discharge (ESD) solutions. The leading professional group was born out of the need for support and value for the manufacturing industry back in 2014 and the company has a large footprint in Mexico.
PDR's Micro Focus X-ray solutions offer both 2D and 3D (DTS) X-ray systems with truly remarkable image fidelity. Made in the USA, PDR X-ray systems are operator friendly and easily programmable with 4-axis fully motorized control to automate the pass-fail inspection of PCBs, components, and assemblies.
Available in multiple kV configurations and Flat Panel Detectors (FPDs), PDR X-ray cabinets are built to integrate X-ray solutions from 60kV up to 160Kv, while maintaining safety standards of less t 1 uSv/hr (0.1 mR/hr) for radiation safety. PDR's unique cabinet design provides customers with the maximum flexibility for upgrading X-ray system capabilities over the long-term, while still providing a safe and reliable X-ray system for the customer.
---
Suggested Items
09/26/2023 | Kirk Thompson, Isola Group
Despite being a leader in R&D investment in semiconductors and packaging with greater than $50 billion per year, the U.S. has seen its market share decrease to less than 3% in areas like advanced packaging and advanced substrates. The cause for this market share erosion was a laser focus in Asian countries to attract semiconductors and advanced packaging investment through ecosystem development and incentives. If the U.S. is serious about changing the momentum to onshore advanced packaging and advanced substrates, an ecosystem approach to innovation and manufacturing incentives must be employed. It is not enough to have the most innovative technology if the supply chain and manufacturing economics do not deliver competitive commercial opportunities.
09/25/2023 | PVA
PVA, a global supplier of automated dispensing and coating equipment, is pleased to announce its participation in the 11th annual ASSEMBLY Show, scheduled to take place Oct. 24-26, 2023 at the Donald E. Stephens Convention Center in Rosemont, IL.
09/21/2023 | Dymax
Dymax, a leading manufacturer of light-curing materials and equipment, will exhibit in booth 1526 at SMTA International 2023 in Minneapolis, MN, from October 10-11.
09/21/2023 | Emerald EMS
Emerald EMS, an innovative solutions provider,​​​​​​​ has inaugurated its second New Product Introduction (NPI) Center, this time in San Jose, CA.
09/20/2023 | Hentec Industries/RPS Automation
Hentec Industries/RPS Automation, a leading manufacturer of selective soldering, component lead tinning and solderability test equipment, announces that it has added assembly and production staff members to its team to accommodate its recent increase in sales and order demand.