Books

Featured Books

pcb007 Magazine

Latest Issues

Current Issue

Finding Ultra

New demands on PCB fabrication, namely advanced packaging, ultra high density interconnect (UHDI), and new specialty materials, are converging, changing the landscape of our business. Is it time to start paying close attention to this convergence?

Developing a Strategy

A solid strategy is a critical part of success. This month, we asked some of the top industry leaders and business strategy "gurus" to share their thoughts on developing strategies.

Winning With TQM

In this issue, we explore how TQM has entered the DNA of continuous improvement disciplines, and the role leadership transformation plays in this. If you've ever competed against a TQM company, you understand their winning advantage.

Columns

Latest Columns

||| MENU
John W. Mitchell: Fire Your Hiring Habits
March 23, 2023 | Pete Starkey, I-Connect007
Estimated reading time: 1 minute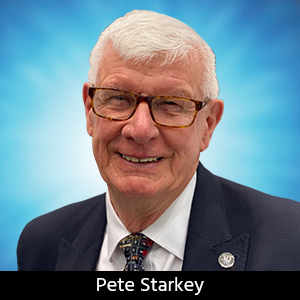 On the Wednesday of IPC APEX EXPO week, IPC President and CEO Dr. John W. Mitchell stylishly delivered his keynote address, "Fire Your Hiring Habits!" to a packed ballroom full of round tables all immaculately laid for a sit-down lunch. 
Announced by IPC Hall-of-Famer Joe O'Neil with a Rolling Stones track in the background, Mitchell's presentation, subtitled "Finding and keeping the best talent is fundamental to building electronics better," offered relevant and valuable guidance on understanding human nature and how this knowledge can help you find and keep the right individuals for your organisation. Mitchell discussed how to give candidates the confidence to come and join your organisation, how to train them, and how to keep them happy and productive, while simultaneously facing the challenges of record low unemployment, skills gaps, and an education system that has been unsuccessful in motivating students to get jobs.
"Quality electronics," Mitchell said, "starts with quality training," and IPC demonstrated its commitment to this key message by offering certain online training packages to member companies, free of charge.
Several recent surveys have asked questions like, "What is top talent looking for? What do employees want?" Inevitably, those surveys come back with different answers and orders of priority. One clear finding, however, was that different generations think differently, particularly on the "live-to-work" vs. "work-to-live" paradigm. In addition to age-related demographic differences in the answers to those questions, gender-related differences also came up, with predictable arguments over whether women were better than men.
To read this entire review, which appeared in the 2023 edition of Show & Tell Magazine, click here.
---
Suggested Items
09/18/2023 | IPC
IPC Day France: Aerospace Electronics is an aerospace-focused networking event featuring key industry experts from NASA and Airbus and will take place on October 2, 2023 . 
09/15/2023 | TRI
Test Research, Inc. (TRI), the leading test and inspection systems provider for the electronics manufacturing industry, will join productronica 2023, which will be held at Messe München Center from November 14 – 17, 2023.
09/13/2023 | I-Connect007 Editorial Team
For this month's issue on rigid-flex design, we spoke with instructor Kris Moyer, who teaches the IPC class "PCB Design for Flex and Rigid-Flex Boards." In this wide-ranging interview, Kris breaks down the hurdles facing rigid-flex designers and offers a variety of solutions for rigid board designers taking on their first rigid-flex circuits. He also provides a few horror stories to illustrate what happens if you don't follow sound design practices, rules, and standards. And, as Kris points out, "Your fabricator is your friend."
09/13/2023 | IPC
In conjunction with NEPCON Vietnam 2023, IPC hosted its popular IPC Hand Soldering and Rework Competition in Hanoi, Vietnam on September 6-8, 2023.
09/13/2023 | Hentec Industries/RPS Automation
Hentec Industries/RPS Automation, a leading manufacturer of selective soldering, lead tinning and solderability test equipment, is pleased to announce that Sinclair Manufacturing has purchased Pulsar solderability testing and Photon steam aging systems for installation in their Chartley, Massachusetts facility.