Books

Featured Books

design007 Magazine

Latest Issues

Current Issue

Rigid-flex: Designing in 3D

In this month's issue, our expert contributors share their best tips, tricks and techniques for designing rigid-flex circuits. If you're a rigid board designer considering moving into the 3D world of rigid-flex, this issue is just what the doctor ordered!

Simulation, Analysis, and AI

Getting today's designs "right the first time" is critical, especially with costly advanced PCBs. Simulation and analysis software tools can help you in the fight to eliminate respins. They're not magical, but they can predict the future of your design.

Advanced, Complex & Emerging Designs

This month, our contributors focus on designing PCBs with advanced, complex and emerging technologies. We investigate design strategies for boards that are on the cutting edge of technology, or crazily complex, or so new that designers are still writing the rules as they go.

Columns

Latest Columns

||| MENU
Tips and Tricks in Today's Designs
March 23, 2023 | Kelly Dack, CID+
Estimated reading time: 2 minutes

Filbert Arzola of Raytheon Intelligence & Space taught a Professional Development course at IPC APEX EXPO on general design practices. During a break, Filbert spoke with Kelly Dack about some of today's design strategies and how designers are reacting to them. What matters most?
Kelly Dack: Filbert, your class is more about tips and tricks. I've listened to a couple of topics on ground bonding and strategies, and length matching and strategies. What can you tell me about it?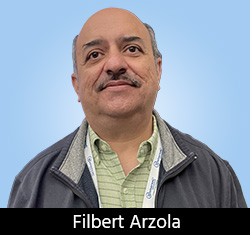 Filbert Arzola: It's a two-part class and it's going very well. We've had a lot of questions, as well as positive comments on the class topics. We're trying to cover everything as basic as possible, but also get into some of the more intense parts of what we want to accomplish as board designers. The second part of the class will include RF design and some other topics, so I'm looking forward to what everyone thinks. The point of the class is to help folks outside printed wiring boards understand why our job isn't as easy as they think. Depending on how you look at it, they may also see it's not as hard as they thought it was. I'm very happy with how it's going.
Dack: How about any material or stackup strategies? Do you get in-depth with any of them?
Arzola: I get into the stackup strategy in that it is the spine of the design producibility, and that's the only way that you can start a design. You must have a stackup so you can plan. I talk about the design being producible and stable. I don't really get into the materials because I could talk for hours about that and we don't have the time.
Dack: How about cost strategies? You're in the aerospace industry and there are a lot of industries represented here. Are you concerned about cost for the aerospace industry?
Arzola: I'm very concerned about cost because we make things airborne. We do things in space, so cost always depends on where you put things. Cost can increase exponentially at times. We have a concept called LC swap, and LC stands for "low cost." It also includes sizing, power, weight, and we talk about how we combine all that to drive it together to meet your requirement. So, if low cost is really your high point, all the others have to make it low cost and they all work together in that same way.
Dack: It's a work together thing and there's the tradeoff of costs; hand in hand with that is volume aerospace to products, and that can be high-, mid-, or low-volume. How does that play into design?
Arzola: If I make something that weighs less or uses less power and I'm making a lot of them, it will make everything better. If something weighed five pounds and I make 10,000 of them, that's a lot of weight. But if I get it down to one pound and I make the same quantity, your volume now changes, and you're at less cost. It all works together.
Dack: Sounds great, and you have a well-attended class with a room full of attendees. Thank you for presenting.
Arzola: I love the critique, good and bad. That's what drives us.
This conversation originally appears in the March 2023 issue of Design007 Magazine.
---
Suggested Items
09/26/2023 | GlobalFoundries
GlobalFoundries (GF) announced it has applied for U.S. CHIPS and Science Act Funding, with two full applications submitted to the CHIPS Program Office of the U.S. Department of Commerce.
09/25/2023 | HyRel
HyRel Technologies, a global provider of quick turn semiconductor modification solutions, proudly announces that it earned the prestigious AS9100 certification.
09/18/2023 | RTX
RTX business Collins Aerospace has been selected by BAE Systems as the provider for Large Area Display technology to be integrated into the cockpits of future Eurofighter Typhoon aircraft.
09/18/2023 | IPC
IPC Day France: Aerospace Electronics is an aerospace-focused networking event featuring key industry experts from NASA and Airbus and will take place on October 2, 2023 . 
09/14/2023 | CONFIDEE
CONFIDEE, a leading PCB partner, proudly announces its recent achievement of AS9120 certification. This prestigious certification highlights the company's commitment to excellence, quality, and customer satisfaction, making it a preferred choice for all defence and aerospace needs.