Books

Featured Books

pcb007 Magazine

Latest Issues

Current Issue

The Registration Sweet Spot

Registration is underrated and underappreciated. The key is to ensure proper registration from layer to layer across the entire printed circuit board. It's a holistic process requiring anticipation, prediction, precise attention at each step, and detailed data tracking and monitoring.

High-reliability Fabrication

In this month's issue, our expert contributors discuss the latest in technologies, trends, complexities and resources regarding high-reliability fabrication.

Finding Ultra

New demands on PCB fabrication, namely advanced packaging, ultra high density interconnect (UHDI), and new specialty materials, are converging, changing the landscape of our business. Is it time to start paying close attention to this convergence?

Columns

Latest Columns

||| MENU
Bigelow: Bullish on Fab's Future
March 27, 2023 | Nolan Johnson, PCB007
Estimated reading time: 2 minutes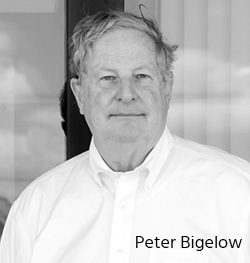 Twenty-plus years is a long time to lead a business during a long decline in the industry, but IMI President and CEO Peter Bigelow remains quite confident about the future. The company is in a strong financial position, running well, and looking at new technologies. So, what's his biggest challenge? It's not much different than any other manufacturer you talk to, and while he may not have all the answers, he's clearly got insight to share.
Peter, as a PCB fabricator, what's happening in the industry? Talk about the changes you're seeing.
The past 18 or so years have been pretty miserable because the industry has been shrinking. We've had all kinds of turmoil in that regard. However, even with this rough period, I'm quite optimistic and enthusiastic about where we are.
The trend is to bring manufacturing back to North America because there is a concern with cybersecurity issues, and companies want to buy from a viable, reputable source, rather than pulling it to the cheapest price. I think that's a positive.
The supply chain issues that took place during COVID were aberrations. First, tariffs meant things moved differently than they did before. Then you throw in a pandemic, and nobody can work. Ships at the ports were stuck because there wasn't anyone to unload them; they were overwhelmed. All these things happen, but I see them as aberrations to some degree. COVID is more manageable now than it was. We're used to the tariffs, so things are flowing more normally. We still have, however, a very sophisticated supply chain that requires products moving around the world and we still want the lower-cost products, which means Asia will continue to be a very dominant partner.
Certainly, Washington has figured that out; it needs more suppliers from North America and that requires investment. Again, that's a positive thing. In many ways, we're in far better shape now than we were 10 years ago, and the trajectory is far better than it has been for a long time.
You said that the trajectory is getting better. Is it upward yet?
Yes, for certain markets. The military/defense area is upward. I can't speak for automotive, but I believe it's upward. If you're in regular industrial manufacturing or consumer products, you're probably not seeing it, but I'm guessing that most of that North American market is probably brokering a lot of stuff to be economical. We're more into the positive range than we have been for a long time.
My customers are all very bullish about the next few years and are making decent investments in their companies. On the manufacturing side, it's gone from, "Who's going out of business and what auction am I going to next?" to looking at, "How can I grow my business and invest properly? I'm in a better position because I'm actually making some money now and I can afford to do that."
To read this entire conversation, which appeared in the March 2023 issue of PCB007 Magazine, click here.
---
Suggested Items
09/20/2023 | I-Connect007 Editorial Team
Panasonic's Darren Hitchcock spoke with the I-Connect007 Editorial Team on the complexities of moving toward ultra HDI manufacturing. As we learn in this conversation, the number of shifting constraints relative to traditional PCB fabrication is quite large and can sometimes conflict with each other.
09/19/2023 | Anaya Vardya -- Column: Standard of Excellence
In my last column, I discussed cutting-edge innovations in printed circuit board technology, focusing on innovative trends in ultra HDI, embedded passives and components, green PCBs, and advanced substrate materials. This month, I'm following up with the products these new PCB technologies are destined for. Why do we need all these new technologies?
09/18/2023 | ViTrox
ViTrox, which aims to be the world's most trusted technology company, is excited to announce that our trusted Sales Channel Partner (SCP) in Mexico, SMTo Engineering, S.A. de C.V., will be participating in SMTA Guadalajara Expo & Tech Forum. They will be exhibiting in Booth #911 from the 25th  to the 26th of October 2023,  at the Expo Guadalajara in Jalisco, Mexico.
09/18/2023 | Intel
Intel announced one of the industry's first glass substrates for next-generation advanced packaging, planned for the latter part of this decade.
09/18/2023 | Aidan Salvi -- Column: Facing the Future
I have been in and around circuit boards most of my life. I started 20 years ago in my family's PCB shop, leaving after a couple of years to start my own software company. About a year ago, I returned to the family business, and the first thing I noticed was that nothing had really changed. We were doing the same things in the same way as the day I left. After talking to several experts in the industry, I realized it was worse than that: The manufacturing of PCBs had not changed in 70 years.