Books

Featured Books

smt007 Magazine

Latest Issues

Current Issue

Economic Headwinds

This issue takes stock of the current economic outlook and how companies are using current conditions to move themselves through technological evolutions, workforce shifts, and financial changes. Even with these headwinds, there's forward progress to be made.

Attracting New Talent

To get different results in staffing, you must change how you define, promote and recruit your job opportunities. How do you become magnetic to high-quality early-career candidates?

Test and Inspection

Test and inspection methods are undergoing rapid change. In this issue, we consider the influence of AOI, AI, and human eyes. How exactly are these pieces of the puzzle changing the role of test and inspection?

Columns

Latest Columns

||| MENU
Dallas SMTA Expo Bigger, Better Than Ever
March 28, 2023 | Barry Matties, I-Connect007
Estimated reading time: 7 minutes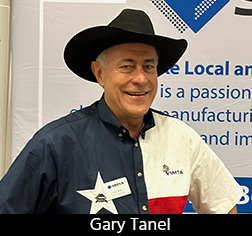 The Dallas chapter of SMTA hosts an annual technical conference and exhibition that rivals some industry shows. I-Connect007's Barry Matties is onsite at this year's event and sent back this interview with Gary Tanel, longtime event organizer and a key part of the SMTA Dallas chapter leadership. Matties and Tanel discuss the history and organization of the event, and why it's a must-attend for exhibitors, attendees and researchers alike.
AUDIO TRANSCRIPTION
Barry Matties: We are on the line with Gary Tanel at the SMTA Dallas Expo. Gary, thank you for joining us.
Gary Tanel: Very welcome to be here.
Matties: So first, just give us a little history of this event, how it got started, and how it's grown since.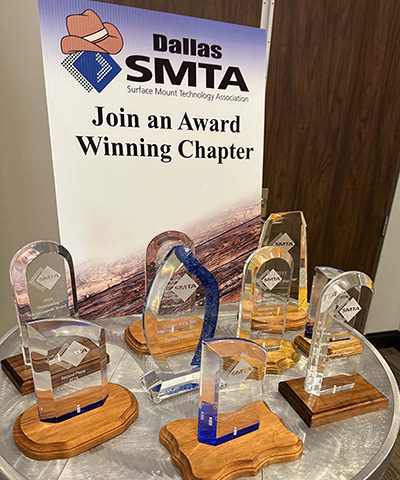 Tanel: I'd love to. Back 20 years ago, we started this with about 15 exhibitors. It's what was called the Dallas Academy. We went to a hotel, and we put on basically a two-day conference. In the breaks of the conferences, Joanne Stromberg, one of the executive administrators from years ago, and I got together, and we said, "Let's put in some tabletops." So, at the Omni hotel over here, we put in maybe 10 tabletops, something like that, when the conference was taking a breakout of the Academy. Anyway, that went along just great, and we said, "Let's do it again next year." So, we've done it every year since then and that was 20 years ago. Every year since then we've been adding a few more booths, putting in pipe and drape. This is our third different venue. It started out at one hotel, then we went to the Richardson Civic Center, and we tapped out at about 30 booths. We knew if we could go here, this one allowed us a venue that we could scale up. They have a very large room here and we could have one room for lunch, one room for the technical sessions, and then another big room for the trade shows. And it allowed us to grow. Now we have the entire conference center for the trade shows, and we can go across the hall for the technical conference and over 100 exhibitors this year. And I think that's going to work out for us well going forward.
Matties: Now on the technical conference side, how has that grown? Did it start off strictly as a technical conference?
Tanel: Yeah, it was an academy. I think we had 12 technical sessions over two days, maybe six a day. Each lasted maybe two hours with a 30-minute break between them. It really was a technical conference in Texas and the exhibitors were kind of a side note over there to do that and that's kind of where it where it started. It brought in the technical people and their subject matter experts that wanted to be there to be able to do that. We were just growing it. We always wanted to have technical content. Here we have four technical speakers. Every year I limit the number of sponsors so that we don't have lots of sponsors. I never fail in filling up the sponsorships very, very quickly. We've got a pretty good reputation so people can come in and right away we fill out sponsorships. I know we're going to sell out every year on exhibit space, which is great. We always listen to what the exhibitors are telling us. About the food, for example, the first few years we had box lunches and we got away from that. You know, box lunches in the hallway and this and that. We said, "No, we're going to have BBQ and Texas BBQ. That's we're always going to have." We did the rubber chickens for a few years. They don't want to do that anymore. That's what we learned in that; lots of lessons learned every year, but we had the keynote speaker in the main auditorium, which we thought was a great idea. One year, the problem was that all the exhibitors couldn't really talk because you had a big microphone, a big speaker in there while the keynote speaker is talking. You kind of lose communication with the people trying to listen to the keynote, you have all this white noise.
Matties: You've made improvements, that's great.
Tanel: We made improvements every single year.
Matties: How about this year? Here we are in 2023. It's in Plano, Texas and you said you had 100 exhibitors this year, right? And that's more than last year, correct?
Tanel: Yeah, 100 this year. We squeezed in 92, we really had room for 88, but we squeezed in 92 last year. This year, we got 100 exhibitors. I think we're getting pretty close that we can't handle any more than this and we won't be able to have the luncheon in there. I think it's really important to have the lunch and the happy hour. And all that in the same area as the tech sessions side with the conference. But with the trade show being isolated, we also intentionally put a lot of gap between the end of one tech session and the beginning of another so all of the conference people can get out into the show floor.
Matties: When you're putting together the technical conference, how do you weigh the topics and the conversations and what's hot?
Tanel: Sure, I'd like to get a keynote. The main thing is to get a really good keynote, somebody that comes from a company that everybody would recognize, somebody who can talk about something that's a little bit more general and that's a big draw. The other thing is I leverage off SMTA International. What are some of the best papers that are showing in there? We try to have something in there for the seasoned veterans that have been there a long time, talking about leading edge kind of things. But we also have to have something in there that's more, you know, standard procedure for the younger people to go on—you know, the bread and bread of this thing because we've got to cater to the students that are coming here that don't know all the backgrounds of all the other things. So, you have to balance those out. We keep the first one at 8:15 in the morning being very technical, very niche-y, a keynote just before we open up the doors to get into the hall and then some of the more entry level stuff maybe in the afternoon, to get some of the students and some of the younger professionals coming.
Matties: Right now, this is part of the SMTA regional events, the expo track, I guess, of the SMTA events. You have another one coming up in Houston later this week as well.
Tanel: The nice thing about it, we were considering it for three of them in a week, but three conferences in the state of Texas is too much—Monday, Wednesday, and Friday. People want to travel on Sundays and Saturdays, so we settled on Tuesdays and Thursdays. That gives exhibitors time to arrive in Dallas on Monday due to the Tuesday expo in there, then travel to Houston on Wednesday, maybe do some site visit, set up for a show there on Thursday in Houston, and then have follow up travel back on Friday. So, I think two in the state works out very well and a lot of the exhibitors from all around the country, you know, do the same show here and then they go over to Houston. It's very convenient for them. We're all about servicing all the members of the association, the suppliers, and the users—both because the users need access to companies that can provide the screen printers and the fluxes and things like that, and you also have to provide to them some technical content. We try to lower all the barriers we can by not charging attendees at all, having free lunch, and free great technical presentations. But we're going to start recording some of the technical presentations and putting them up on the website for use by exhibitors, by attendees. So, if you're a member of SMTA, then you'll be able to see a whole library of these technical presentations online.
Matties: Great. And people should go to smta.org to learn more about the event and follow up on those training sessions?
Tanel: Yeah, smta.org and then go to events. All eight of the technical conferences are listed on the website along with all 30 of the U.S. expos, along with the Mexican expos and SMTA International. Literally about every two weeks, there's another significant event within SMTA and that's all available on the website.
Matties: Well, Gary, thanks for joining us here today. We appreciate this very much.
Tanel: Oh, you're welcome, Barry. Happy to do it.
RELATED CONTENT: Dallas SMTA Show: The Perfect Recipe

---
Suggested Items
11/24/2023 | SMTA
The Surface Mount Technology Association (SMTA) announces the release of several more webinars, photo libraries, and poster sets as part of a generous donation from renowned industry expert, Bob Willis.
11/07/2023 | SMTA
SMTA, a leading advocate for workforce development and education supporting the electronics manufacturing community, will host a roundtable discussion focused on workforce development challenges in Arizona during the SMTA Arizona Expo and Tech Forum, at 8:30am on November 14, 2023, at the Double Tree by Hilton Mesa in Mesa, Arizona.
10/27/2023 | Real Time with...SMTAI
Sharing his observations on this year's SMTAI show, Ryan Flaherty, marketing director for SMTA, spoke with us at the end of this year's event. He gave us an update of what to look forward to when SMTAI moves to Rosemont, Illinois, in 2024.
10/23/2023 | ZESTRON
ZESTRON, the leading global provider of high-precision cleaning products, services, and training solutions in the electronics manufacturing and semiconductor industries, is excited to announce its participation in the upcoming SMTA Guadalajara Expo and Tech Forum, a premier event in the electronics manufacturing industry.
10/16/2023 | Koh Young Technology
Koh Young Technology, the leader in True3D™ measurement-based inspection solutions changed the industry over 20-years ago with its multi-projection solder paste inspection machine.