Books

Featured Books

smt007 Magazine

Latest Issues

Current Issue

Chips Don't Float

In Europe and the U.S., legislation is under way to revitalize PCB fabrication and packaging. What is the status of this work, and how specifically does this change the industry landscape for EMS companies? What will help keep us afloat?

Flying High With Digital Twin

The opportunity to use manufacturing simulation as a test bed for job planning and process optimization brings continuous improvement into the modern age. This may be an all-or-nothing type of project, but it's worth the investment.

Artificial Intelligence

In this issue, we (and AI) explored how and when artificial intelligence plays a role in manufacturing today. Whether on the factory floor, or in the front office, AI applications are emerging and changing how we approach planning, processes and problem solving.

Columns

Latest Columns

||| MENU
VJ Electronix Launches Rework System for Servers, Backplanes & Extra Large Boards
March 28, 2023 | VJ Electronix
Estimated reading time: 1 minute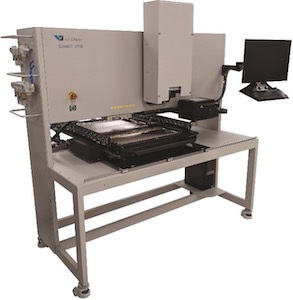 VJ Electronix, Inc., the leader in rework technologies and global provider of advanced X-ray inspection and component counting systems, announced the launch of its LT120 Rework System. Carrying on the Summit line of highly robust systems, the new LT120 is positioned to be able to work with very large BGA components on large PCBs. 
Alignment of large components has always been a challenge during rework. The ability to see the entire component provides confidence for the rework operator. Components larger than 50 mm are extremely expensive, and often low in supply. Ultra-high resolution in the LT120 vision system provides the accuracy needed to deliver reliable rework for these very high value components.
The LT120 is the best choice for extra large servers, backplanes and boards and/or very large component applications. It utilizes a new vision system with an increased field of view for aligning these very large BGAs – a growing trend in the market. 
Originally designed to allow OEMs to build prototype assemblies with components larger than pick-and-place systems could handle, the LT120 allows fast and accurate alignment of BGAs and other packages up to 120 mm x 120 mm. The intuitive alignment GUI allows the user to quickly identify the component, large or small, then zoom in to the corners for a simplified, yet accurate alignment; increasing system throughput.
---
Suggested Items
09/25/2023 | Alison James
"Electronics systems are at the heart of almost all modern technology. The performance and functionality of these systems have increased at breathtaking speed, chiefly as a result of advancements in semiconductor technology. Semiconductors do not function in isolation," writes Alison James, IPC senior director of government relations, in a 2023 report for the European Commission's Directorate General for Internal Market, Industry, Entrepreneurship. "These electronics systems feature prominently in key sectors like defence, aerospace, space, automotive, medical, and high-performance computing, but electronics are vital to every industry and are central to a variety of EU priorities, including the twin digital and green transitions and Europe's technological sovereignty."
09/25/2023 | StenTech
StenTech Inc., the leading multinational SMT Printing Solutions company, is pleased to announce plans to exhibit at the SMTA Guadalajara Expo, scheduled to take place Oct. 25-26, 2023 at the Expo Guadalajara in Guadalajara, Jalisco, Mexico.
09/22/2023 | Happy Holden, I-Connect007
Ever since high density interconnect (HDI) was created in 1982 by Hewlett-Packard to package its first 32-bit computer powered by a single chip, it has continued to evolve and provide the solutions for miniaturized products. The leading edge of HDI technology became the process used for organic flip-chip packaging for the semiconductor industry. The two distinct markets—IC substrates and product-system integration—are now colliding and utilizing the same ultra-HDI manufacturing processes.
09/21/2023 | Anda Technologies
Anda Technologies, a leading provider of fluid application and custom automated manufacturing equipment, is excited to announce its participation in SMTA Guadalajara, a premier event in the electronics manufacturing industry.
09/21/2023 | Scienscope International
Join Scienscope at the Guadalajara Expo and Tech Forum, where innovation knows no bounds.