Books

Featured Books

smt007 Magazine

Latest Issues

Current Issue

Chips Don't Float

In Europe and the U.S., legislation is under way to revitalize PCB fabrication and packaging. What is the status of this work, and how specifically does this change the industry landscape for EMS companies? What will help keep us afloat?

Flying High With Digital Twin

The opportunity to use manufacturing simulation as a test bed for job planning and process optimization brings continuous improvement into the modern age. This may be an all-or-nothing type of project, but it's worth the investment.

Artificial Intelligence

In this issue, we (and AI) explored how and when artificial intelligence plays a role in manufacturing today. Whether on the factory floor, or in the front office, AI applications are emerging and changing how we approach planning, processes and problem solving.

Columns

Latest Columns

||| MENU
Silicon Mountain Streamlines Facility with World-Class Web-based ERP
March 30, 2023 | Silicon Mountain
Estimated reading time: Less than a minute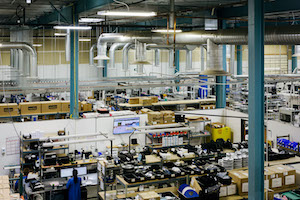 Silicon Mountain, a leading electronic manufacturing company, announced that it has invested in Cetec's Web-based ERP. From quoting and inventory and production to invoicing and accounting, Cetec ERP has streamlined Silicon Mountain's facility.
Cetec ERP's leading-edge system helps Silicon Mountain handle stringent regulatory requirements and track dynamic production environments, all from a single, friendly Web interface. "Cetec is well established in the PCBA industry," stated Clint Roehr, Project Manager. "It also covers our needs for documentation control and production data collection to establish metrics."
Cetec ERP is quickly becoming the industry standard for EMS and PCBA companies. The platform offers the ability to import customer BOM spreadsheets with hundreds of components, track lead count, attrition, reference designators, and approved vendor lists as "pools" of substitutable part numbers.
Silicon Mountain is capable of both low- and high-volume production, allowing customers to quickly go from product development to market. The company focuses on SMT, through-hole, mechanical assembly, and higher level assembly (HLA).
---
Suggested Items
09/25/2023 | StenTech
StenTech Inc., the leading multinational SMT Printing Solutions company, is pleased to announce plans to exhibit at the SMTA Guadalajara Expo, scheduled to take place Oct. 25-26, 2023 at the Expo Guadalajara in Guadalajara, Jalisco, Mexico.
09/25/2023 | Camtek
Camtek Ltd., together with FormFactor, Inc., are pleased to announce that they have entered into an agreement for the acquisition by Camtek of FormFactor, Inc.'s FRT Metrology business for $100 million in cash, subject to customary purchase price adjustments.
09/22/2023 | IPC
Join fellow EMS leaders in the region on Oct 5, 2023, 4:30 - 8:00pm EDT, to share industry pain points and solutions. Our focus for this meeting is how companies profitably reach the next level of revenue. Following a presentation on the current EMS market and revenue tiers in the industry, participants will discuss how to reach the next level and grow their business. Discussion will pull from direct experience, questions, and ideas. From there, the conversation goes where you, the leaders, take it. Every roundtable ends in unique takeaways.  
09/21/2023 | Intraratio
Intraratio, a provider of enterprise software solutions, is pleased to announce its participation in the SMTA Guadalajara Expo and Tech Forum 2023.
09/21/2023 | SEMI
The SEMI Semiconductor Climate Consortium (SCC) issued its first report of the semiconductor ecosystem's greenhouse gas (GHG) emissions profile, an in-depth analysis of the semiconductor value chain's carbon footprint and priority-ranked carbon emission sources for the industry to address.