Books

Featured Books

smt007 Magazine

Latest Issues

Current Issue

Chips Don't Float

In Europe and the U.S., legislation is under way to revitalize PCB fabrication and packaging. What is the status of this work, and how specifically does this change the industry landscape for EMS companies? What will help keep us afloat?

Flying High With Digital Twin

The opportunity to use manufacturing simulation as a test bed for job planning and process optimization brings continuous improvement into the modern age. This may be an all-or-nothing type of project, but it's worth the investment.

Artificial Intelligence

In this issue, we (and AI) explored how and when artificial intelligence plays a role in manufacturing today. Whether on the factory floor, or in the front office, AI applications are emerging and changing how we approach planning, processes and problem solving.

Columns

Latest Columns

||| MENU
Kenny Wilson Assumes CEO Role at Jabil
May 1, 2023 | Jabil Inc.
Estimated reading time: 2 minutes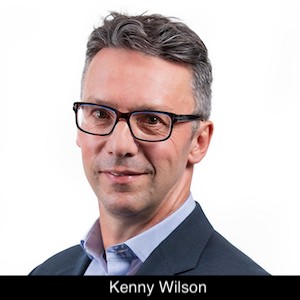 Jabil Inc., a global manufacturing solutions provider, announced that Kenny Wilson has officially assumed the role of Chief Executive Officer (CEO). Wilson, a long-time leader within Jabil, succeeds Mark Mondello who will remain with the company as Executive Chairman of the Board. Wilson was also appointed to the Board of Directors last week.
"There is no greater honor than having the opportunity to continue to shape the Jabil story as its new CEO, to be a protector of this unique culture, and to provide future generations the privilege of experiencing what we all have in our careers at this company," said Wilson. "As we continue our growth, we will continue to deliver exceptional value to our customers, shareholders, employees, and communities."
As a seasoned industry leader with more than three decades of experience, Wilson brings a wealth of expertise in electronics manufacturing, supply chain management, and customer engagement to his new position. He originally joined Jabil in 2000 in Livingston, Scotland, as a business unit coordinator. During his time at Jabil, Wilson grew and led several businesses, most recently leading Jabil's Green Point organization in Asia.
"I couldn't be more pleased with our selection of Kenny Wilson as Jabil's next CEO," said Mondello. "His work ethic, approach, experience, and commitment to servant leadership position him perfectly to lead our team and underpin the wonderful working relationship we have. Kenny has earned this promotion and I look forward to working side-by-side with him, from my position as Executive Chairman, as he embraces his new role."
"Our commitment to putting customers at the center of everything we do has been a fundamental part of our DNA from day one. Our unique culture empowers and enables our people to deliver exceptional results, and our focus on increasing margins, and delivering sustainable free cash flow ensures we continue to provide value to our customers and shareholders. With robust growth in key areas of our business, we are excited about the tremendous opportunities ahead for Jabil," concluded Wilson.
About Kenny Wilson
Kenneth S. Wilson is the current CEO and director of Jabil since May 2023. He previously served as executive vice president and CEO of Jabil's Green Point division, where he also assumed responsibility for Consumer Packaging and Corporate Procurement. He first joined Jabil in 2000 as a business unit coordinator and has held various leadership roles, including VP of global business units, running businesses such as consumer electronics and telecommunications. Prior to Jabil, he spent eight years at Motorola where he served as operations manager in their Handset Division. Wilson has a bachelor's degree in manufacturing engineering and an MBA from Edinburgh Business School.
---
Suggested Items
09/26/2023 | GlobalFoundries
GlobalFoundries (GF) announced it has applied for U.S. CHIPS and Science Act Funding, with two full applications submitted to the CHIPS Program Office of the U.S. Department of Commerce.
09/22/2023 | GlobalFoundries
The U.S. Department of Defense (DoD) has awarded GlobalFoundries (Nasdaq: GFS) (GF) a new 10-year contract for a supply of securely manufactured, U.S.-made semiconductors for use across a wide range of critical aerospace and defense applications. 
09/25/2023 | APCT
APCT, a leading name in the PCB and electronics industry, is delighted to announce the appointment of Peter Austin as its President and CEO, effective September 1. Peter takes the reins from former CEO, Steve Robinson, who has retired after years of dedicated service to the company.
09/22/2023 | Happy Holden, I-Connect007
Ever since high density interconnect (HDI) was created in 1982 by Hewlett-Packard to package its first 32-bit computer powered by a single chip, it has continued to evolve and provide the solutions for miniaturized products. The leading edge of HDI technology became the process used for organic flip-chip packaging for the semiconductor industry. The two distinct markets—IC substrates and product-system integration—are now colliding and utilizing the same ultra-HDI manufacturing processes.
09/21/2023 | KIC
KIC, a renowned pioneer in thermal process and temperature measurement solutions for electronics manufacturing, is thrilled to announce its participation in the upcoming SMTA Guadalajara Expo & Tech Forum.